Michael Atherton v Allan Donald 1998: A titanic Trent Bridge tussle
'It was a great battle - cricket at its best'
By Oli Burley
Last Updated: 01/08/17 10:46pm
Allan Donald's ferocious battle with Mike Atherton in the fourth Test between England and South Africa at Trent Bridge in 1998 epitomised a series in which no quarter was given.
Set 247 to win, England withstood a fearsome barrage from Donald - a bombardment intensified when Atherton stood his ground after gloving behind on 27.
The opener would go on to make 98 not out, adding 152 for the second wicket with Nasser Hussain, who was dropped on 23 before contributing 58 to England's eight-wicket victory - a win that put them on track for a 2-1 series win.
As the teams square off again at Nottingham in a Test that you can watch continuing live coverage of on Sky Sports 2, we dip into the archive to give you a taster of what the main protagonists remember of that titanic tussle…
DONALD: "That spell stands out for me in what was one hell of a tight series. We'd just come off the back of a drawn Test at Manchester where I'd bowled 40 overs in the second innings after England had followed on. It was probably the hardest game I ever experienced. We only had two days' rest before we were back on the field but I was really fired up. Going into that final innings we needed quick wickets and when Atherton gloved one to Mark Boucher but wasn't given, temperatures quickly rose further.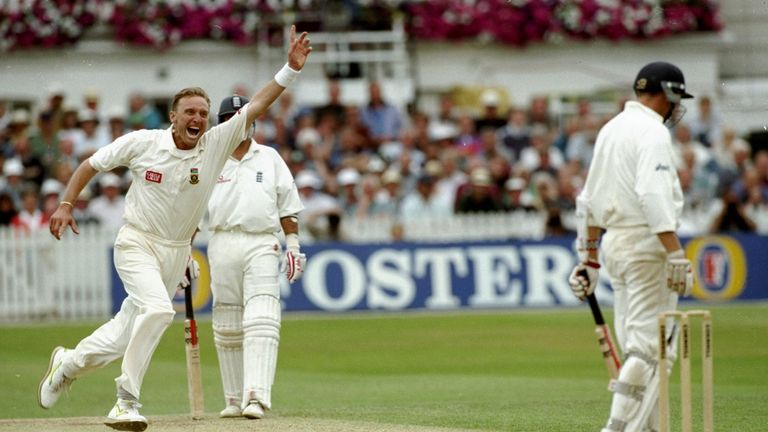 "Then Nasser was dropped. That really changed everything. I got the feeling then that this was England's Test. Rather than running through them, England got through that hot period and it was the start of our demise. I valued playing against people like Atherton very, very highly because they put a high price on their wicket. You spend a lot of time figuring how you are going to knock them over, then try to make those strategies work. That's what makes Test matches special."
ATHERTON: "I'd rank that innings, which helped to win the game and the series, up there with my 185no at the Wanderers in 1995 - an intensive personal triumph. Looking back to Johannesburg, I remember being dropped on 99 by Gary Kirsten at short leg - a very difficult chance - and then smashing Donald for four next ball and the intense feeling of relief that followed. Cricket is a team game but essentially when you have a bat or ball in your hand you are on your own so it has a gladiatorial element - one man against another.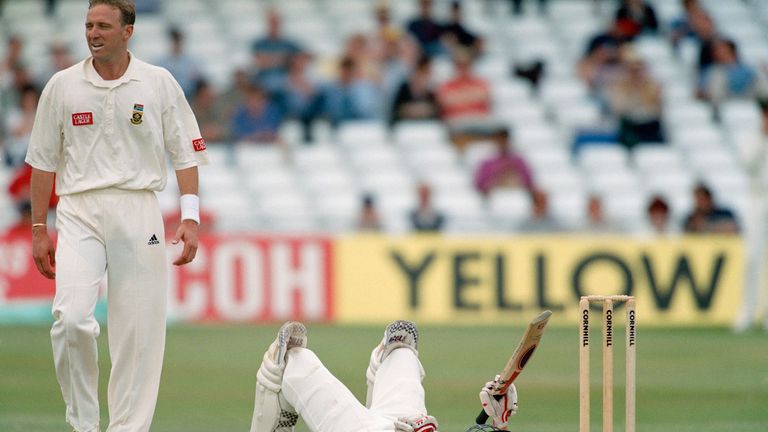 "Both AD and I knew in that Nottingham game that whoever came out on top that evening would go on and win the game so all emotions were heightened in front of a full-house. There was the drama of the appeal for a glove behind and Nasser being dropped. It had all of the ingredients for a very dramatic 40 minutes."
HUSSAIN: "I saw a lot of that Atherton-Donald duel from the non-striker's end and Ath always gives me stick about it, saying I was standing on my bat taking the spinner while he took Donald! Boucher dropped me off an edge and Donald exploded in front of me and steamed down to fine leg but fair play to him, he went up to Boucher before the next over and put his arm around him.
"It all added to the tension of what was a great battle. I have huge respect for both Ath and Donald. It was cricket at its best - there wasn't a lot said between the two and what was, was on the right side of the line."