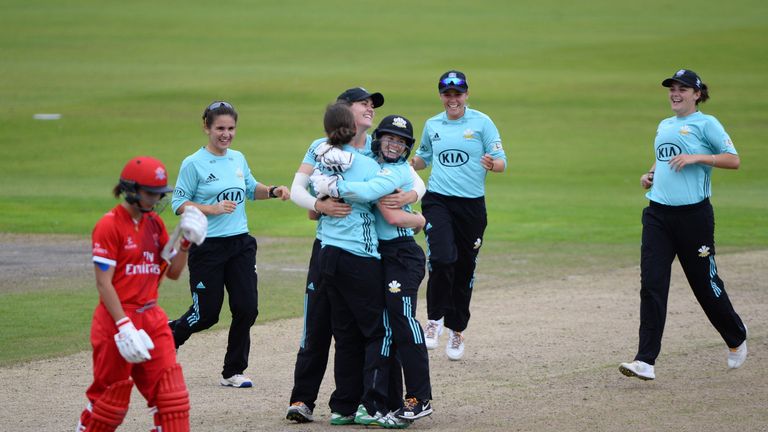 Surrey Stars coach Richard Bedbrook believes Friday's Kia Super League finals at Hove will be a fantastic showcase for the women's game, whoever comes out on top.
The competition has already been a success, with the average KSL attendance up by a third on 2016. Over 20,000 fans have watched this year's action - compared to 16,000 at this stage last year - with 1,379, on average, at each game.
Stars play Western Storm at Hove for the right to take on reigning champions Southern Vipers on Friday - you can watch both matches live on Sky Sports Cricket and Main Event from 2pm.
"We'd love to get to the final," he said, "but whatever happens I think we are in for a fantastic day. All three teams have got some real quality in their team."
Like their rivals, Surrey have come to rely on stellar contributions from their international players. Two of their batsmen, South African Marizanne Kapp and England's Nat Sciver, were among the top five run-scorers after the group games and they also had four of the six leading wicket-takers in Sciver (10), Alex Hartley (9), Laura Marsh (8) and Rene Farrell (7).
But Bedbrook has noted the improvement in standard across all the teams in the second edition of the tournament, particularly among the English-based county players.
He said: "I think it's a wonderful opportunity to show just how good the women's game is and I'm sure that will happen.
"If you look at the highlights of the group games there has been some fantastic cricket played by all the teams. The quality of the international players has moved it forward but I think there has been a big improvement in the county players involved compared to last year.
"They are fitter, sharper and more robust both in the games and in their preparation and I think Friday will show that."
Stars were favourites to go straight to the final before the last round of fixtures, but while Vipers were beating Yorkshire Diamonds they suffered a surprise loss to Loughborough Lightning at the Kia Oval.
However, they will head to Hove in the knowledge that they beat both Storm and Vipers in the group although Bedbrook isn't convinced that will mean too much on the day itself.
"We'll just try and repeat what we did when we played them earlier," he said. "Against Storm we got a lot of things right on the day. If we play as well we will give ourselves a good chance.
"Is it an advantage having an extra game if you get to the final? You can look at it both ways. You will be on a roll and will have been able to assess the conditions, know the angles of the ground and have got used to things.
"But we need to get there first. The Storm have got some great players themselves. We're looking forward to it."
Surrey have named an unchanged squad for what is their first appearance in Finals Day.
Watch Kia Super League Finals Day live on Sky Sports Cricket and Sky Sports Main Event from 2pm on Friday.