Sarah Taylor: I can do anything after confronting mental health issues
"I appreciate cricket more because I am choosing to do it"
By Kalika Mehta
Last Updated: 08/03/18 11:38am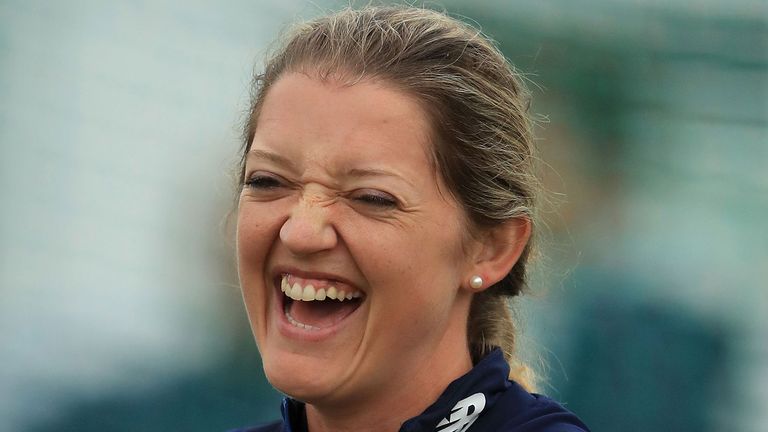 England Women's Sarah Taylor tells Kalika Mehta about her on-going fight with mental health issues and the pivotal role England head coach Mark Robinson has played in her progress…
For more than a decade Taylor has been extolled as one of the most talented players to don an England shirt.
The wicketkeeper-batter made her debut at 17 and soon became the youngest women's player to score 1,000 One-Day International runs, at the age of just 19.
As Taylor blossomed on the international scene the accolades flowed, winning the World Cup and World T20 in 2009, twice being named the ICC Women's T20 Cricketer of the Year - in 2012 and 2013 - before picking up the ODI Cricketer of Year award in 2014.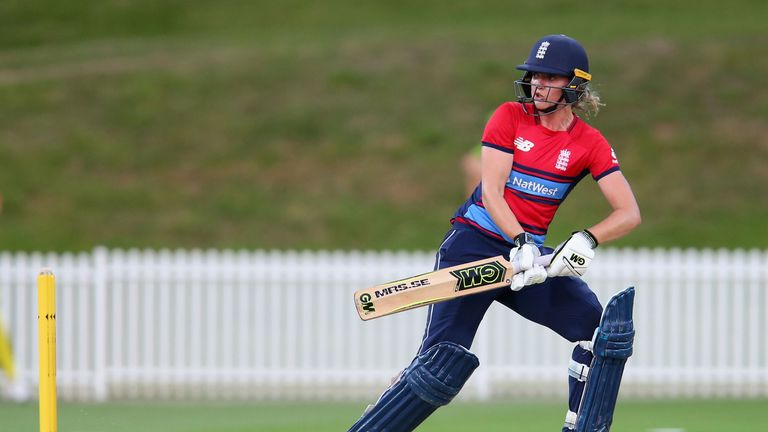 A year later, in October 2015, the London-born player broke the mould, as she became the first woman to play Australian first-grade cricket - the highest level of the game below first-class cricket.
But, for all the battles Taylor had fought in 10 years on the field she was, and had been for some time, facing her toughest one off it.
"I look back at India in 2016 and I was in a dire place, mentally and physical - I was drained," she admits.
"It was a culmination of a hard-fought few years of trying to get myself back to where I could be. It seemed worth all the tears at that point."
There had been struggles with the bat for Taylor, who managed just 135 runs in eight innings during the 2015 Women's Ashes.
The following March, the former No 1 ODI batter managed only 49 runs in the five matches England played at the World T20 in India - which ended in an alarming collapse for the team in the semi-final loss to Australia.
The fall-out from that ultimately poor showing saw captain Charlotte Edwards retire from cricket, after new coach Mark Robinson decided he wanted a different direction in leadership.
With so much change happening to the national side, it came out of the blue when, a few days after Edwards' retirement in late May, the ECB announced Taylor was taking an indefinite break from cricket without too much further explanation.
At the time, the England Women's central contracts were one-year deals with little financial security outside of them but despite the uncertainty, Taylor felt unable to go on playing.
"I didn't know if I was ever going to play cricket again," the Sussex player said. "My health is far more important than cricket.
"I learnt that I over-analysed everything in cricket. I took everything really personally and was always worried what people were thinking about [how I had played]."
A month after walking away from the game she had always loved, Taylor opened up about her anxiety problems.
Looking back, the two-time World Cup winner explained that despite going through such a difficult time herself, she felt opening up was important.
"The only reason I put it out there in a social media aspect was to try to help," Taylor says.
"If I can help people and help people to understand that [coping with anxiety can get better], I am doing my job.
"I get a lot of messages and a lot of support from others. Sometimes the support comes from other people who have gone through it themselves.
"Anyone that knows me knows that where I am now is in a completely different place to where I was a year ago. I just want to make sure people understand that it does get better."
Throughout her time away from the side, Robinson stayed in touch with Taylor, alongside the ECB who provided unlimited practical and medical support.
Former players, like Jonathan Trott, within men's cricket had previously expressed difficulties at finding support for their mental health issues.
But, in Robinson's previous job as head coach of Sussex men he had worked with Michael Yardy, who had mental health problems and in the 51-year-old coach, Taylor had an unrivalled ally.
"He is the sole person who I wouldn't be back playing cricket without," she explains. "I doubt myself a lot, that's a given with anxiety. Robbo's very good at bringing you back down to earth and showing you what is really important.
"He makes it completely normal that you have failed because he knows that you will learn from it.
"He'll say 'I can see what you were trying to do there and that's unlucky but it was the right thing to do'.
"Before I would have taken it away, stewed on it for weeks and never tried it again out of fear of getting out."
Taylor returned to playing cricket on May 1 last year and a little over two months later she scored a century in England's World Cup group victory over South Africa.
In the semi-final against the Proteas women, an exceptional piece of glove work by the wicketkeeper once more highlighted the natural talent she possesses behind the stumps.
But, despite looking back to her best on the field and lifting the World Cup trophy at a sold-out Lord's in July, Taylor's aware her off-field battles are far from over.
Anxiety can make even the simplest of tasks from getting dressed, leaving home, being around other people, in a crowded space or put in pressurised situations feel difficult to do.
Balancing all of those problems while also setting high standards for herself as a professional sportswoman, with overseas tours a regular part of the job, is undoubtedly a challenge.
"The cricket is the release and is the easy bit," she says. "Given everything that has happened off the field, it has made more resilient on it.
"Although the World Cup was incredible, in terms of my off-field stuff the tour away to Australia was a lot more successful.
"[The Ashes] was one of the toughest tours I have ever been on, dealing with the travel, the planes, being away from a safe area like home, partners, family.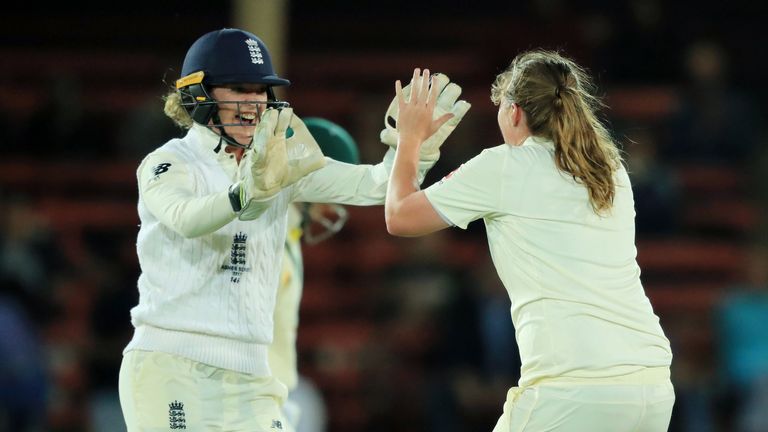 "With all of that, the fact that I got through it, played okay and had quite a decent tour meant a lot.
"It is a lifestyle that I have chosen rather than it being put on me that I have to do well in it. I appreciate cricket more because I am choosing to do it."
Taylor is realistic about her on-going recovery and acknowledges that she still has a long way to go but takes great pride in knowing she can still play at the highest level and enjoy her cricket.
An important part of recovery remains rooted in taking small steps, having short-term goals, getting through day to day that can ultimately help with a return to feeling comfortable doing the simple tasks that can seem challenging.
And, back at Sussex, her county side who she credits for investing time and money in her as a young cricketer, she feels she is getting back to her old self.
"The girls [at Sussex] are great, I'm enjoying getting to know people - which I did years ago - it is nice to go back through this process again.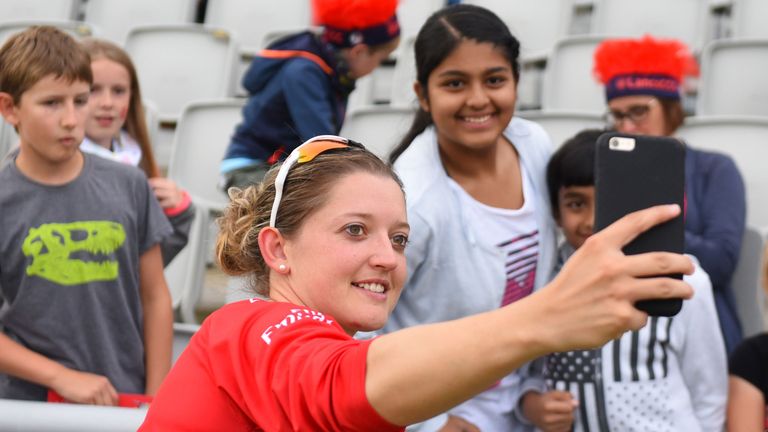 "To get back to being who I was, getting to know random people and enjoy success with them."
There are tough tests ahead, and as England travel to India - where Taylor previously reached her breaking point - next week for a T20 tri-series along with Australia as they continue preparations for the Women's World T20 in the Caribbean in November, the wicketkeeper has been rested.
Much like with the Women's Ashes, being away from home comforts and safe environments, can amplify anxiety for some.
But, aware of challenges on and off the field that are to come, there is a lesson for everyone in Taylor's final thought on what she has learnt during her on-going recovery over the last two years: "I can do anything."