Adil Rashid talks Eoin Morgan and chasing Tim Bresnan after England's ODI whitewash over Australia
"Morgs' attitude is fantastic and without him I don't think we would be in the position we are. He has a superb cricket brain and is an exceptional leader."
By Adil Rashid - @AdilRashid03
Last Updated: 25/06/18 7:29pm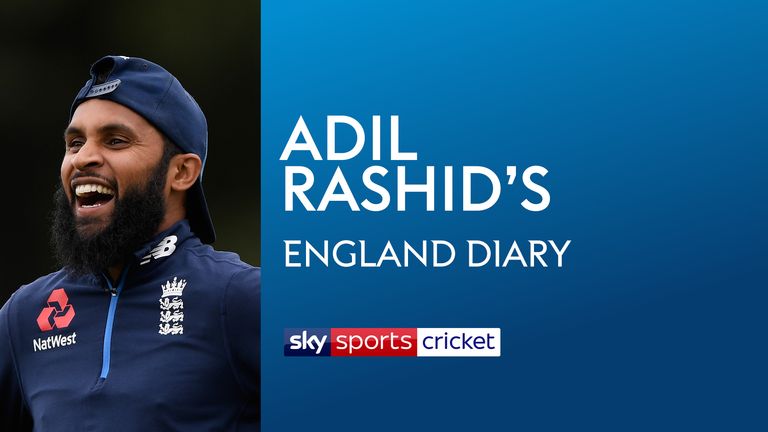 Adil Rashid hails Eoin Morgan and England's team spirit, plus discusses his rise in the rankings and how he's hunting down Tim Bresnan, after helping earn an ODI whitewash over Australia…
Our objective was to beat Australia 5-0, but we were focussed on winning the final game before we spoke about the whitewash. There was no talk about it before from anyone within the team.
The fact we've now done it is testament to all the hard work we have put in over the last two or three years. Everything is paying off.
There is huge enjoyment in this team, we are bonding really well, supporting each other and love other guys doing well. That's what our success has come down to.
Since 2015 Morgs has been the brains behind our one-day team, so a lot of credit goes to him for the way he has handled that, handled the pressure and led his troops.
His manner, his attitude is fantastic and without him I don't think we would be in the position we are. He has a superb cricket brain, is an exceptional leader and we all have great respect for him.
When he hands me the ball, he gives me so much confidence. He's never about keeping the runs down, he never tells me what to bowl - he just says 'go and do your work, do your tricks'.
As I said in my last blog, my job in the bowling attack is to create chances and make something happen. If I get hit for a few sixes by the batsmen, I don't mind that because I have to look for wickets. That's my strength and I'm always going to stick to it.
Morgs gets that and backs me all the way. He has shown a lot of faith in me and captained me so well. I am really happy about that.
Relaxed
It was nice to play my part in dragging us back into the game at Old Trafford, we were 114-8 when I went out to bat with Jos Buttler. We were both really calm, we were having a great laugh out in the middle as well - it wasn't a case of 'we've got to do this, we've got to do that'.
At the end of the over we'd just bump fists and say 'cool, let's go again' - perhaps not in exactly those words but something similar. We knew we just had to play as we had enough time to get the runs, so it was just about enjoying it and staying relaxed until they started panicking.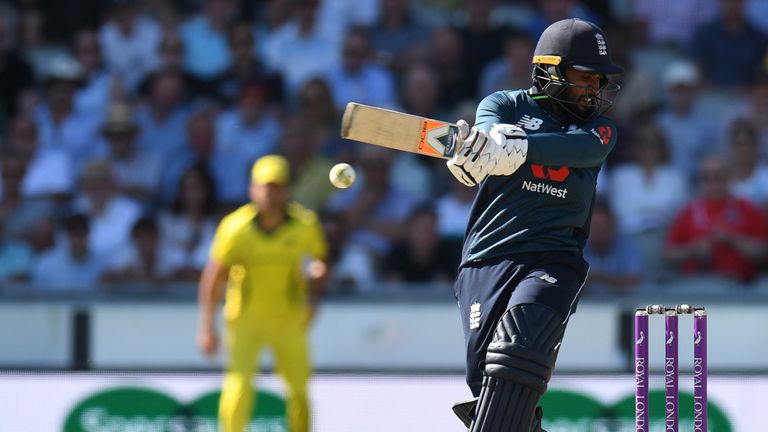 You have to work on your batting in this side, even at No 10. You might come in with your side needing 10 from two balls to win, so you have to make sure you are prepared for that.
Our batting is deep and our top six and seven do the job on most occasions, so sometimes you don't get the opportunities. Sunday, though, was my time to come in, assess the situation and bat.
I was disappointed to get out when I did but we only needed 11 runs so I backed Jake Ball to help Jos get us over the line. If it was 30, 40 or 50 runs to win it would have been more nail-biting but we were only one or two shots away and knew Jos would do it.
He's something special, is Jos. He is a world-class player who has done it for England and all over the world for a number of years and hopefully he can carry it on.
When he took the single and got Jake on strike, we were sat in the dressing room thinking: 'Just block everything!' That's what Jake did and then Jos scored the winning runs.
Our celebrations were calm, as they always are. We just sat in the dressing room for couple of hours, enjoying our victory, chatting, soaking up all the enjoyment - our families were there too and then the opposition came in as well. It didn't go long into the night!
Positive
I was pleased to take 12 wickets in the series. I feel like I am improving, developing series by series and working things out but you always want to get better and better.
I don't want to stay in one place and be happy with what I have. I want to develop and give one hundred per cent. You will have good days and bad days, good series and bad series, that's part and parcel of cricket and life, so you just have to keep that positive mindset.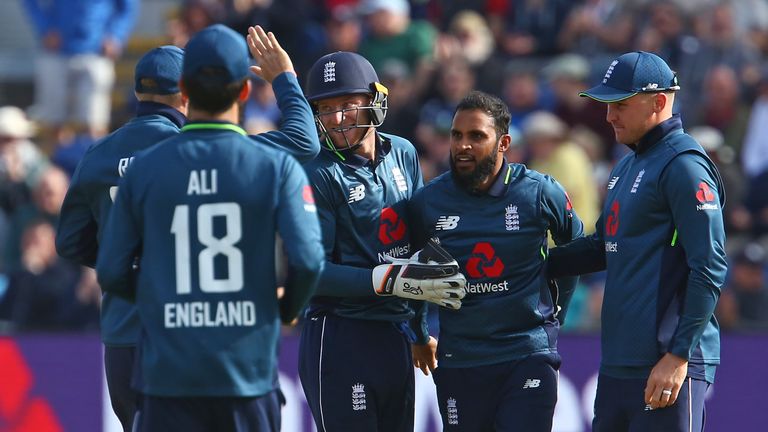 I know I have now taken more ODI wickets than any other England spinner and have moved up to eighth in the ODI rankings, but my focus is on winning games for England. If personal milestones come, they come but team success is more important. We play as team and we win as a team.
That said, now that I only need three wickets to overtake my Yorkshire tam-mate Tim Bresnan on England's all-time list, I might give him a ribbing if I do it. He does talk about his 109 ODI wickets quite a lot, so it would be a nice feeling if I beat it!
I thought we might beat 500 as a team at Trent Bridge in the third ODI - we got really close and it certainly looked possible while Alex Hales and Morgs were in. We lost a couple of wickets and then couldn't get up and running again.
Before that, though, it was the most brutal batting I've seen in a 50-over game. We obviously got 444 against Pakistan a few years ago but this topped it by nearly 40 runs.
It was something really special to watch.
Watch Rashid in action in England's one-off Twenty20 international against Australia, live on Sky Sports Cricket (channel 404) and Sky Sports Main Event (channel 401) from 6pm on Wednesday.
Comment below to get involved in the debate, but please adhere to our House Rules. If you wish to report any comment, simply click on the down arrow next to the offending comment and click 'Report'.