Amy Satterthwaite aims to shine for New Zealand against England Women
Watch England Women take on New Zealand Women on Sky Sports Cricket
By Kalika Mehta - @Journo_K
Last Updated: 06/07/18 3:37pm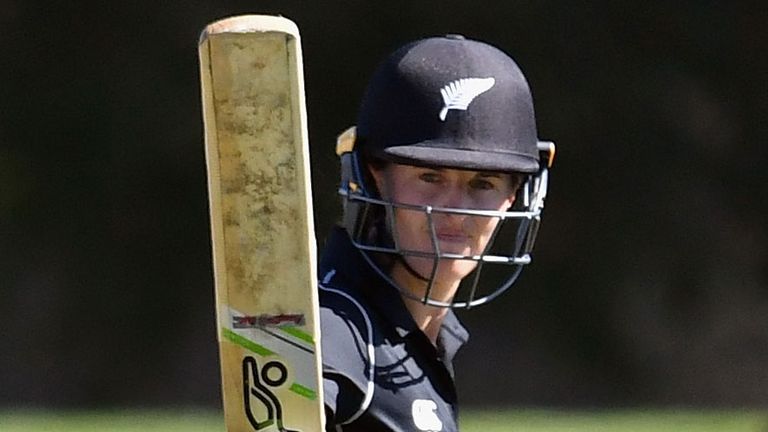 New Zealand Women's Amy Satterthwaite tells Kalika Mehta about her record run - and how she hopes to rediscover her run-scoring form in the upcoming ODIs against England Women...
As superstars of women's cricket go, Amy Satterthwaite may well be one of the most likely to fly under the radar.
The 31-year-old is one of the most talented batters around and holds a one-day international record matched only by Kumar Sangakkara.
In the purplest of purple patches, Satterthwaite ended the 2016-17 season having scored 935 runs from 14 innings, including four consecutive ODI hundreds - a record milestone in both men's and women's cricket equalled only by the former Sri Lanka wicketkeeper-batsman.
And, with time to reflect on that incredible period, the Canterbury-born player says there was no secret to her success at that time.
"It was a really surreal time for me and the performances were out of this world," she explains. "You end up flowing through it without realising what's happening.
"Everything clicked and I did almost just see the ball like a basketball; I felt a little bit invincible. Confidence is such a huge part of this game; when it flows, it can give you that slight edge that helps a 50/50 moment to go your way."
While it was undoubtedly a period of exceptional personal success, Satterthwaite has found it challenging at times to stop herself from comparing her current form to that sparkling period.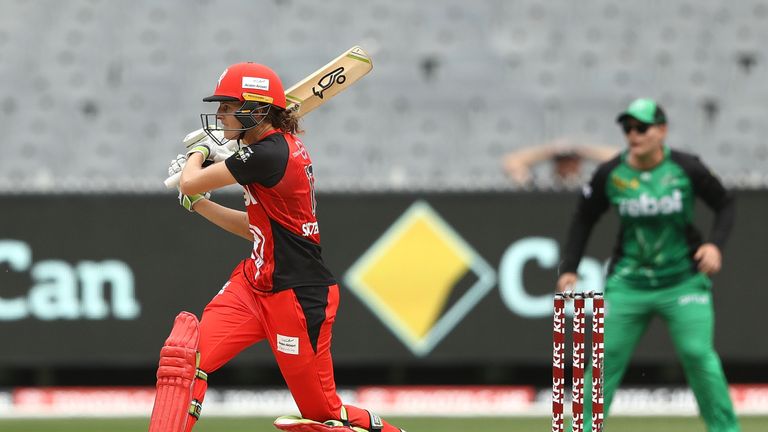 And, the New Zealand international wishes she had written down as much as possible of how she felt in that period knowing that the moments do not, and cannot, last forever.
"The hard part now is trying not to compete with what was such a purple patch because otherwise you feel like you're constantly failing," she says. "Even though you might actually still be going alright.
"It's natural once you've had performances like that to think 'I did it once, surely I can do it again' in the back of your mind.
"The more you can relax about it a little bit and try not to compete with that period too much, it helps your performance.
"The more you stress about it and try to strive for something that was pretty unbelievable then it can make it harder at times because you end up putting a lot of pressure on yourself and choking sometimes.
"It's a real fine line; it's trying to go back to your processes and what has been successful for you and trying to keep it simple."
Becoming a cricketer was not as simple a journey for Satterthwaite as it may seem from the outside looking in.
Though her father was a professional player for local club Canterbury, where Satterthwaite herself would play her club cricket, there was - like for many young girls at the time - a lack of visible female cricketing role models.
Much like for her now-international captain Suzie Bates, the 2000 World Cup on home turf was a seminal moment for Satterthwaite - as she saw the New Zealand women's cricket side play on TV for the first time and successfully lift the trophy.
"I watched the 2000 World Cup and I saw glimpses of women's cricket just at the right time," she remembers. "There might have been girls playing at different ages that didn't see that.
"I was lucky that the timing of that world cup coincided with me being in my teenage years and that helped really spur me on to think that it was something I really wanted to do.
"It's exciting to think that I've ended up in this position and now I can be someone who can inspire other girls to get into the game."
With her drive to play the game, at any level, coming from a place of passion and genuine love of cricket, Satterthwaite came close to leaving the sport in her periphery around the age of 25.
But with New Zealand playing fewer matches at the time, it allowed the Lancashire Thunder batter to take some time away and rediscover her hunger for the game.
Many players of Satterthwaite's generation had not foreseen playing in a professional era and although she was offered one of the inaugural New Zealand women's central contracts in 2013, the right-hander batter turned it down, realising she would be taking a cut in pay from what she was earning in her professional life away from cricket.
But, after fighting her way back into the ODI side and producing a series of undeniably talented displays, she was one of 10 players awarded a central contract in 2015.
"There was a period when I really struggled one season," she said. "I have always vowed that if I didn't enjoy the game and stopped loving it that I would hang up the boots.
"I can't tell you what made me keep going but thankfully I kept going and got my passion and joy back.
"The game has evolved so much in the last few years that has created a real excitement about it.
"Opportunities to play in other leagues, with the Big Bash and Kia Super League, meeting new people, play under different structures, has kept the buzz and enjoyment about it for me.
"I would never have predicted that I would have been able to be a full-time cricketer and to think that that has happened during my playing career has been phenomenal.
"I'm just trying to make the most of it. I have loved being involved in this sort of time."
Satterthwaite acknowledges she is undeniably a part of one of the most talented New Zealand teams in their history.
Yet it is a side who have been unable to lift any silverware, a fact that does not sit well with the 199 internationally-capped batter.
The White Ferns had a disastrous World Cup campaign in 2017, finishing fifth in the eight-team group stage and outside of the knockout places after managing just three wins from their seven matches.
A desperate tournament ended on a real low for the one-time champions, as they were bowled out for 79 by India to send them home early - after being seen as one of the strongest contenders for the crown.
With enough time now having passed, Satterthwaite reflects on the World Cup with a wry smile across her face, more than aware that this squad of New Zealand players have underperformed at the top tournaments despite the depth of talent they possess.
"We've had a couple of World Cups where we've taken in a really good side and felt we had a good opportunity to have a go at winning them," she admits.
"We went in last year knowing that we had a balance of experience and youth, of having different facets of the game well covered and being in one of our best positions to give it a good challenge.
"Our experienced players didn't step up enough and score enough big runs when it counted or under pressure.
"To finish how we did, we were bitterly disappointed and felt that we really underperformed as a team and that is something we never want to go through again.
"You have to reflect, look back and try and pick out the key elements to what went wrong.
"Looking back, having some time to allow some of the raw emotion to become subdued and then be able to look back at it factually and at what happened and how we can look forward helped."
Despite the evident disappointment of having underperformed in 2017, Satterthwaite, Bates et al have come close in the past to clinching a trophy.
The White Ferns finished runners-up in the World T20 in 2009 and 2010 - to England and Australia respectively - while also falling short to England in the 2009 World Cup.
But, with a home 50-over World Cup just three years away, Satterthwaite believes this talented side are capable of signing off on a series of glittering careers in shining glory.
"We have had a team that has some extremely talented players and to be a part of that has been really exciting," she says.
"I've been honoured to play alongside what I consider some of our best players at times.
"There is that cherry for all of our group playing at the moment that we haven't won a World Cup.
"We've had opportunities and we've had talented groups that on their day could have done it.
"That will keep driving quite a few of us at the moment and is something that we would love to achieve before we retire."
Watch England Women take on New Zealand Women in the first one-day international live on Sky Sports Cricket from 10.30am on Saturday.
Comment below to get involved in the debate, but please adhere to our House Rules. If you wish to report any comment, simply click on the down arrow next to the offending comment and click 'Report'.