Virat Kohli says India 'not brave enough' as loss to New Zealand hits T20 World Cup semi-final hopes
"When you play for the Indian cricket team, you have a lot of expectation. Not only from the fans, but from the players themselves. When you cope with it as a team, you are able to cope with that pressure - and we haven't done that in these two games, which is why we haven't won"
Last Updated: 01/11/21 6:43pm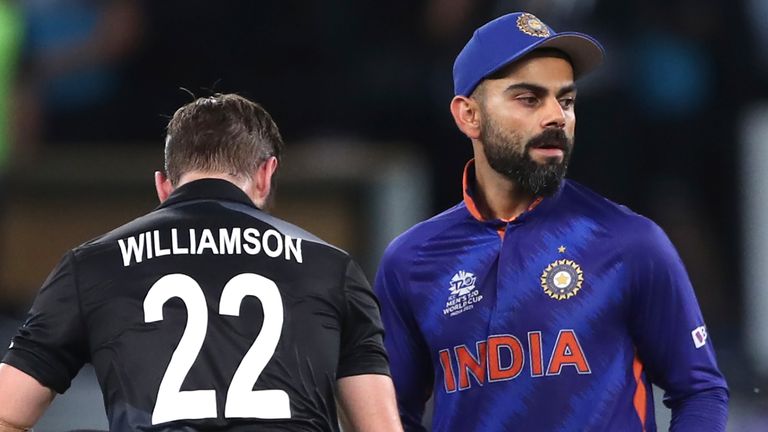 Virat Kohli said India "were not brave enough" as they tumbled to an eight-wicket defeat to New Zealand in the T20 World Cup which left semi-final qualification out of their hands.
India, the pre-tournament favourites, were restricted to 110-7 in Dubai, before the Black Caps trumped that total with 33 balls remaining to inflict a second straight loss on Kohli's side, who suffered a 10-wicket hammering to Pakistan at the same venue a week ago.
India will now probably need to win all three of their remaining matches, starting against Afghanistan on Wednesday, to stand a chance of advancing to the last four in the UAE.
Kohli said after the New Zealand defeat: "It was quite bizarre. Being honest, being brutal, I don't think we were brave enough with bat or ball. With the ball we obviously didn't have much to play with.
"We were not brave enough with our body language when we entered the field. New Zealand had better body language, better intensity."
New Zealand seamer Trent Boult (3-20) conceded just one run from the first over, while India managed just 10 boundaries in their innings.
Kohli added: "New Zealand created pressure on us from the first over onwards and continued that through the innings. Every time we felt like we wanted to take a chance, we lost a wicket.
"That happens in T20 cricket, but it is most often as a result of that little bit of hesitation with the bat when you feel like, 'should I go for the shot or not?'
"When you play for the Indian cricket team you have a lot of expectation, everyone knows that.
"Not only from the fans, but from the players themselves. There is always more [pressure] with our games, that has always been the case.
Let's be honest … For all the talent & depth in #India cricket they under achieved massively for years in white ball Cricket … #Fact #T20WorldCup

— Michael Vaughan (@MichaelVaughan) October 31, 2021
"We have embraced it over the years and everyone who plays for the Indian cricket team has to embrace it and learn how to cope with it.
"When you cope with it as a team, you are able to cope with that pressure - and we haven't done that in these two games, which is why we haven't won.
"There is only one way to play in T20 cricket - you have to be optimistic, positive, take calculated risks. That's what this format is all about.
"Just because you are the Indian cricket team and there are expectations on you, doesn't mean you start playing the format differently.
"I think we have to disconnect from that a little bit and just back ourselves and take pride in performing for the team. As long as individuals are looking to do that, I think we will be fine.
"There is a lot of cricket to play in this tournament and that is something we all must look forward to and go out with a positive frame of mind."
This defeat should hurt Team India. Tentative with the bat, their shot selection was questionable. New Zealand bowled superbly, but India made their task easier. With their net run rate also taking a beating, a semifinal spot looks a distant dream #INDvNZ #T20WorldCup

— VVS Laxman (@VVSLaxman281) October 31, 2021
Very disappointing from India. NZ were amazing. India's body language wasn't great, poor shot selection & like few times in the past, New Zealand have virtually ensured we won't make it to the next stage. This one will hurt India & time for some serious introspection #IndvsNZ

— Virender Sehwag (@virendersehwag) October 31, 2021
Bumrah: Bubble fatigue can creep in
India seamer Jasprit Bumrah - who took 2-19 from his four overs against New Zealand, dismissing Martin Guptill (20) and Daryl Mitchell (49) - believes bubble fatigue may have been a contributing factor in his side's disappointing start to the tournament.
India played five Tests in England this summer - four against Joe Root's side plus the World Test Championship final against New Zealand - and then headed to the UAE for the conclusion of the IPL and, now, the T20 World Cup.
"Sometimes you need a break, you miss your family sometimes, you've been on the road for six months," said the fast bowler.
"All of that sometimes plays on your mind, but when you're on the field, you don't think about all of those things - you don't control a lot of things, how the scheduling goes or what tournament is played when.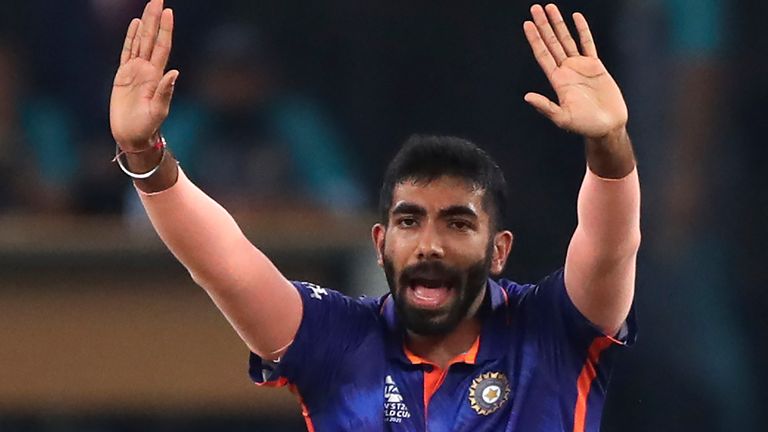 "Staying in a bubble and away from your family for such a long period of time does play a role on the players' minds.
"The BCCI (Board of Control for Cricket in India) also tried their best to make us feel comfortable, but this is the time we are living in right now, it's a difficult time, there's a pandemic going on.
"We try to adapt, but sometimes bubble fatigue or mental fatigue creeps in when you're doing the same thing again and again and again. It is the way it is and you can't control a lot of it."
Watch India take on Afghanistan, in Abu Dhabi, live on Sky Sports Cricket and Sky Sports Main Event from 1.30pm on Wednesday.