ICC boss N Srinivasan's son-in-law faces betting probe
The son-in-law of new ICC chairman N Srinivasan is facing charges of illegal betting in India.
Last Updated: 10/02/14 2:44pm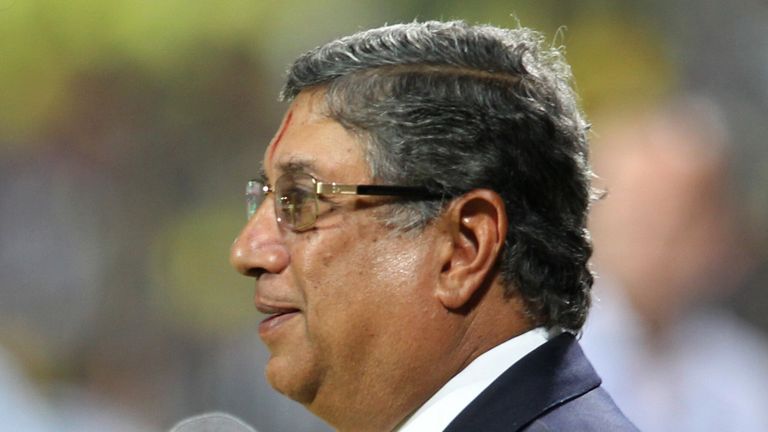 An Indian Supreme Court panel investigating a match-fixing scam is looking into allegations that Gurunath Meiyappan passed on information to bookmakers during last year's Indian Premier League.
Meiyappan, who was the team principal of Chennai Super Kings, is facing a number of charges issued by Mumbai police including forgery, criminal conspiracy, breach of contract and handing team information to alleged bookmakers.
Several officials, players and bookmakers have already been charged in court in connection with a number of illegal betting probes launched following last year's competition.
Supreme Court judges are now in receipt of a legnthy report completed by the panel, who rejected claims by Srinivasan that his son-in-law was not involved in the running of the Chennai Super Kings.
"Roots of corruption and malpractices have crept in deep into the game of cricket, more particularly the IPL, and are seeping into the game at an alarming rate," the panel said in its 170-page report.
The panel is headed by retired judge Mukul Mudgal, who hinted that the only way to rid cricket of match-fixing was to legalise gambling.
"I don't think match-fixing can be totally eliminated," Mudgal said on Indian television. "It is necessary to legalise betting and gambling to erase match-fixing."
The franchise is owned by Srinivasan's cement company, creating a conflict of interest that the Supreme Court have been advised to investigate further.
Srinivasan, the chief of the BCCI, was elected as ICC chairman at the weekend as part of a landmark restructure of world cricket's governing body.
Rajasthan Royals owner Raj Kundra is also set to be probed over his alleged role in spot-fixing.
But despite the numerous allegations, the Supreme Court have ruled that the player auction for this year's seventh running of the IPL can go ahead as scheduled.