Alastair Cook becomes first Englishman to 10,000 Test runs
England skipper youngest of the 12 men to score 10,000
Last Updated: 20/10/16 5:52pm
Alastair Cook has become the first Englishman to reach 10,000 Test runs after scoring the five runs he needed on day four of the second Investec Test against Sri Lanka at Emirates Riverside.
Cook flicked Nuwan Pradeep off his legs for four to become the 12th man in total to achieve the feat, doing so in his 229th innings and 128th Test.
The England skipper, at 31 years and 157 days, is also the youngest batsman to reach the milestone, topping India's Sachin Tendulkar, who scored his 10,000th run at 31 years and 326 days.
Tendulkar (15,921) is the leading run scorer in Test history, with Ricky Ponting, Jacques Kallis, Rahul Dravid, Kumar Sangakkara, Brian Lara, Shivnarine Chanderpaul, Mahela Jayawardene, Allan Border, Steve Waugh and Sunil Gavaskar also passing 10,000.
Speaking after England's nine-wicket win, Cook - who has hit an England-record 28 Test centuries, including one on debut against India in Nagpur in 2006 - said: "It was a very special moment for me.
"The game is not about personal milestones, it's about winning games of cricket for England and scoring the runs that do that. Second to that, there are little milestones along the way. I am proud of that, to be at the top of the order and doing it against the new ball means a lot."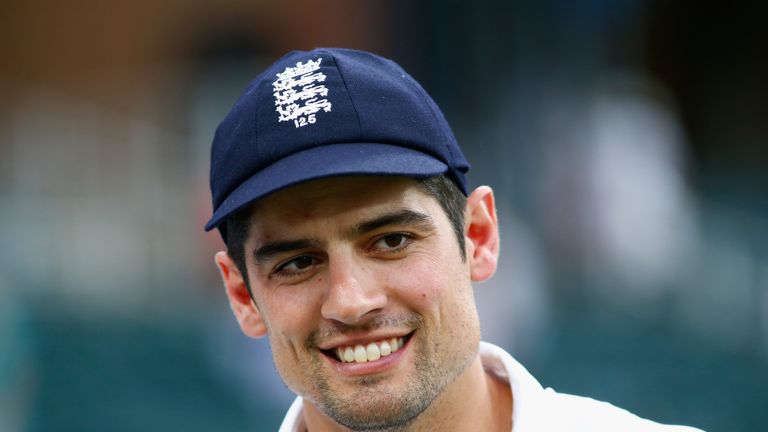 Former England all-rounder and Sky Sports pundit Sir Ian Botham believes Cook will be pleased to get the milestone out of the way.
"He'll be delighted and I'm sure he'll be very proud but also I think he'll be relieved," he said. "It's been a bit of a millstone around his neck for the last couple of weeks and he was getting fed up with questions about it.
"He can now put it all to bed and get on with his life. I think he's got lots more runs to come yet, this is just a milestone for him.
"He's 31, he's got lots of time to go yet - four years or maybe five, I'd suggest, if he keeps himself fit. In five years, he could be chasing Sachin. Who knows?"
Botham's fellow Sky Sports expert Nasser Hussain added: "For my mind, Alastair is the most mentally strong cricketer England have ever produced.
"His great mentor, Graham Gooch, was very good in that regard, as were Graham Thorpe, a man who loved heading out of the dressing room with the pressure on, and Michael Atherton - but Cook probably pips it.
"Plus, his stubbornness means he is fully prepared take six hours to get a hundred, rather than the three that it might take someone like Ben Stokes."