Chris Woakes urges England's bowlers to 'step up' after Jake Ball injury
Last Updated: 09/11/17 2:09pm
Chris Woakes has urged his fellow England bowlers to step up after Jake Ball sustained an ankle injury in their Ashes warm-up against a Cricket Australia XI.
Ball was forced to withdraw on day two of England's four-day game in Adelaide with a sprained ankle, with just two weeks to go before the first Test.
The bowler's right ankle appeared to buckle during his fourth over during the home side's first innings.
Ball, who left the ground on crutches, is another injury worry after Steven Finn flew home from Australia with a serious knee injury.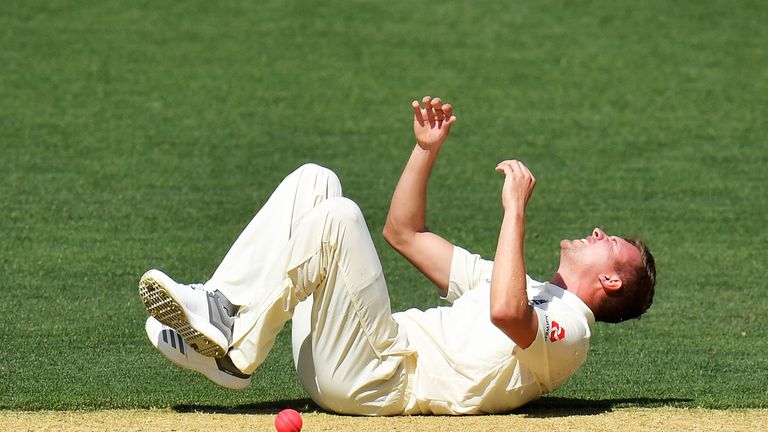 Woakes said: "It's quite frustrating for himself and us as a team. It's never nice to see one of the fast guys go off injured.
"We (the bowlers) now have to step up, individually you have to step up but it is never good to lose a bowler. Losing Finny was sad for him but we have to deal with it.
"Tom Curran is coming into the squad and we have to rebuild. We've got a good unit in the dressing-room who are willing to put in the hard yards.
"I think we can all cause some problems out here with what we've got."
Woakes took two wickets as England restricted a Cricket Australia XI to 233-9 on day two of their day-night tour match in Adelaide.
It was the bowling all-rounder's first experience of the pink ball and he says the experience will be good, not only for him, but for the team as a whole.
"It's the first experience for me with the pink ball in a game situation," Woakes added.
"It's exciting cricket, a bit different. (Day-nighters) always seem to bring up good games of cricket, so I'm all for it.
"It's important we get as much experience of this as possible, as much knowledge as possible, and a work-out like that today for us as bowlers has been really good."