Alastair Cook stayed true to himself right to the last in his farewell press conference
"I've never been the most talented cricketer, I don't pretend I was, but I definitely think I got everything out of my ability."
Last Updated: 06/09/18 5:58pm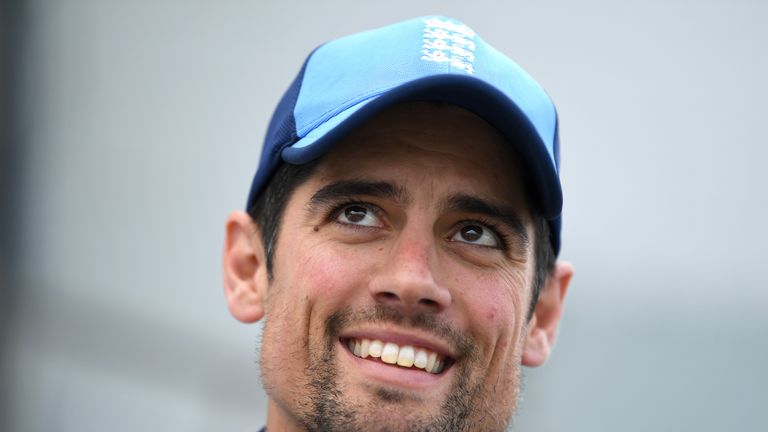 After 12 years of enduring rather than enjoying such events, Alastair Cook's final press conference as an international player was never going to be a raucous affair.
There were a few self-deprecating jokes, plenty of considered responses and every question was answered calmly and politely. It was all very Alastair Cook, doing what he knew had to be done, whether he liked it or not.
More than anything there was honesty - even when he admitted he had had to lie through his teeth for the past six months whenever he was asked about his future.
"In this day and age it is very hard to keep anything quiet and if it [the series] was 2-2 I would have kept my mouth shut," he said. "When you do media or you do stuff where you're asked questions, it's quite hard to constantly lie!
"I mean I've been pretty good at it but there is certain stuff, you're answering questions and you just know that you're not being true to yourself."
Given the way Cook has gone about his career both on and off the field, it is no surprise that something like that would not sit right with him. He has never pretended to be something he is not.
Stubborn and single-minded are how he described himself on more than one occasion during his press conference, the same phases have been used by countless others as the tributes to him have poured in over the past couple of days.
It is such qualities that helped him as a batsman. His focus was always on scoring runs, how they came was of little consequence. Any cricket fan will tell you that an ugly hundred means far more than an attractive 30 or 40 and Cook took that mantra and used it to become arguably England's greatest ever batsman.
Those traits also meant that he saw precious little of the reaction and few of the heartfelt messages for him for the first two days after announcing he would retire. He has always shunned social media, preferring to not to broadcast his thoughts to the world as he spends time on the farm with his family.
Nasser Hussain has long argued that Cook is the most mentally tough cricketer that England have ever had, but for Cook, is has become was and it is that which informed his decision to step away from international cricket.
"I've always had that mental edge, I've always been mentally incredibly tough and had that edge to everything that I've done and that edge had kind of gone," he added. "That stuff that I found easy before just wasn't quite there and to me that was the biggest thing."
He points to series win in Australia (2010/11) and India (2012) as personal highlights from his England career, he was named player of the series on both occasions - a triumph for desire and determination over God-given talent, Cook said.
"You can't really look past those two away series where I was man of the series and we won in Australia and India. That's the best I could play and probably my career as a whole, I can look back and say I became the best player I could become.
"That actually means quite a lot to me, I've never been the most talented cricketer, I don't pretend I was, but I definitely think I got everything out of my ability."
Of course, Cook is underplaying his own abilities - you don't score over 12,000 Test match runs without a healthy dose of natural proficiency - but there's no doubt that the former England skipper used every last drop of that talent and worked tirelessly to become the run machine that he was for so long.
Cook says England's current Test side "is more talented than any other side" he had played in, with players capable of doing "special things on their day".
England certainly still possess some incredibly talented players, some, by his own admission, with plenty more natural ability than Cook, but how many will end their careers with a record comparable to him?
That is no slight on them. After all, Cook will go down as one of the greats. It only goes to show the remarkable mental fortitude of the man to reach such heights. It will take far more than just another opening batsman to fill the void left by Cook but come Tuesday evening, that is exactly what England must try and do.
While that process takes place, Cook can look forward to a winter off for the first time in more than a decade before returning to Essex next summer. How long he plays on is anyone's guess but he is adamant that, as with the international game, once the hunger has gone, he won't be far behind.
"If mentally if I don't have that buzz then I won't hang around. That's not the way I go about things."
Watch Cook's final Test as England take on India from 10am, Friday on Sky Sports Cricket and Main Event.