PODCAST: Nasser Hussain interviews Alastair Cook as he prepares to retire from England
"I think I would probably cry if I got a hundred, it would be special," says Cook ahead of his 161st and final Test against India
Last Updated: 06/09/18 9:21pm
"For 12 years we have literally lived the dream. As a family and myself as a cricketer. It is above and beyond anything I could have ever imagined."
Those the words of Alastair Cook as he sits down with Sky Sports Cricket expert and fellow former England captain Nasser Hussain to reflect on his international career, which will end with his 161st and final Test against India at The Oval, live on Sky Sports from 10am on Friday.
Download the show HERE as Cook chats about maximising his ability; knowing it was the right time to quit; the highs of winning in Australia and India; and playing with numerous opening partners.
England's leading Test run scorer also reflects on the Kevin Pietersen affair; mental strength being a talent; not playing in a World Cup; his future at Essex; and why it is tough for young cricketers in the social-media age.
Here is a taster of what was talked about…
"I became the best I could be'
"I was never going to be the best player the world has ever seen but one thing I can be proud of is that I genuinely believe I have become the best player that I could have become.
"I was determined that when I finished I wouldn't have that little bloke on my shoulder saying 'what if?' and nagging away at you and I haven't got that. You are going to have little regrets over certain things - it's only natural - but as a whole I can sit down and be very proud."
"Retirement became clear in my mind"
"[It was a] difficult decision because you know what you are giving up but quite easy because of how I am feeling about my cricket. Your head's telling you it's the right decision but your heart knows what it's giving up.
"It's been a gradual thing, little things sneaking in and then you start questioning yourself more and more. I've always had that resilience and fight to answer those questions but over the last year and then the last three or four months it has been quite clear in my mind."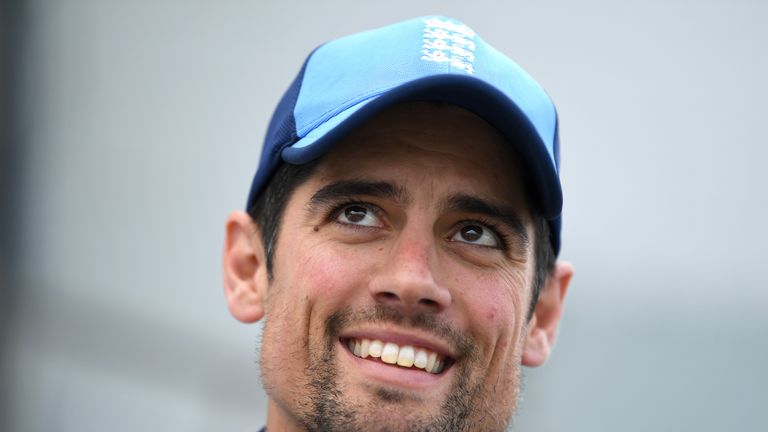 Someone rang me the other day and said: 'Just checking you're alive, everyone's talking as if you're dead!' It made me chuckle! It is amazing when people come out and say such kind things about you.
Alastair Cook
"It was the first time I took my game to a world-class level"
"You can't play better [than I did during the 2010-11 Ashes in Australia] - for seven weeks everything went my way. It was the first time I thought I took my game to a real world-class level. That was incredible for me and gave me a lot of confidence over the next few years - I could be better than the world's best bowlers. It was a big defining moment for me.
"It then probably culminated in India [in 2012) when we won in my first series as captain. That was definitely the best I ever batted. Two be Man of the Series in two major series wins away - that was very important to me."
"Being so single-minded wasn't helpful"
"Throughout my career I have done it my way and used my stubborn streak. I thought the best way to captain was to shut out all the noise - I did it with my batting and thought 'that has served me well, so why change it?' After the 5-0 in the Ashes and then losing to Sri Lanka at home I realised I wasn't getting the best out of my captaincy.
"Being so single-minded and not listening to anyone else wasn't helpful, I needed more help, I needed more advice and certainly those last couple of years as captain I leaned on a lot more people and asked for ideas. I don't regret what I did for the first couple of years but I was a far more natural captain as I relaxed. Learning on the job as England captain is hard."
Watch Cook's final Test - against the same side he played against in his first, in Nagpur in 2006 - live from 10am on Friday on Sky Sports Cricket (channel 404) and Sky Sports Main Event (channel 401).
Comment below to get involved in the debate, but please adhere to our House Rules. If you wish to report any comment, simply click on the down arrow next to the offending comment and click 'Report'