Women's Ashes: Clare Connor's guide to limited-overs series
ECB head of women's cricket Clare Connor gives her insight into the forthcoming limited overs Ashes matches.
Last Updated: 17/01/14 4:15pm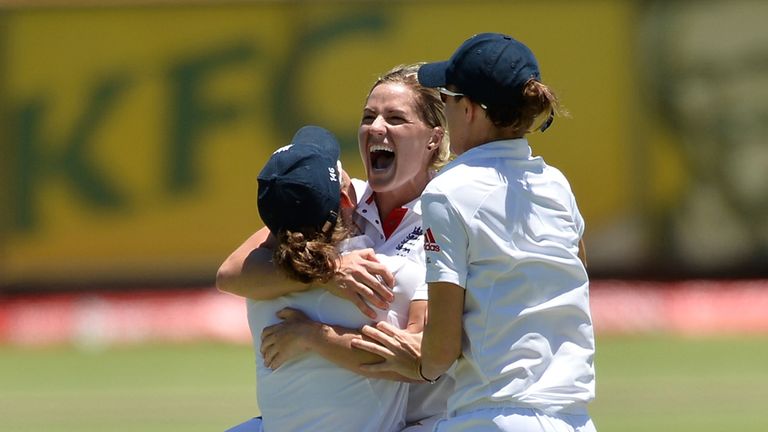 England won the only Test match in the series in Perth to take a 6-0 points lead in the multi-format series. That means the hosts have to win five of the limited overs internationals - three ODIs and three Twenty20 matches - to regain the Ashes.
England are on a roll - as well as the Perth Test, they won the summer Ashes series in England 12-4, winning the last five limited-overs matches.
The first 50-over match takes place in Melbourne, and the ECB's head of women's cricket, Clare Connor, tells us what to expect over the next two weeks.....
"I think the results in the summer, that margin of 12-4, belied how close the two teams were," she said. "I can identify two or three key moments across those series where we won those moments. If those key moments hadn't gone out way then the scoreline could quite easily have gone the other way with a similarly big margin."
Ones to watch: England
"Australia will be worried about Nat Sciver. They will have been shocked to have seen a youngster come in and play with such composure. Nat can hit 80-metre sixes so she'll come in in the middle order.
"Australia will know about Sarah Taylor and Lydia Greenway. They haven't got going yet. Sarah is more orthodox and can score with over a 100 strike-rate. The way Lydia batted at the Ageas Bowl when we won the Ashes in the summer - 70-odd off 60 balls reverse-sweeping for fun....they've got lots to think about.
"Danielle Wyatt, if she's given a chance, can be a dasher. She can be dangerous... and then there is Charlotte Edwards...
"On the bowling front they would be foolish to underestimate Katherine Brunt. She has been the world's best bowler for the last couple of years. She is the heartbeat of the attack. But from the Test the way Kate Cross bowled and Anya Shrubsole, they did a lot with the ball in the air and off the pitch - with good pace."
"I would say having watched the Test match and watched all the bowlers that probably that we edge it in the fast bowling now. Katherine Brunt didn't have a good game in the Test but Kate, Jenny and Anya took on that extra responsibility."
Ones to watch: Australia
"They've got a player called Jess Cameron who was the World T20 Player of the Tournament and then 50-over World Cup Player of the Tournament too. She came across in the summer and did under-perform so I think all eyes will be on her.
"With Cameron at the top of the order and Meg Lanning, they have destructive players though the air and along the ground. They can take the game away from you quite quickly. With the ball I would say that whilst Ellyse Perry didn't have a good summer in England - she only took two wickets in seven games - she is as quick as anyone in the world and has just had an unbelievable Test match. Australia lost but she was man-of-the-match. She's a class act, seriously fit.
The importance of spin
"The spin department - we haven't got Holly Colvin on this tour and we haven't got Laura Marsh, our off-spinning all-rounder who was pretty critical in the first half of last summer. She rehabilitating after shoulder surgery so that is an area where we are a little bit weaker on this tour. Danielle Hazell in the T20s in the summer was outstanding. She'll be really important.
"The other spinner in the squad is Danielle Wyatt. She hasn't been quite as consistent as the selectors want her to be but she could be really important. Erin Osborne would probably be the pick of their spinners."
England's ace - captain Charlotte Edwards:
"She's very passionate, she wears her heart on her sleeve. She's very open. She's easy to read and the players always know where they stand with her. It's a cliché but she leads from the front. Even after playing for England for 17 years she will be the last to leave the training ground and I think that's remarkable, to be committed in that way, to prepare in that way.
"Tactically there is no-one better in the world. I think to be honest that is one of the big edges that we'll have in the next part of this tour. Charlotte is now, with the experience she has, will be a more astute decision-maker and tactician than Australia's captain Jodie Fields. She has seen it all. She's still open to learning even after all those years - she's got the ability to change games as a leader.
"She still lives and breathes the game. She's still got that freshness. She's played for England longer than she hasn't in her life. She made her debut when she was 16. So she's had 16 years not playing for England and 17 playing. To still have that energy and desire to improve is incredible."