Steve Smith steps down as Rajasthan Royals skipper
By Matthew Treadwell
Last Updated: 02/04/18 12:45pm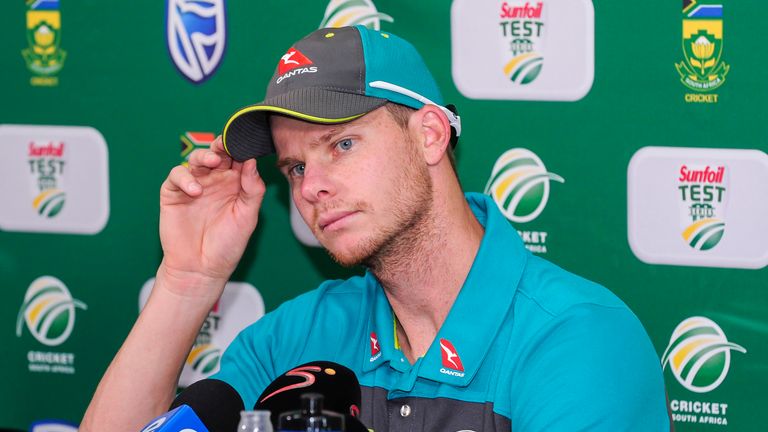 Steve Smith has stepped down as captain of IPL side Rajasthan Royals following the ball-tampering incident on Australia's tour of South Africa.
Smith has admitted Australia's 'senior leadership team' colluded to try and tamper with the ball on day three of the third-Test defeat.
He was handed a one-match Test ban by the ICC following the incident in Cape Town and will now relinquish his captaincy role with the Royals.
India vice-captain Ajinkya Rahane will replace the 28-year-old as skipper for the new IPL season, which starts in April, live on Sky.
Zubin Bharucha, Rajasthan Royals head of cricket, said: "The incident in Cape Town has certainly disturbed the cricket world. We have been in constant touch with the BCCI [Indian cricket board] and taken their counsel. Furthermore, we have been in regular contact with Steve.
Manoj Badale, the franchise's co-owner, added: "Rajasthan Royals will do everything possible to protect the values and the integrity of the game.
"We agree with Steve's decision to step down as captain, and we are fortunate to have such a capable successor with Ajinkya Rahane.
"It is important that all cricket fans retain a balanced perspective on the situation. What happened in South Africa was clearly wrong, especially given that it appears to have been premeditated.
"That said, this will be a difficult time for Steve as well, given how much he cares about the game."
Sky's coverage of the IPL begins on April 7. Coverage of Mumbai Indians v Chennai Super Kings begins on Sky Sports Cricket at 3pm.