Afghanistan celebrates 'greatest day' after World Cup qualification
Afghanistan captain Mohammad Nabi said qualifying for the World Cup is a "gift for the young generation."
Last Updated: 04/10/13 6:43pm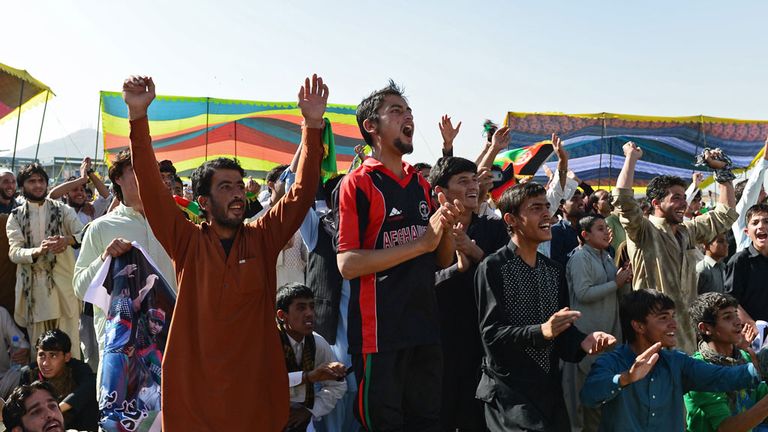 The Afghans have qualified for the Twenty20 World Cup twice, but their victory over Kenya on Friday sealed their place at the top table of 50-over cricket for the first time.
Afghanistan bowled out Kenya for 93 and knocked off the runs for the loss of three wickets, Nabi scoring the winning runs. They will now play England - in Sydney - Sri Lanka, Bangladesh and the tournament hosts Australia and New Zealand.
The victory completes a remarkable journey from the lowest leagues of world cricket. Most of the team learned the game in sprawling refugee camps in Pakistan.
All-rounder Nabi, who once spent a year on the MCC staff, has been a fixture in the team as it has risen through the leagues.
"This is a big day in my life," he said. "It's a gift to a young (Afghan) generation. Maybe we know about the weaknesses of some teams... we will do better and do our best to beat some full member teams."
Best day
Coach Kabir Khan, a former Pakistan Test player, said: "This is the best day of my coaching life."
Khan said he hoped ICC full member neighbours such as India, Pakistan and Sri Lanka will help Afghanistan prepare for the World Cup by playing ODIs against them.
"It's always helpful when you play against full member countries, unfortunately we don't get much chance to play against them," he said. "I think at least neighbouring countries like India, Pakistan and Sri Lanka should help us.
"We just want to leave our mark at the World Cup and we want other teams to notice us."
A thousand Afghan fans watched their team's thumping victory on a giant screen in a stadium in capital Kabul.
ICC chief executive Dave Richardson added: "Afghanistan's journey has been a remarkable one."
Afghanistan finance minister Mohammad Omar Zakhilwal, also a member of the national cricket board, said qualification is a massive boost for the sport in the country.
"Our people have seen years and years of sadness and now we are among the best 12 cricketing nations in the world," he said. "We will encourage businessmen and the government to support cricket."
Fast bowler Hamid Hassan - another stalwart and former MCC player - said: "I've already lost all my words, but I am so, so happy. This is the happiest day of my life. To me it's an unbelievable dream come true."