Steve Smith made 'negative' follow-on call and was out of sorts with the bat, says Dominic Cork
"If Australia had got England four down tonight it would have been match over, series over. It is the first time I think we've seen Australia go slightly negative."
Last Updated: 05/12/17 6:11am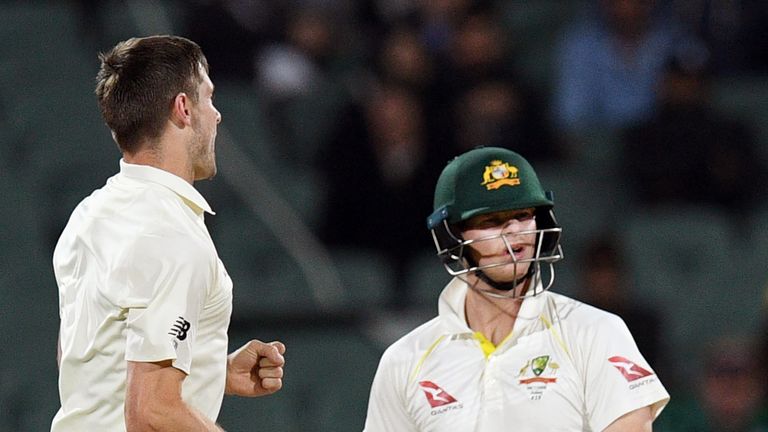 Dominic Cork reflects on a day where England's batsmen flopped but, after Steve Smith's "negative" decision not to enforce the follow-on, the bowlers shone under the lights to give the tourists a glimmer of hope...
Australia are still favourites in Adelaide but that last session has, ever so slightly, brought England back into it.
I'm hearing that it has got slightly warmer in Adelaide today which has helped England to swing the ball and have the confidence to pitch the ball up. We saw an England side that has shown for a period of time that they're a handful, even without the pace of the three Australians quicks.
When they pitch the ball up and it swings, they're a different prospect. It has just been frustrating, I'd imagine, for England because they've had opportunities and things have gone slightly against them, whether it be DRS or plays and misses or nicks that don't carry.
The big surprise, though, was that Steve Smith didn't ask them to follow on and just as surprising is that, according to Mitchell Starc, he didn't consult the bowlers. There were 26 overs left in the day to split between four bowlers, you can still use Nathan Lyon in there and against the left-handers, it wouldn't be negative, even under lights - that's six or seven overs per bowler, that's nothing.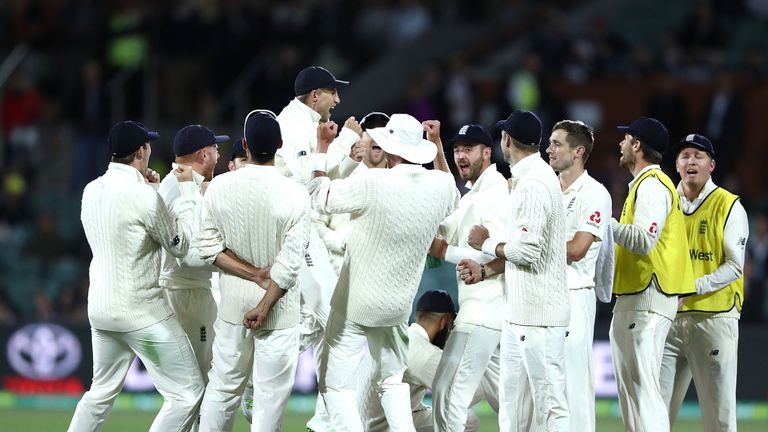 If Australia had got England four down tonight it would have been match over, series over. It is the first time I think we've seen Australia go slightly negative. I think it was a decision to make sure England cannot win the game rather than thinking 'don't worry about England, we can win the series here today'.
If they'd have got England four down with Alastair Cook and Joe Root out, all of a sudden the series is gone. I think it was a backward step from Smith and if there is weather around - you never know with a chase. I just wonder whether Smith tried to get a little bit too smart.
England took advantage though and Jimmy Anderson led the way with his 11-over spell. It is actually easier to bowl a long spell, you usually have a lot of rhythm and Jimmy is bowling with a shortened run-up compared to when he first started.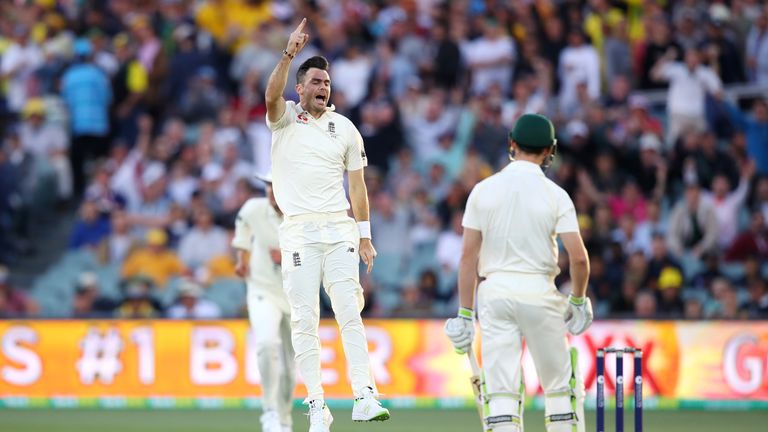 In some ways, when you know you've got to do it, you'll just do it and carry on and on and on. I think that is what was impressive, not just with Jimmy, but all the bowlers. They knew they had to take wickets and Jimmy just led from the front.
It was great from him to go around the wicket to Smith. As soon as he did that - and I'm not just saying this in hindsight - I thought, 'that's the way to get him out'.
That is the way to get Smith out, go around the wicket, take the ball away from him and then back in - he was unlucky with the lbw decision when the ball just pitched outside leg stump.
One thing I've noticed is that Smith looks a completely different player than he did in Brisbane, he is moving far too much. Whether the antics off the pitch, all this bullying talk, he seems to be really chirpy and I think he has allowed emotions to get involved in how he bats. He looked completely out of sorts.
Chris Woakes got him in the end and I'm glad for him and that he got a few runs as well. He has been through a period where he has had to prove people wrong. I like him, I think he's a good cricketer and I'm sick of hearing commentators say you've got to bowl 90mph - it's a load of rubbish.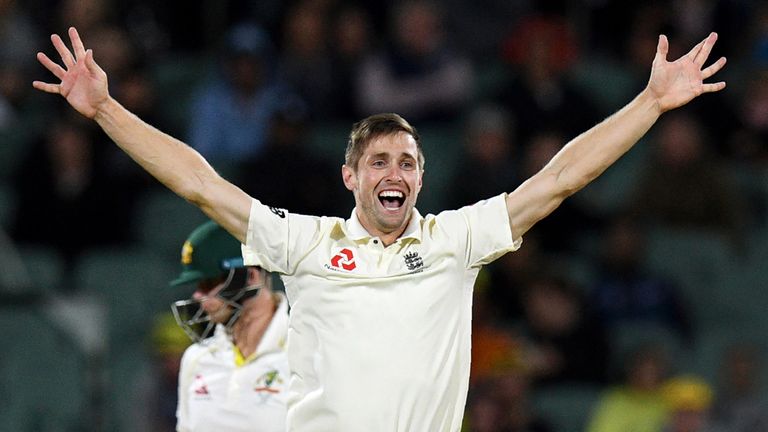 Chris is a good bowler, he's up there at 86 or 87 mph sometimes, he's got enough pace. England will need him and people like him to be a part of that team for a long time.
While England bowled very well, I think if the England batsmen are going to be honest with themselves, their execution was not great today. I know James Vince really well and when he looks at the way he got out, he played the ball before perfectly, and then played away from his body - it's a problem he's had for a while now.
Joe Root was off it, trying to drive a ball with his weight on his back foot and nicks it, Jonny Bairstow chips one - he can shake his head as much as he likes but if you hit the ball in the air back to the bowler, there is a chance of being out - and Moeen Ali trying to work a spinning delivery, gets a leading edge and it is a great catch by Lyon.
Ultimately, the stat is that in the last 26 Test matches, England batting first have averaged 400 with 18 centuries, England batting second have averaged 260 with one century. So just one century when batting second in the last 26 Test matches tells the story. That is the issue England have.
You have to give credit to Australia, they've got three very quick bowlers - even Josh Hazlewood was bowling up at 90mph - who are all very different and very aggressive. It is tough work but England have got to be a bit more patient.
This is Test cricket, you are allowed to leave the ball. You don't have to go at three or four-an-over like the Aussies used to do - look at their run-rate this year. You'd give England's batting two out of 10, they've got to get better because if not, they'll need some detention time.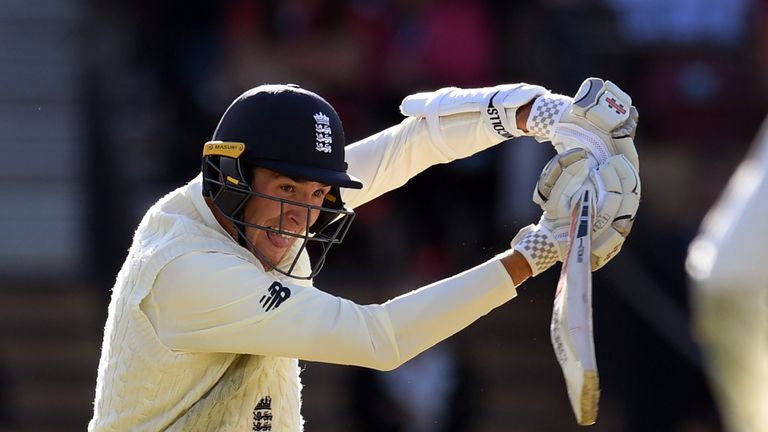 One positive with the bat was Craig Overton. His debut has been brilliant. Sometimes when people are making their debut they look lost but he looked completely happy. He bowled very well and got the big wicket of Steve Smith and then, when he came in to bat, Australia went at him.
He's a big, tall man and it's not easy to get out of the way of some of those short deliveries. He took it on, top-scored and it just shows that if you work at your game, you can generally become an all-rounder - he's got the ability to do that.
If you look at his stats for Somerset, he's got one first-class hundred, there is work to do but good on him. I love to see people who go into an England side and make a claim to be there for a long time.
Lyon is the biggest difference between the sides though. He's the joint-leading Test wicket-taker in 2017 with Ravi Ashwin, so that shows the sort of year he has had.
He's completely changed from the quiet mouse who never used to say anything to the confident, chirpy, sledging-type things he has come out with pre-Ashes and during the series, you can see that he is confident.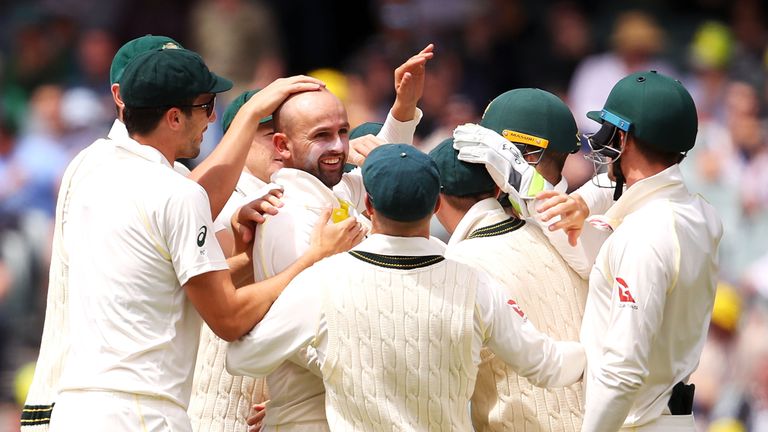 The way that he has bowled, he's attacked, it's helped that England have got so many left-handers. The wicket has spun which has surprised quite a few people and Lyon gets plenty of revolutions on the ball and he's getting more dip and bounce than Moeen Ali.
Whether it is injury or confidence that is affecting Moeen, if it is not working for him and England just play him as a batter, they have got to see whether they can get Mason Crane in.
At the moment, Australia have got so much control by having Lyon because while he is taking wickets, he is also controlling an end to let them rest the quick bowlers - England haven't got that. That is the difference.