Mark Cavendish criticises tennis over 'frustrating' anti-doping procedures
Mark Cavendish has launched an attack on the anti-doping procedures of sports other than cycling.
Last Updated: 07/11/13 7:26am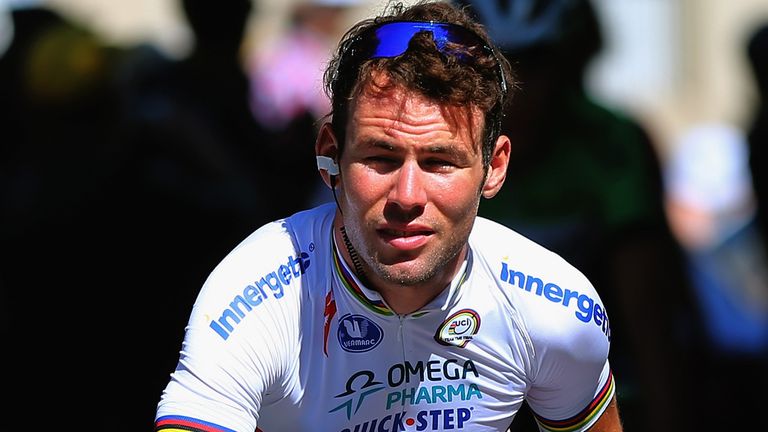 Writing in his new autobiography, At Speed, which is being serialised in the Daily Telegraph, Cavendish highlighted the disparity in the number of out-of-competition drugs tests performed in cycling and tennis, and questioned two Grand Slam winners for failing to acknowledge the potential that doping exists in their sport.
He also criticised tennis authorities for their slow adoption of the biological passport system, which monitors an athlete's blood and urine values over time and has proved effective in the fight against doping in cycling.
Cavendish wrote: "My other persistent frustration is the discrepancy between our sport and others. Take tennis. Five years after the UCI [International Cycling Union], the International Tennis Federation finally got its biological passport up and running in 2013.
"In 2011 a grand total of 21 out-of competition blood tests were carried out in tennis, as against the 4,613 in cycling. You consider this, then you hear Andre Agassi saying that 'tennis has always led the way in anti-doping' or Marion Bartoli insisting that 'doping doesn't exist in tennis'.
'Perpetuate the narrative'
"I don't want to pick on one sport in the way that others have singled out cycling, but how can she be so confident when, over more than a decade, Lance [Armstrong] alone sailed through hundreds of tests?
"The problem with statements like Agassi's and Bartoli's is that they perpetuate the narrative that the public has been hearing for years - that cycling is riddled with doping and other sports are clean.
"The discrepancy was brought home to me again when I heard Tim Henman matter-of-factly answering a question about players recovering after five-set matches and explaining that they would just use an intravenous drip. Perfectly fine, perfectly legal in that sport, but strictly forbidden for us."
Cavendish's comments surfaced a day after Novak Djokovic, the world No 2, angrily defended Viktor Troicki, who refused to take a blood test in April and has since been given a 12-month ban.
Troicki, who said he had been feeling unwell and feared needles, claimed the doping control officer had told him he would not face sanction for the missed test.
That prompted Djokovic to describe the officer as "unprofessional" and "negligent" and state that he had no "trust" in tennis' anti-doping procedures.