Tour of Britain: Ian Stannard quits race after breaking wrist in crash on stage one
Last Updated: 08/09/14 11:19am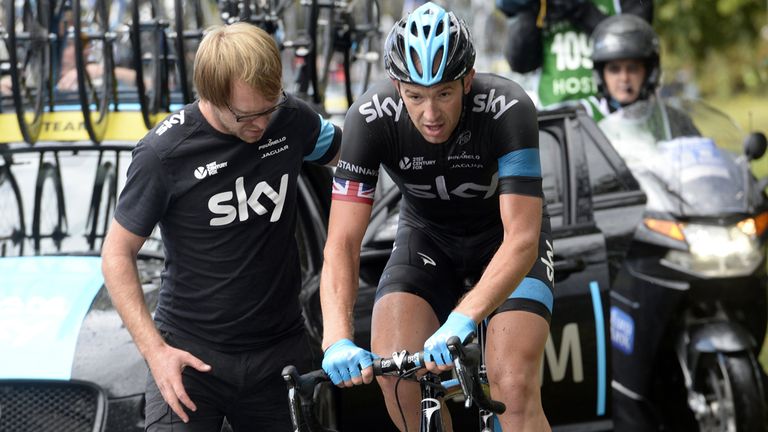 Team Sky rider Ian Stannard has abandoned the Tour of Britain after breaking his wrist in a crash on stage one.
The 27-year-old Englishman fell heavily in a pile-up on the finishing straight and although he was able to reach the finish, he was not fit enough to start stage two in Knowsley on Monday morning.
It is Stannard's second serious injury of the season, having broken his back in a fall at Gent-Wevelgem in March.
Team Sky doctor Phil Riley said: "Ian has suffered a fractured scaphoid in his left wrist. He somersaulted off the bike after colliding with a fallen rider in front of him, and in an attempt to protect his back, he bore the brunt of the impact on his arms, which is a classic mechanism for an injury such as this.
"We brought a surgeon in to advise us on whether it was safe for Ian to continue, but it was too painful when he tried to ride this morning.
'Can't brake'
"The fact that he can't brake makes it impossible for him to ride and we don't want to risk the injury getting any worse. As such, we have taken the decision to withdraw him from the race. He will see the hand specialist again in the next few days and begin his rehabilitation."
Stannard was one of three Britons in Team Sky's six-man line-up and his withdrawal is a major blow to Sir Bradley Wiggins's hopes of defending his title.
He said: "I was just getting back into some kind of form and enjoying the racing, so to suffer another break is very frustrating.
"I really wanted to continue riding, but I can't use my brake properly and that means I'd be a liability to my team-mates and the other riders in the peloton."