Matt Prior aiming to elevate new ONE Pro Cycling team on to WorldTour within five years
By Matt Westby
Last Updated: 14/12/14 12:14pm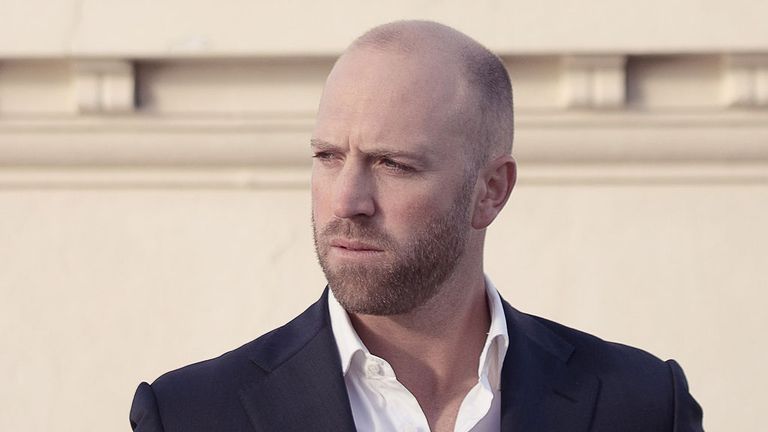 England cricketer Matt Prior wants his new ONE Pro Cycling team to be racing on the sport's top-tier UCI WorldTour within five years.
The British squad were built by Prior, a keen amateur cyclist, in just three months this autumn and will ride their debut 2015 season in mainly domestic races on the third-division UCI Continental tour.
The ultimate goal is to compete regularly against the likes of Team Sky in all of the world's biggest races and although Prior accepts short-term development is of greater immediate importance, he believes it can be achieved before the end of the decade.
"We have got a five-year plan, to start a team at Continental level and go through the ranks to WorldTour," the 32-year-old wicketkeeper batsman told Sky Sports. "The dream is the Tour de France; the dream is the WorldTour. It's a huge, huge challenge and we are not taking it lightly.
ONE Pro Cycling 2015 roster
Yanto Barker (captain)
George Atkins
Tom Baylis
Johnny Bellis
Marcin Bialoblocki
George Harper
Marc Hester
Josh Hunt
Jon Mould
Chris Opie
Pete Williams
Sam Williams
"If it happens at all, it will be amazing, whether it takes three years or 10 years. The loose plan is a five-year plan, but we have got to put that on the backburner for now. We have that dream, but it's a far-off dream for now.
'Get 2015 right'
"I'm a big believer that if you look too far ahead, you can fall over something that's right in front of you. Let's concentrate on 2015 and get that right. Let's get that first race right. That's a healthier way of looking at it."
Prior began building ONE Pro Cycling while recuperating from Achilles tendon surgery and admits he has been amazed by how well things have fallen into place.
He has recruited respected coaches Steve Benton and Matt Winston, experienced team manager Becky Frewing and a 12-man team who will be led by 2014 Elite Road Series winner Yanto Barker.
"It has only been three months, but for it to have gone as it has up until now is amazing," Prior added. "We have needed quite a bit of luck and people being available at the right times, but the pieces of the jigsaw have just fitted and I'm very happy with the set-up that we have."
The only snag for Prior so far has been having his and ONE Pro Cycling's thunder partly stolen by Sir Bradley Wiggins, who is widely expected to announce a new team in the coming days that will also compete at UCI Continental level from next season.
When Bradley Wiggins comes into that level, it is only going to promote the sport in the UK and it is only going to promote the teams he is up against and everything about it.
Matt Prior
Prior admits he was initially taken aback by the rumours, but on reflection, he is delighted to start his team in parallel with Team Wiggins, as it is predicted to be called.
Wiggins boost
"When news of Sir Bradley's team first emerged, I saw the headlines and sort of said, 'Ah, right'," Prior explained. "But then I thought about it more and it dawned on me that it was brilliant news. It's great for the sport and it's great for UK Continental-level riding.
"When Bradley Wiggins comes into that level, it is only going to promote the sport in the UK and it is only going to promote the teams he is up against and everything about it. I think it's outstanding that he is getting involved and I hope it does go ahead."
Prior has made his name as a cricketer and although his first sport has been hit with match-fixing controversies in the past, its problems are heavily outweighed by cycling's ongoing fight with doping.
The issue has dominated cycling headlines in recent weeks, with Astana having had five riders from their senior and under-23 teams fail drugs tests and a police investigation in Italy reported to have exposed connections throughout cycling with the disgraced and banned doctor Michele Ferrari.
We also want to have some success next year. There are a number of races that you can target in the UK: the Tour of Britain is obviously massive, but then there's a the Tour Series, the Tour of Yorkshire, which will be huge, and also RideLondon-Surrey Classic.
Matt Prior
Prior is well aware he is entering murky water but insists there are more good aspects to cycling than bad.
Doping 'stain'
"Doping is obviously a big negative in the cycling world, but it's not something that we intend to have any contact with," he added. "It's a zero-tolerance policy as far as we are concerned. There is no place for it.
"It's a stain on the sport, but in the UK right now, there are so many positive aspects to cycling and so many people interested in it. It's the fastest-growing sport in the UK and you have got hundreds of thousands of people who want to get into the sport and get behind a team and wear a jersey and line the streets."
Prior acknowledges 2015 will be a year of development and learning lessons – "we will make mistakes" – but he is also keen for podiums and to make a name for ONE Pro Cycling at marquee races such as the Tour of Britain and inaugural Tour de Yorkshire.
"For 2015, it will be a massive year of learning, adapting and building towards 2016, where we want to have a big push," he said. "We don't want to sit still and we want to be going up the ranks towards Pro Continental, so we are going to have to put things in place to do that.
"But we also want to have some success next year. There are a number of races that you can target in the UK. The Tour of Britain is obviously massive, but then there's the Tour Series, the Tour of Yorkshire, which will be huge, and also RideLondon-Surrey Classic. They are big races that we will certainly be targeting."