Bringing down Lance
On the release of his new book, Seven Deadly Sins, David Walsh tells Matt Westby about exposing sport's greatest lie
Last Updated: 14/12/12 5:06pm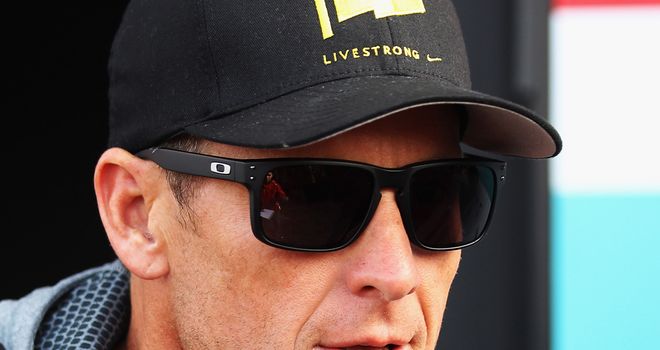 For a man who has just written sports journalism's answer to All The President's Men, David Walsh appears worryingly unsuited to the limelight that is suddenly shining on him.
His new book on a successful 13-year pursuit of Lance Armstrong has converted him from the interviewer to the interviewed, and while he need not worry about a modern-day Robert Redford appearing in an iconic movie adaptation any time soon, the adulation is nevertheless falling on modest shoulders.
"It has been strange and disconcerting," Walsh says of the wall-to-wall broadcast interviews and sold-out Q&As that have accompanied yesterday's release of Seven Deadly Sins.
"I have written the book, I want to support the book, so I will do it, but thank God when it is over, because I would rather get back to just being the interviewer."
Asking questions is Walsh's forte, particularly those that no one else dare ask.
When Armstrong fought back from cancer's grasp to win the Tour de France in 1999, and the world's media scrambled to their typewriters and laptops in a rush to tell one of sport's greatest stories, the Sunday Times' chief sports writer could be found with his head tilted and eyes squinted, asking: How was that possible?
Band of disbelievers
He immediately became part of a sparse band of disbelievers and, over the next decade, belligerently fought a tide of criticism, alienation and insults to expose the truth.
Sunday Times readers were disgusted by his allegations of doping. Fellow journalists told him he was going too far. Armstrong, who went on to "win" seven Tours in a row, made him his arch enemy, dubbing him "the Troll".
But as the condemnation grew, so too did Walsh's conviction that he was right.
It was pure Woodward-and-Bernstein stuff. Interviews in the shadows. The more people tried to throw him off the scent, the more he followed it.
"All The President's Men was actually one of the things that inspired me as a journalist," Walsh admits. "And this is going to sound so pompous, and I really don't mean it to, but there is an element of a much lesser journalist than Bernstein and Woodward trying to write a sporting version of what it was like chasing the story."
So, what was it like: a nightmare that wouldn't end or a journalist's dream exposé?
No regrets
"I don't regret it happening," Walsh says. "I hope to continue working in journalism for another ten, 15 or even 20 years more, but I know I have had the story of my life. I could live to 150 and there will never be a story that will captivate me or engage me like this one.
"Like all great stories, there were bleak moments, there were moments when I would be listening to the radio and hear some journalist dismiss everything I did and I would want to throw the radio out of the window - there were plenty of moments like that - but there were also moments when you felt you had achieved something by getting something into print about Armstrong.
"It really did need to be investigated and we needed to get to the bottom of it - and thank God we did."
All The President's Men is not the only book Seven Deadly Sins can be compared to. It is arguably the antithesis of It's Not About The Bike - Armstrong's bestselling account of his journey from hospital bed to the yellow jersey - and has every chance of becoming just as successful.
Closure
The book also symbolises the end of Walsh's own journey, having already been handed the ultimate vindication in the form of the United States Anti-Doping Agency (Usada) report that revealed Armstrong to be a "serial cheat", and the subsequent stripping of his Tour titles.
"The book has given me closure," Walsh says. "I am happy to move on now. I will be writing about the UCI (the International Cycling Union - the sport's governing bod)] - and not favourably until they change their leadership, because they must do that - but I don't feel like I have any more battles to fight."
When Walsh refers to the UCI's leadership, he is talking about president Pat McQuaid and his predecessor, Hein Verbruggen.
Both men have come under severe pressure to stand down from their positions after the scale of Armstrong's doping programme between 1999 and 2005 was exposed by Usada, who described it as the most sophisticated, professional and successful that sport has ever seen.
Walsh is one of a large number of people both from within and outside of cycling who believe the sport cannot truly leave the Armstrong era behind with McQuaid and Verburggen still in charge.
The next step
"I really want to see Pat McQuaid and Hein Verbruggen on the outside of the UCI and not on the inside - as a cycling fan, as a cycling journalist, as a sports journalist and as a concerned member of the public," he says. "I just don't think those guys should be involved."
But who should take over? "I am sure there are plenty of guys around," Walsh predicts. "But the guy you want is the guy who says, 'You know what, I have a lot of things to do as president of the UCI, but none of them compares to the challenge that relates to the credibility of the sport', which has been undermined seriously by doping."
Whether McQuaid and Verbruggen remain or not, cycling could nevertheless be set for a re-modelled future in the form of World Series Cycling, plans for which were revealed earlier this week.
A calendar of ten "grands prix" merged with the three Grand Tours and six of cycling's one-day Classics has been proposed in a championship similar to Formula One or golf's European and US PGA tours. Eight WorldTour teams have already committed to the idea.
Walsh is unconcerned about the fine details of the proposal, but is, however, adamant that it will be fundamentally undermined if anti-doping isn't made a top priority.
Lance's lesson
"I liked what I heard, provided the doping controls are far more stringent that they were on the old (current) circuit," he says.
"Doping has to be at the top of the agenda and if the new system is to work, it is going to have to do more than to convince us that people are being properly scrutinised in relation to doping.
"This is the beast that no matter how many times you cut off the head, it keeps coming back up with a new head.
"We can't go down the route of, 'We used to have a problem but it is better now' - that is exactly what Lance Armstrong said, and we must not go for that rhetoric.
"Lance said cycling journalists need to be less cynical. Well, Lance, actually, they don't - they need to be more questioning. That's what Lance taught us and we shouldn't ever forget the lesson."
Woodward and Bernstein would no doubt agree.