2014 PDC Qualifying School: Kyle Anderson first of four to qualify
Kyle Anderson, Benito van de Pas, Antonio Alcinas and Andrew Gilding through in the 2014 PDC Qualifying School.
Last Updated: 16/01/14 12:42pm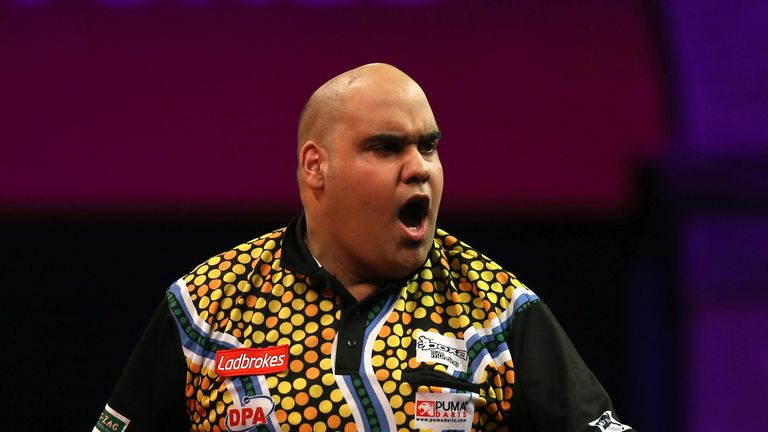 Australian star Anderson followed up his brilliant nine-darter in last month's Ladbrokes World Darts Championship by earning the chance to join the professional circuit full-time as he returned to England in style.
The 26-year-old, based in Mount Morgan in Queensland, won seven matches on Wednesday as he secured a Tour Card, which will enable him to play in all PDC ProTour events this year as he takes the step from being the leading player on the DartPlayers Australia circuit to the world stage.
He defeated Joshua Priestley, Philip Wathen, Mick Bushby, Darren Whittingham and Stuart White to win through to the day's semi-final matches, where he enjoyed a 5-2 victory over former Lakeside Champion Christian Kist.
Anderson then defeated Keegan Brown - the youngster from the Isle of Wight who had defeated Phil Taylor in a Players Championship in 2013 - with a 5-3 triumph in their decider as he won a Tour Card at the first time of asking from a field of 340 competitors in Wigan.
"I'd said to my partner that we could possibly look to move over to the UK if I won a Tour Card, bringing her and my son with me, so we'll see if I can get the sponsorship for that now because I'd love to go all the way in the game," said Anderson.
Benito van de Pas, a 20-year-old from Tilburg, won an all-Dutch decider with Joey ten Berge 5-4 as he also secured a Tour Card to turn professional on the PDC circuit - although he had to come from 4-3 down to take victory in a dramatic game.
The Dutchman, a PDC Challenge Tour winner in 2013 who recently made his third successive Lakeside Championship appearance, also defeated Mark Breakspear, William O'Connor, Andy Pearce, Mark Pritchard and Steve Hine on the day.
Spanish ace Alcinas had dropped out of the world's top 64 - and the top 100 of the PDC Order of Merit - in the past year to mean that he was forced to head to Qualifying School to retain his PDC ProTour status.
Flying colour
However, the 34-year-old from Mallorca won through with flying colours, defeating Matthew Edgar 5-1 in his opener before whitewashing Belgium's Rocco Maes and Kevin Bambrick.
He then overcame top young prospect Matthew Dennant 5-3 and defeated former UK Open qualifier David Dodds 5-2 to reach the last eight, where a 5-3 victory against experienced Brian Woods saw him seal his Tour Card.
Two-time UK Open Qualifier Andrew Gilding, a Tour Card winner in 2012 who has enjoyed two years on the PDC circuit, joined Alcinas in retaining his Tour Card status.
The 43-year-old from Bungay, Suffolk, saw off Mark Forman, Gibraltar's Dylan Duo and Stuart Bousfield before seeing off Scottish duo Jim Walker and Mark Barilli to reach the decider.
He saved his most comprehensive win for his final game, where he whitewashed Aberdeen-based newcomer Jamie Bain 5-0 to seal his Tour Card.
Dutch star Kist was joined in losing in the day's penultimate rounds of games by left-hander Mark Hylton, Coventry's Steve Hine, recent World Championship qualifier Ian Moss, York's Terry Temple, Scotland's Mark Barilli, County Durham's David Dodds and newcomer Jason Lovett.
There was disappointment, though, for former world number one Peter Manley, 1996 World Matchplay champion Peter Evison and 2005 UK Open finalist Barrie Bates, who all lost their first games on the day.
The four players who lost in the day's final all picked up nine ranking points which will count towards the Q School Order of Merit from which further Tour Cards will be allocated following the completion of the four days in Wigan.