Peter Wright: Beaten finalist determined to go one better at World Championship
Last Updated: 16/12/14 3:19pm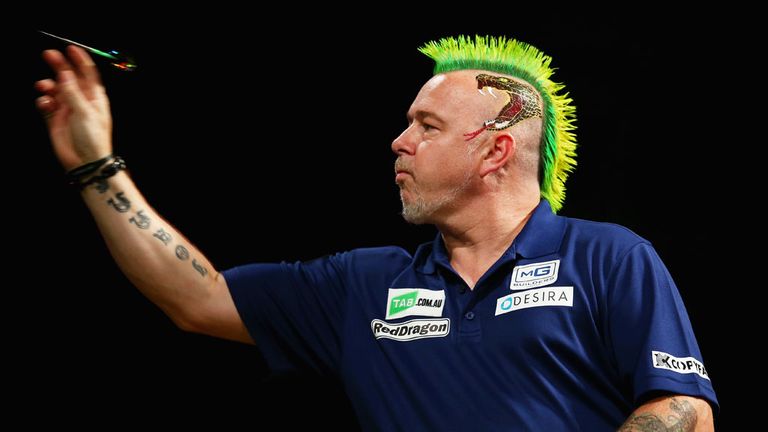 Peter Wright tells Sky Sports about his darts persona, playing to the crowd and why he can win this year's World Championship.
It's hard to miss Peter Wright. Even in the flamboyant world of darts, he stands out from the crowd.
Known by his darts nickname of 'Snakebite', the 44-year-old sports a multi-coloured Mohawk, created by his hairdresser wife. His trademark look is topped off by the etching of a serpent onto the side of his shaven head.
A year ago, Wright emerged as one of the main stars at the World Championship, capturing the hearts of the raucous crowd at Alexandra Palace with his outrageous showmanship. But Michael van Gerwen, the sport's No 1 star, spoilt the last chapter of the Wright story, sealing a 7-4 win in the final amidst a blur of trebles.
He's back for more this year, so you would expect the Suffolk man to stand comfortably in the spotlight, soaking up all the hype that precedes the biggest tournament.
Not a bit of it. Wright might revel in his role as one of the sport's gladiators, reacting to the roars of the crowd, but behind that lies a softly spoken man, who has gradually adjusted to the media glare.
"I'm a very shy bloke to be honest," he told Sky Sports. "I don't know what to say sometimes, but I'm getting a little bit better at it - the more interviews I do.
"I turn into a different person when I get all dressed up. I turn into a guy who goes into battle. That's my war paint.
"Getting my outfit on and that preparation, having my hair done, the snake being put on the side of my head, that gets me into the zone, ready for my opponent."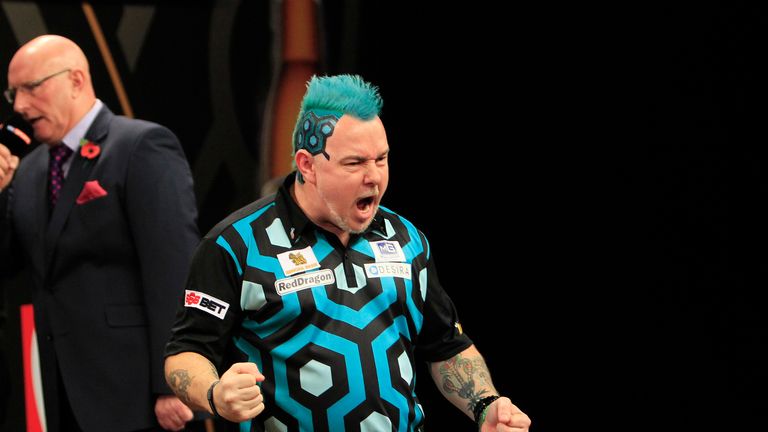 I turn into a different person when I get all dressed up. I turn into a guy who goes into battle. That's my war paint.
Peter Wright
To his growing number of fans, however, Wright is purely known for his darts persona. Like a strutting peacock on the oche, he entertains them with a heady display of colour and emotion.
Without his 'war paint', Wright still gets recognised on a regular basis. He was stopped on a recent trip to the garden centre – searching between the daffodils instead of doubles – but revealed how his support inspired him to a mini revival in last year's final.
"I was a little bit nervous in the first half of the match. I shouldn't have been to be honest, but the crowd then got on my side and sang my song.
"It made the hairs stand up on the back of my neck and my arms, and I thought: 'these people are singing for me?' Crazy you know. I'm getting goose bumps now, thinking about it."
Wright has been embraced in this modern era of darts, which will see sold out crowds, filled with fancy dress costumes, head to the capital during the festive period. 
His willingness to entertain has ruffled some of his rivals, with Adrian Lewis complaining about his crowd interaction during a Premier League match. But Wright believes he is only fulfilling the duties of a darts player.
"The crowd is there to have fun. It's Christmas and New Year and we are there to do a job to entertain them," he said.
"It's no good just going up there, throwing your darts and being boring - sorry for the other guys - but you've got to entertain them, turn around, getting them involved and stuff like that.
"Even if they are booing you, turn around and give them some stick back and they'll give you respect back."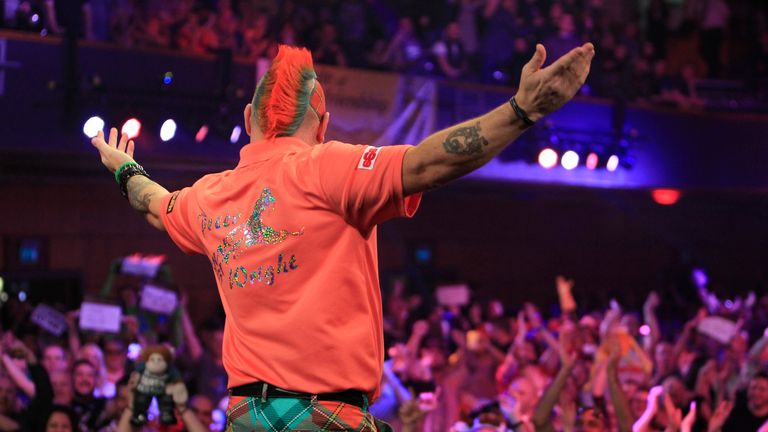 Fresh from his Ally Pally heroics, Wright made a flying start to his maiden season in the Premier League, toppling Phil Taylor and Lewis. But more disappointment was to follow as he missed out on the play-offs by one place.
The tag of 'nearly man' does not sit well with the Scotsman, who regularly changes his darts during a tournament in a pursuit of perfection. Victory in this year's European Darts Open has shown that Wright can cross the finish line, but he has a point to prove at the Palace.
"I'm going to go one better," said Wright. "I believe I can do and people are going to have to play really well to stop me this year.
"I'll have the bit between my teeth."
Standing in his way could be van Gerwen, with the draw setting up another possible showdown in the semi-final. But Wright briefly reverts to his brash, confident darts personality, when asked about a meeting with 'Mighty Mike'.
"If he does get to the semi-finals, I'll play him in the semi-finals and he'll get knocked out then anyway, so it doesn't really matter," he said.
Even that defiant outburst is followed by a chuckle, as if Wright does not treat his words with true seriousness.
He is just trying to entertain - and will be doing what he does best at the World Championship.   
Watch the PDC World Championship live on Sky Sports Darts from December 18. For information on how to upgrade to Sky Sports head to www.skysports.com/watch/get-sky 
For a full list of session times and games head to www.skysports.com/darts
With NOW TV you can buy a Day or Week Pass to Sky Sports from as little £6.99 for 24 hours, or £10.99 for seven days of all seven Sky Sports channels.
Don't forget you can follow @SkySportsDarts on Twitter for all the latest news and views from the world of Darts.