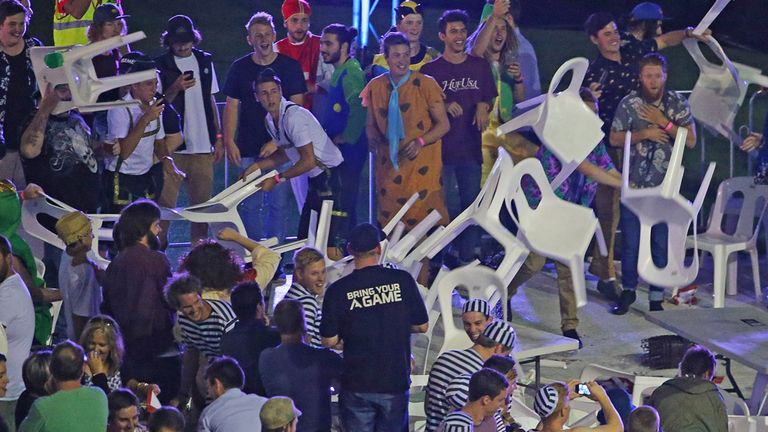 A riot stopped play in Melbourne where some of the world's leading darts players were taking part in an invitational tournament at the Etihad Stadium.
Rioting fans in fancy dress brawled with each other and even resorted to throwing chairs in the arena while world No 1 Michael van Gerwen was facing Aussie Simon Whitlock in the final.
Police were called but not before extensive damage had been caused to the arena.
Audience members at the Darts Invitational Challenge told local media the violence started when some people in the crowd, many in fancy dress, tried to build a pyramid out of chairs late Saturday night.
Senseless behaviour
Video footage posted on social media showed plastic chairs and some tables being thrown towards a growing pile of furniture in the midst of the audience.
"There were entire rows basically demolished, chairs being put on piles and tables started getting involved," witness Andrew Portbury told the Australian Broadcasting Corporation.
"People were diving on top of the tables and it just became this huge mess very, very quickly."
Stadium organisers said in a statement that the "senseless behaviour of the mindless minority was deplorable and their wanton acts of destruction an absolute disgrace".
The stadium's chief executive Paul Sargeant said there would be a review of the incident and how it was handled, but added that the images and videos posted on social media "make the situation look worse that it really was".
Van Gerwen eventually won the match 9-8, having fought back from 5-1 and 8-4 down.