Referee Huw Ware on being openly gay in darts and the Rainbow Laces message
As the PDC activates the Rainbow Laces campaign at the Grand Slam in Wolverhampton, referee Huw Ware tells Sky Sports why awareness of LGBT inclusion is as necessary in darts as in any other sport
Last Updated: 15/11/18 6:26pm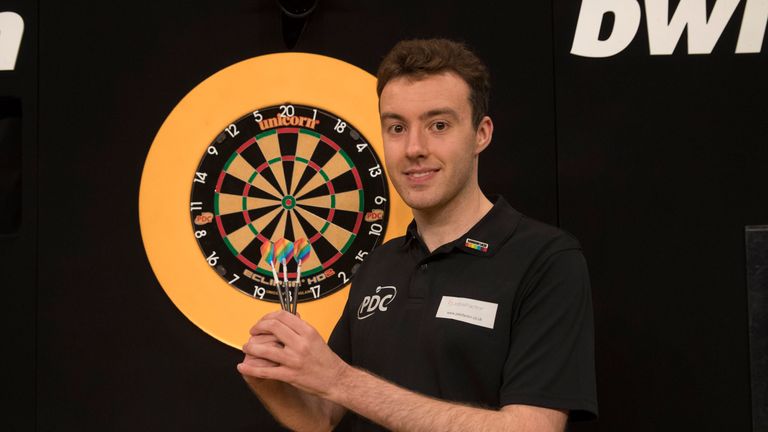 Huw Ware is contemplating why it's more common for referees and umpires who are gay to be out in their respective sports when it's still so rare for players.
In recent years, officials Nigel Owens and Joy Neville have been open about their sexuality in rugby union; football ref Ryan Atkin shared his story with Sky Sports before the start of last season; international umpire Jamie Hooper is visible and vocal on LGBT inclusion in hockey; while across the pond, Major League Baseball's Dale Scott and the NBA's Bill Kennedy have both helped to raise awareness by speaking about their experiences.
Ware had already taken charge of a World Championship final at the age of just 19 when he came out in darts in February 2014, writing a blog to discuss LGBT History Month and the ongoing problem of homophobia in sport. In the post, he explained how keeping a part of his identity hidden was making him feel "dishonest". He knew that needed to change if he was to fully enjoy his work with the BDO.
"When I wasn't out, I would make friends in darts and they didn't know an important part of me. I felt false," he tells Sky Sports, as the Grand Slam of Darts in Wolverhampton prepares to show its support for the Rainbow Laces campaign this weekend.
"It was like I was pretending to be something that I wasn't. That's what being in the closet can do to you. As I tried to explain in my blog post, I felt bad because I hadn't given people the chance to know the real me. So I decided to come out.
"I think that's why a lot of us referees do it. We want the players to know who we really are. Personal skills are so crucial for refs. If you need to really talk to someone, and sometimes to discipline them, there has to be that each-way respect."
I happen to be the only openly gay male in darts - that is only one part of my identity, but it's an important one.
Huw Ware
Ware finished off the blog by writing that "everybody has the right to be themselves, no matter what environment they're in, and that is what's most important". He titled it 'A quick message...', posted the link on his Facebook and Twitter, turned off his phone, and went to a pub quiz with friends.
"I'd always ummed and aahed about coming out," he says, looking back. "I'd even spoken to the BDO a couple of years before I eventually did it. I was very close to them and they thought it was best not to do it - I think they just wanted to protect me and I understood that. I was still at university at the time." His youth and rapid rise in officiating were bringing him increased recognition, which grew further when he refereed his first BDO final in January 2013, in which Scott Waites beat Tony O'Shea at the Lakeside Country Club.
The following year, the young Welshman reffed in the final once again, this time with Stephen Bunting taking the silverware by defeating Alan Norris. "That match is still the peak of my career, up to this point.
"When LGBT History Month rolled around the next month, it just hit me that it was a good opportunity to do a coming-out blog. I was already out to my friends away from darts at that time. I felt ready to do it - but I didn't know what reaction I'd get.
"It's just a short piece, basically telling people that I was gay and my reasons for writing about it. I've always believed I'm in darts to referee darts matches, so I thought I'd get it done and probably wouldn't talk about it again."
After the pub quiz, he checked his phone. The Facebook comments were coming in fast from friends and family, but also from his many acquaintances in the world of darts, including players and fans. "It was all so positive and encouraging. It actually made me quite emotional."
Ware was reminded of those reactions to his story four years ago when he attended Stonewall's Rainbow Laces Summit in September. The event at Wembley Stadium featured talks and panel discussions with LGBT people and allies from a wide range of national governing bodies, organisations and clubs. He listened to the coming-out experiences of other LGBT people in athletics, football, motorsport and cricket, to name but a few. "I can relate to them all," he says. "We have being LGBT+ in common, and sometimes that isn't easy.
"You're aware that you're a little bit different in that regard, and it brings its own challenges. I happen to be the only openly gay male in darts - that is only one part of my identity, but it's an important one."
Ware says he has experienced a few "difficult moments" as a consequence of being out; he puts each one down to a lack of understanding. He is sure that having darts back Rainbow Laces in a simple but publicly stated manner will have the necessary effect. "It's just about raising some awareness and education around that - explaining that LGBT+ people are in sport because they like sport, and that sport is for everyone."
Ware was 16 when he first told one of his sixth-form friends that he was gay - "we were in the middle of a clean-up on Aberthaw Beach! It was all cool" - and was already a darts fanatic, playing for his county youth side in Glamorgan. When the caller failed to show up one day for their friendly match against the seniors, Ware was asked to step in as they knew he could "do the numbers". He ended up doing the whole session. "The seniors told me I was good, and would I come and ref for them the next week? So I did that for a few years in the Merthyr Region, and then I qualified as a player for the World Masters." Going by the nickname 'Huwdini', Ware was only 17 when he competed in the tournament in Hull in September 2011. "They told me to bring a suit too, so that was a hint!
"I lost to Jimmy Hendriks, who's a few months younger than me, in the first round. They then asked me to referee the youth finals - and Jimmy won the boys'." From there, the BDO nurtured his refereeing talent and he officiated matches at the 2012 Lakeside event before getting his first final appointment the following year.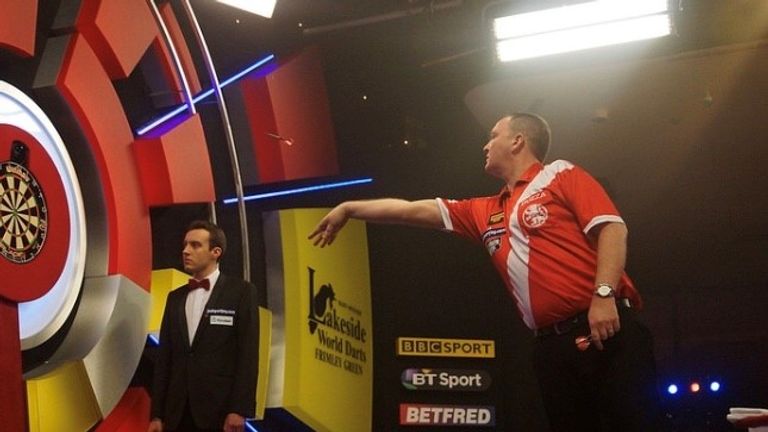 "The youngest ref before me had been around 24, back in the early 90s," says Ware. "It did feel strange at times, to be reffing big darts matches at such a young age.
"Someone in my first match yelled 'go back to school!' from the crowd, and I had some social trolls too, people saying that they didn't like my style of calling. Obviously I'd never been exposed to that before. I just made sure I never responded to it."
In 2016, Ware switched from the BDO to the PDC and now combines his refereeing duties across Europe with his studies at Cardiff University. He was joined at the Summit by PDC chief executive Matthew Porter, who has thrown his and the organisation's support behind an activation of Rainbow Laces at the Grand Slam in Wolverhampton this weekend.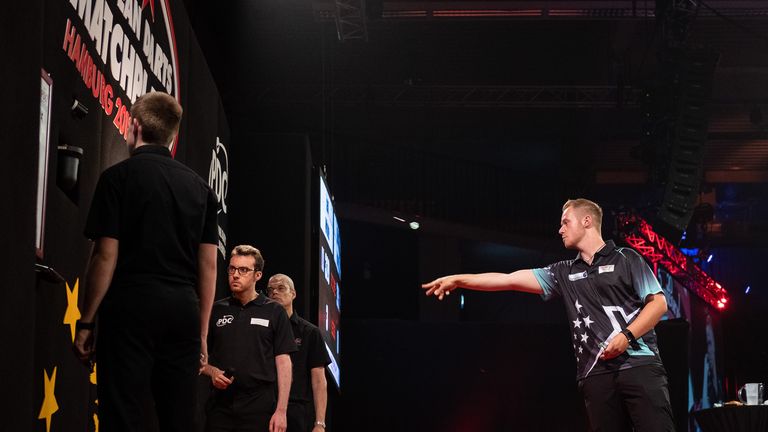 "I think what the campaign has done across sport has been very effective," says Ware. "It's enabled a lot of people like me who are LGBT to be more confident, to come forward and be comfortable and open about their sexuality in whatever sport they're in.
"Matt and the PDC have been amazingly supportive in now agreeing to take that message into darts too." Ware, taking on an ambassadorial role with the PDC, has written an article for the Grand Slam programme to support the initiative, with Porter adding his voice.
Ware appreciates that some people's perceptions of darts might make the sport seem, to them at least, an unlikely partner for Rainbow Laces. However, he believes the campaign's vibrant colour and message of inclusion will sit rather neatly amid the fervent atmosphere generated by the crowds and fuelled by the players.
"The image of darts is the reason I got into it. I love it in its current form," he says. "It's not about trying to change the sport, only to make it more aware.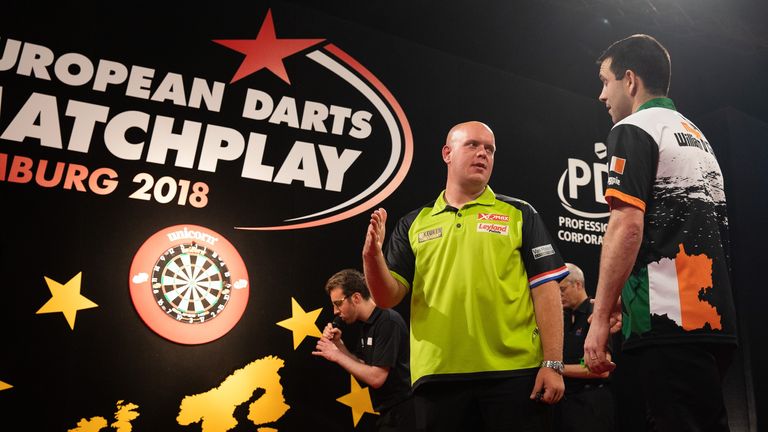 "At the Summit, Stonewall's chief executive Ruth Hunt said 'this is not the gays taking over', which was a great line. After all, I'm LGBT+ in darts and the high chances are that someone else will be the same way. And it doesn't matter when that person or someone else in the sport wants to be open about that.
"What we do now will affect the future, and it'll help that person, in whatever time it takes."
Watch the Grand Slam of Darts live on Sky Sports all this week. Follow Huw on Twitter at @HuwWare100.
Sky Sports is a member of TeamPride and supports Stonewall's Rainbow Laces campaign, which will receive its annual activation across British sport from November 17 to December 7.
Contact us at Sky Sports if you'd like to share a story to help raise awareness around LGBT inclusion.