Colin Lloyd reacts to Sunday's controversial Grand Slam final
Lloyd: "I know Gerwyn likes to fire himself up but you do have to have a little bit of etiquette on the oche."
By Josh Gorton
Last Updated: 14/12/18 12:17pm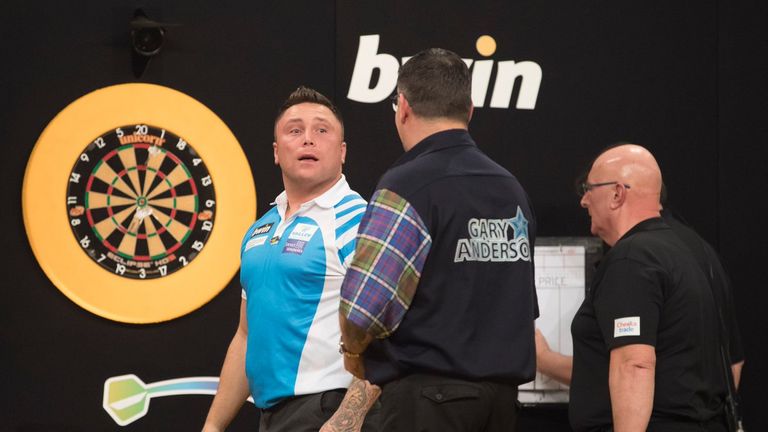 Colin Lloyd admits 'it boiled over' in an ill-tempered Grand Slam of Darts final between Gerwyn Price and Gary Anderson, but he praised the Welshman's mental strength which landed him a first major title.
Price won eight of the final 10 legs to clinch a famous 16-13 win over 'The Flying Scotsman' in Wolverhampton and become the first Welshman to claim a PDC major title.
Nevertheless, the clash was marred with controversy, as Anderson was visibly riled by the manner of Price's jubilant celebrations, which culminated with the Scot nudging Price in the penultimate leg of the contest.
Things came to a head in the 15th leg when Anderson confronted Price, and the pair clashed again in the latter stages as Price was powering towards victory.
DOWNLOAD EPISODE FIVE OF THE DARTS SHOW PODCAST
Reflecting on an incident-packed finale at the Grand Slam, Lloyd told the Darts Show podcast: "It boiled over a little bit.
"I know Gerwyn likes to fire himself up but you do have to have a little bit of etiquette on the oche. He probably feels that he hasn't done anything wrong.
"Listen, you don't want anybody to stop celebrating when they hit a big shot, or take a big shot out, because it's a very high-pressurised situation.
"Could he have calmed it down a little bit? Possibly, but that's not what Gerwyn's about. It will be dealt with in time by the DRA, but personally I wouldn't have overcooked it like that," said the former world number one.
PDC chairman Barry Hearn confirmed to Sky Sports News earlier this week that the match was being investigated by the Darts Regulation Authority, and he admitted both men could face disciplinary action.
'The Iceman' is renowned for being one of the most animated characters on the circuit and Lloyd doesn't believe that Sunday's controversy will deter the Welshman from behaving in similar fashion going forward.
"That's the player he is and that's what he's going to keep doing. I don't think it bothers him," said Lloyd.
"When he didn't do anything for three or four legs, when he just played the game as they say- he went really flat. There were scores of 58, 59, 85, 60. Then when he fired himself up again- 140, 140, 180, 100 out.
"If that's what he has to do to get that adrenaline pumping and get that heartbeat up again to compete at a very high level, I'm not going to knock it. It made for great TV as well," Lloyd admitted.
Price was booed ahead of Sunday's final, but those boos became far more vociferous in the aftermath, as the Wolverhampton crowd chanted Gary Anderson's name when Price collected his trophy.
The Welshman insisted he wasn't perturbed by the crowd's hostile reaction and he appeared to relish the role of pantomime villain, but Lloyd admits he thought the booing of Price was unnecessary.
"I personally don't like to listen to the booing. The paying public pay their money and they want to show their appreciation or their disapproval," Lloyd said.
"I think that just about summed up what they were thinking, but the guy's just won a major. If you don't want to applaud him for it then don't applaud him, but don't stand there booing while he's trying to give an interview."
Price is only the fifth player to have lifted the Grand Slam title, following in the footsteps of Phil Taylor, Scott Waites, Raymond van Barneveld and Michael van Gerwen.
He's also the first player to win the inaugural Eric Bristow Trophy and 'Jaws' heaped praise on the mental strength displayed by Price.
"It meant a lot to him. He's won a major tournament and it's the Eric Bristow Trophy. He's now proven he's got the mental strength to win a major tournament."
Keep up to date with the news as the tungsten enters its busiest time of year with the PDC World Championships just around the corner get all the latest at www.skysports.com/darts and join in the conversation @SkySportsDarts.