Anastasia Dobromyslova primed for PDC World Championship return at Alexandra Palace
"Everyone was saying 'Oh Ana you're so relaxed' and I was like, you don't know what's happening inside!"
By Josh Gorton
Last Updated: 14/12/18 11:58am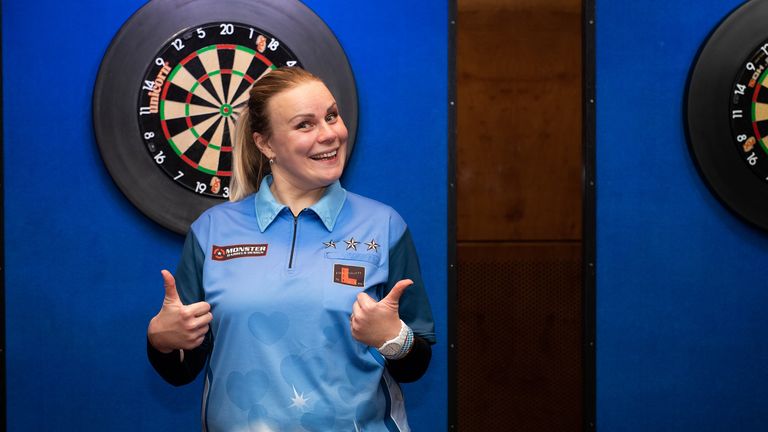 Anastasia Dobromyslova is determined to make an impression at next month's PDC World Championship, a decade on from her Alexandra Palace debut.
The Russian star previously competed at Ally Pally in 2009, where she took on Dutchman Remco van Eijden in the preliminary round.
Dobromyslova and Gayl King are the only two women to have featured at the PDC World Championship, and Anastasia makes her return after storming through the Rest of the World Women's qualifier in Dusseldorf.
DOWNLOAD EPISODE FIVE OF THE DARTS SHOW PODCAST
The 34-year-old, who has won three Lakeside titles in the BDO, dropped just four legs across her six qualification matches to breeze through the 82-player field in Germany last weekend.
However, speaking to the Darts Show podcast, Dobromyslova revealed that, despite her emphatic progression, she was fraught with nerves throughout.
"First of all I was really nervous, putting too much pressure on myself because I wanted to qualify so badly," Dobromyslova said.
"Then I thought, just relax and enjoy it and if you're good enough you can make it, and obviously it worked.
"I knew I wasn't going to lose anything because I wasn't there anyway, but I thought what a nice Christmas bonus this could be."
Dobromyslova previously competed on the PDC circuit between 2009 and 2010, and admitted she was taken aback by the coverage and interest surrounding the Rest of the World qualifier.
"It was massive. Obviously because of PDC rules everyone was professional. You couldn't talk or support.
"It was kind of different, like back in the day when I was playing in the PDC, so it was really good," she added.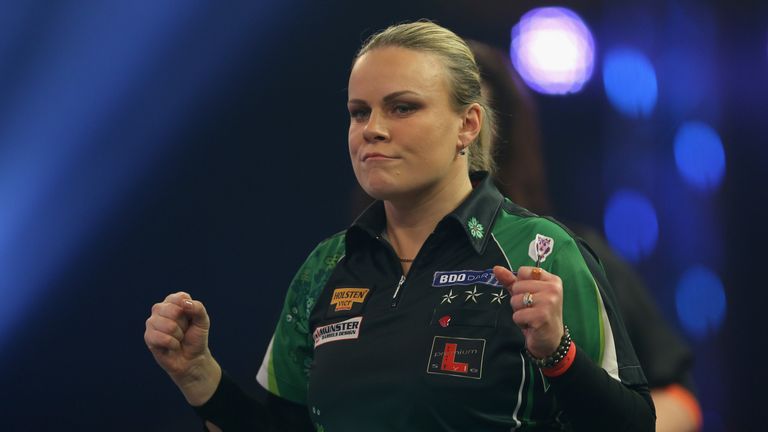 "I haven't really had a great year, and to prove to myself one more time that I still can play, it was nice."
Dobromyslova on sealing her Ally Pally return
The three-time women's world champion progressed to the semi-finals for the loss of just two legs; defeating Vanessa Nelz, Anna Degal, Baerbel Holst and Karolina Podgorska en route.
This set up a semi-final showdown against two-time World Masters quarter-finalist Mikuru Suzuki, who has qualified for January's BDO World Championship.
Suzuki is an established star in the women's game and has enjoyed an unprecedented 12-month unbeaten run in Japan, so Dobromyslova was aware that this was the acid test.
"I didn't pay too much attention to the other side of the draw but I knew I had to play Suzuki who has qualified for Lakeside as well, in my last four game.
"I thought if I win this one, there's probably a good chance I can make it, and everyone was saying 'Oh Ana you're so relaxed' and I was like, you don't know what's happening inside!"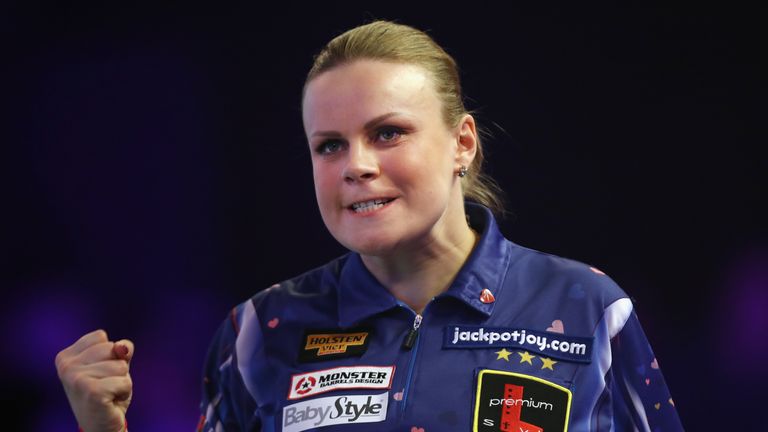 Nevertheless, Dobromyslova defeated Suzuki 5-2 in the semi-finals, before breezing past Germany's Silvia Dolores Keller 6-0 in the final, to confirm her Alexandra Palace return.
"To be fair I played pretty well all day and although I qualified, it was really good for me to play so well," said the 34-year-old.
"I haven't really had a great year, and to prove to myself one more time that I still can play, was nice."
Dobromyslova possesses plenty of big-stage experience, but while she is relishing the possibility of facing the PDC's elite, she admits it still remains a daunting prospect.
Dobromyslova's Roll of Honour
2008, 2012, 2013 Women's World Championship
2014 World Masters
2014 World Trophy
2012, 2014, 2016 Zuiderduin Masters
"I can't remember the last time I played in front of such a big crowd," Dobromyslova admitted.
"Personally I'm a bit worried as you never know how you'll be received and what you can do on the stage. I know I played before but it was nearly 10 years ago so it's like starting all over again.
"Hopefully it's all going to click because I'm still practising. It's not like I've qualified and I'm sitting here just looking out of the window, but it's all on the day.
"You can practise as much as you like, but if it's not happening on the day- it's not happening. I'll just try to enjoy it and hopefully I can do well."
Keep up to date with the news as the tungsten enters its busiest time of year with the PDC World Championships just around the corner. Get all the latest at www.skysports.com/darts and join in the conversation@SkySportsDarts