Lisa Ashton wins women's qualifier to seal place at PDC World Darts Championship
Ashton: "I'm over the moon, absolutely. With the field that we had, I couldn't do any better than that."
By Josh Gorton
Last Updated: 14/12/18 12:16pm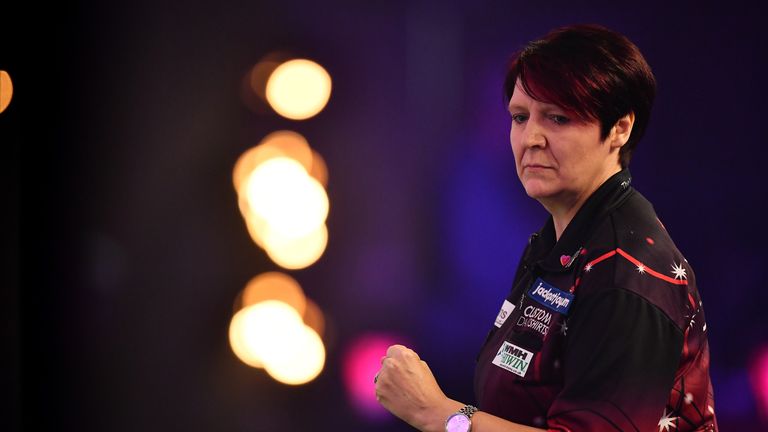 Lisa Ashton will make her PDC World Championship debut next month, after winning the UK & Ireland's Women's World Championship qualifier in Milton Keynes on Sunday.
The four-time BDO women's champion came through a field of over 120 players to book her spot at Alexandra Palace, and Ashton emerged victorious thanks to a 6-3 victory over Maria O'Brien in the final.
Ashton - who competed on the PDC Challenge Tour in 2017 - dropped just five legs across a dominant qualification campaign and will enter at the first-round stage; guaranteeing herself a minimum of £7,500 in the process.
DOWNLOAD EPISODE FIVE OF THE DARTS SHOW PODCAST
'The Lancashire Rose' stormed through to the semi-finals without dropping a leg; whitewashing Sharon Costello, Stephanie Stutley, Sarah Ceska, Jane Densley and Denise Cassidy en route.
Ashton then faced BDO counterpart Rhian Griffths in the semi-finals, but she defeated the Welsh star 5-2 to book her place in the final.
She took on her England team-mate Maria O'Brien for a place at Alexandra Palace, after O'Brien defeated former Lakeside finalists Fallon Sherrock and Deta Hedman in the quarter-finals and semi-finals respectively.
However, Ashton proved an obstacle too far for O'Brien, with the reigning Lakeside women's champion reeling off three straight legs from 3-3 to triumph.
The four-time world champion followed up a clinical 81 kill by hitting D8 to move 5-3 up, before taking out a majestic 132 checkout on the bullseye to triumph in style.
Ashton, the top-ranked BDO women's player, has claimed nine tournament wins during 2018 and she underlined her class at the Arena MK; averaging 82.49 over seven games and 36 legs of darts.
The 48-year-old will join three-time women's world champion Anastasia Dobromyslova in the PDC World Championship, after the Russian won last weekend's Rest of the World qualifier in Dusseldorf.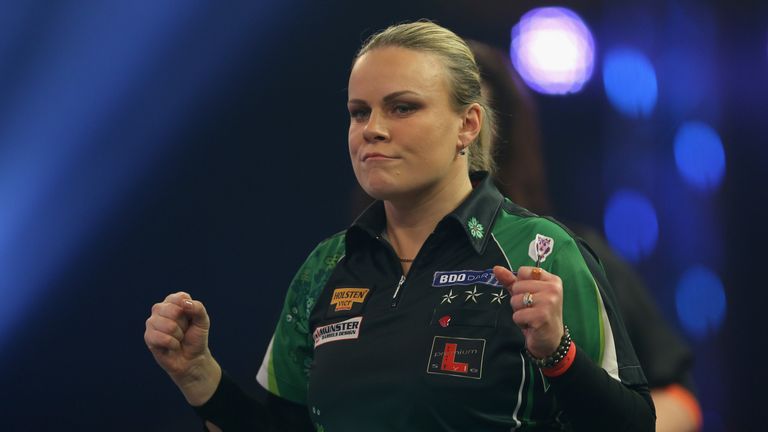 Earlier this year the PDC announced a new look to an expanded World Championship that would guarantee female players two places at the event via two qualifiers.
Dobromyslova and Gayl King are the only two women to have previously featured in a PDC World Championship, but Ashton will become the latest to represent the women's game on the global stage.
Speaking to Sky Sports' Michael Bridge after her victory, Ashton said: "I'm over the moon, absolutely. With the field that we had, I couldn't do any better than that.
"To check out like that is just a dream come true. I just thought 'keep cool, just hit it first and then think about it later'."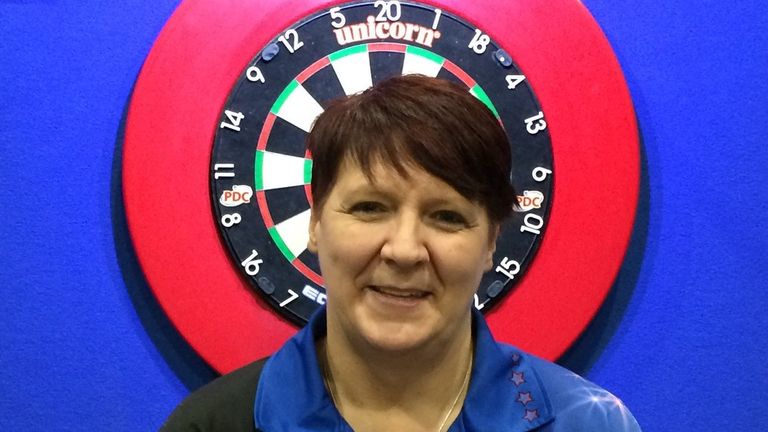 There was a high-quality line-up on show in Milton Keynes, evidenced by the fact that all four semi-finalists were established stars on the BDO circuit.
"So many ladies have entered over there [Dusseldorf] and here. There's been so many good games here and it just shows how the ladies are going from strength to strength," Ashton added.
The draw for the World Championship takes place live on Sky Sports News tomorrow and the Lancashire ace has her sights set on a glamour tie.
"I've just got to play my game and whoever I draw I'll just try my best," said Ashton. "It's got to be Gary (Anderson) or Michael (van Gerwen), they're the best two!"
Quarter-Finals
Maria O'Brien 4-3 Fallon Sherrock
Deta Hedman 4-2 Casey Gallagher
Lisa Ashton 4-0 Denise Cassidy
Rhian Griffiths 4-0 Courtney Hine
Semi-Finals
Maria O'Brien 5-2 Deta Hedman
Lisa Ashton 5-2 Rhian Griffiths
Final
Lisa Ashton 6-3 Maria O'Brien
Keep up to date with the news as the tungsten enters its busiest time of year with the PDC World Championships just around the corner get all the latest at www.skysports.com/darts and join in the conversation@SkySportsDarts