Phil Taylor considering his future after bust-up with Raymond van Barneveld
Phil Taylor told Sky Sports he could "just walk away" from darts after his spat with Raymond van Barneveld.
Last Updated: 04/01/13 3:44pm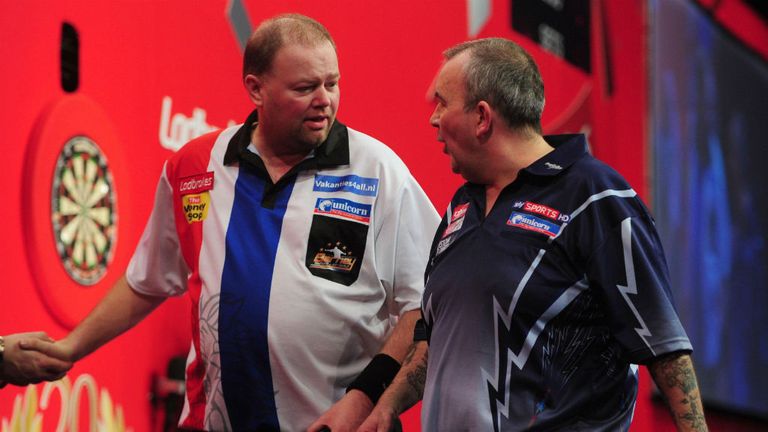 Dutchman Van Barneveld has been left seething after the pair were involved in an angry confrontation on stage after 15-time world champion Taylor had beaten his old rival 6-4.
Taylor rounded on a bemused Van Barneveld when the pair shook hands and they then exchanged words and gestures before leaving the stage separately.
He told Sky Sports News he since said sorry to the Dutchman.
"It's upset me of course it has. To put the record straight, Raymond is a very strong lad and when he shook my hand and pulled me he hurt me a little bit," he said.
"That was all it was and I reacted, to be honest with you, disgracefully. I am ashamed of myself and I feel terrible. I have texted Raymond and I have spoken to him and there is nothing else I can do really, only apologise for it. It will never happen again.
"Whatever the PDC decide, chuck the book at me, they can do whatever they want to do - but that's what happened.
"I'm ashamed because I really like Raymond. He loves me to bits and that's why I am really hurt about it because we both think a lot about each other. But we get over it and we move on."
Van Barneveld, however, has been left fuming by the incident and revealed to Dutch press on Monday that he has not spoken to Taylor despite an apology.
He told a Dutch reporter: "I was in a sportsman like manner and tried to congratulate him on stage and when he pushed me away I understood nothing of it. I wanted to hug him, he said f-off, and I didn't understand what inspires the man to push me away.
"I wanted to congratulate him once sportily and then this, incredible. I'm sick of it, I don't understand his reaction at all.
"I've not talked to him, just received a text message from him. he apologised for his improper behaviour. I do not know if I'm going to respond. The emotions are running high. Of course I hope Michael wins the final."
Taylor even admitted the incident on Sunday night had left him questioning his future in the sport, adding: "At the minute, I could just walk away tomorrow night and retire - go out on top really.
"I'm a bit disillusioned about everything. Obviously I'm not feeling very well and I need a break.
"To be honest with you I don't care about darts at the minute. I know I'm in the final, but I don't feel excited or chuffed about it. I feel very, very down at the minute."