World Darts Championship: Devon Petersen, Ricky Evans earn big wins at Alexandra Palace
Devon Petersen and Ricky Evans caused upsets at Ally Pally as Kim Huybrechts had an emotional win over brother Ronny.
Last Updated: 17/12/13 10:10am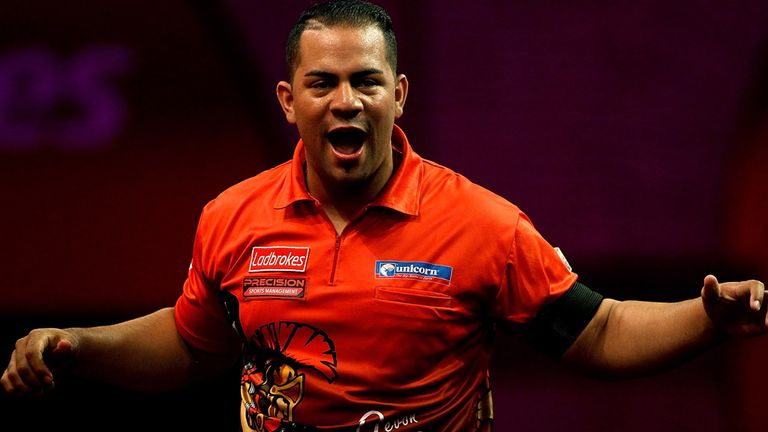 'Rapid' Ricky Evans kicked things off as he proved too hot to handle for experienced campaigner 'Rocket' Ronnie Baxter, with the 23-year-old coming out on top in a 3-0 victory with Baxter claiming just three legs.
"That's not bad is it!" said Evans, who hit four 180s and averaged 87.21 in his 20-minute victory. "It's my first year here so I'm just happy to be here and to beat Ronnie, who's a legend of darts, is amazing, I'm so chuffed to bits about that.
"I play on the youth Tour, and winning games on the Youth Tour has helped me along. I'm playing on the Pro Tour and winning games that two years ago I never thought I'd be winning so I'm always so happy to be there.
"I've got game, it's just doing it up here and playing here is just a learning curve for me. I don't get nervous, and I've proved I can play, I'm here on merit so just bring it on!"
Dancing Devon
Disco dancing South African Devon Petersen won his preliminary match against Mohammed Latif Sapup, and with the crowd firmly on his side he returned to produce a huge upset against former BDO world champion Steve Beaton.
Petersen had taken the last year off darts while dealing with an arm injury, and he looked to be up against it as Beaton picked off the first set as the underdog struggled with his doubles.
Petersen hung on in there though, and the likes of his 141 outshot proved he had moves both on and off the oche as he came roaring back and with Beaton having no answer, Petersen powered to a remarkable 3-1 win.
"The crowd are always wanting to see my dance moves so it was hard to stay focused but it's all part of getting experience and I had to win ugly and as Phil Taylor says you just have to pull out the stops when you have to," said Petersen.
Petersen is sure to remain a crowd favourite as he returns for the second round when he will face either Arron Monk or Justin Pipe.
Brotherly battle
It was a difficult game for both Ronny and Kim Huybrechts as two brothers met in the World Championship for the first time, and it was the 48-year-old older brother Ronny had looked far more assured early on as he took the first set and was 2-0 up in the second.
Five missed darts for a 2-0 lead cost Ronny dear though, and he never really recovered as Kim scrapped to a 3-1 win despite being largely outplayed in what was a clearly emotional game.
"That was the toughest game I've ever played in my life," said Kim, who is 20 years younger than his brother. "This game was hardest game of my life. Ronny was by far the better player and I was lucky so I don't feel good.
"I was really nervous, I don't think on stage I've ever been this nervous. This was emotional, stressful and it was so hard, I felt sorry for Ronny when he was missing doubles, and usually I don't feel sorry for players when they miss but I did because it's my brother so that was a strange feeling to deal with as well."
Mervyn King had few problems ensuring he did not join the list of big-name casualties as he demolished American Darin Young 3-0.