Phil Taylor hopes juice diet, remote retreat and new darts will get him back on top
Phil Taylor tells Sky Sports why he's adopted a juice-only diet and designed brand new darts.
Last Updated: 05/02/14 12:02pm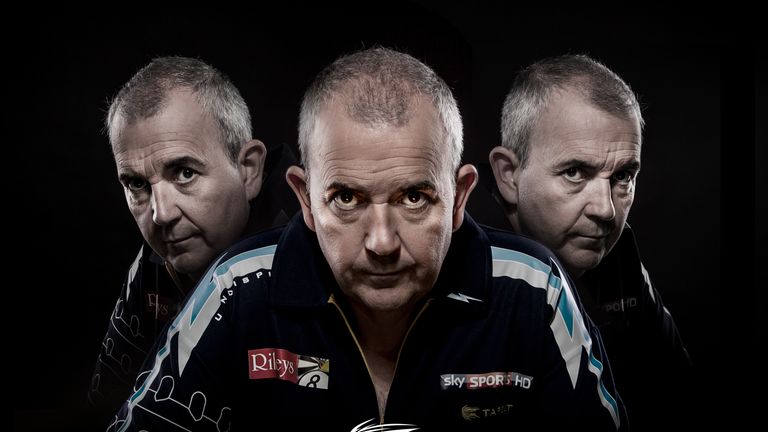 Those are the drastic steps Phil Taylor has taken to try to return himself to the summit of world darts.
The 16-time world champion says he was so hurt by his shock defeat to Michael Smith in the second round of the World Championship in December that he needed to make huge changes to his lifestyle.
The 53-year-old won six major tournaments last year, but he felt physically drained as the World Championship approached and feels poor health cost him dearly at Alexandra Palace.
"My energy levels seemed to go. I just felt absolutely shattered," he told skysports.com in his first public appearance since the World Championship.
"I was unfit, not eating properly and not looking after myself. I know exactly what it was.
"I was very, very disappointed and very hurt about it because I didn't perform as I can in front of the people that had paid good money to come and see me - and also the people that had bet money on me, which isn't fair.
"I was very disappointed. I didn't do a lot that night. I actually fell asleep on Christmas Day. I got up, sat on the settee, the grandkids came over and I had a little bit of dinner and fell fast asleep. I was absolutely drained and thought 'this ain't me'.
"If you're tired in the afternoon every day after having six or seven good hours of sleep then there's something wrong."
In a bid to prepare for the 2014 season, Taylor took a three-week sabbatical in a mountain resort in Portugal, against the advice of manager Barry Hearn, where he shut himself off from the pressures of darts.
Whilst he was there he adopted the "juice only" diet created by celebrity health coach Jason Vale in a bid to improve his energy and concentration - and he insists he is now back on form ahead of the start of the Premier League season this Thursday.
Taylor added: "I went away on a retreat in the middle of nowhere. If you look up 'The Juicemaster' you will see the retreat in Portugal.
"It's in a very hilly range of mountains with a big river down the bottom. It was very peaceful and quiet and you live on juices. You can have one salad on Saturday afternoon if you want.
"That was three weeks. I took my darts and my dartboard, but I didn't play a great deal to be honest with you. Maybe half an hour or an hour?
"There was no TV and the internet was rubbish so I couldn't get on my iPad. I did some reading, was in bed at nine o'clock each night and chilled out. I would wake up at three in the morning and just read a bit more and go back to sleep again.
"I loved it. I was walking 10 to 12 miles a day and doing swimming, saunas and living very, very healthy. It was like a training camp for a boxer.
"I wasn't very well to be honest with you. I had to go away to recuperate and get myself right. Barry Hearn didn't like it and gave me a little bit of a telling off, but that's tough. I have a tough year ahead of me, I'm 53 now and I've got to think about what I'm doing and time it all properly.
"That's not just respect for myself, but respect for the people that are putting the money behind me in sponsorship or endorsements. You've got to really think about these people as well as yourself.
"And also my own health is more important than winning titles at the moment. Everything is coming together lovely. I feel better now than I've ever felt in my life. I'm absolutely buzzing."
In another career-changing move, Taylor ended his long-standing relationship with Unicorn Darts and signed a lucrative seven-figure deal with Target Darts, who will design his equipment for the next five years.
It's the biggest sponsorship deal in darts history and Taylor says he is excited about working with the company's managing director Garry Plummer to create brand new darts to his own specifications.
And he hopes the attention to detail in his arrows, as well as his health, will help him to take back the world No 1 spot from new world champion Michael van Gerwen.
He said: "My contract had run out with Unicorn and I was approached. It's a bit like with a mobile phone, when your contract runs out everyone seems to know about it and I was approached by a few different companies.
"The one thing I liked about Garry was I like him as a person. It's not all about money - obviously money is a bonus - but he's one of those people where we just hit it off as if I'd known him all my life. It's like we're really good friends as well as business people.
"We've done a completely different dart. Even though the shape is very similar, the grip is completely different. Nobody has ever invented this grip before and I really, really love it.
"You need confidence in your equipment. Darts is not all about standing up there and simply throwing darts. You need everything to be right in your preparation. You've got to have the right shoes on. If your trousers aren't fitting right then obviously you're not going to play as well.
"It's about having the right equipment and the right people with you. It really has gone that professional, for me personally anyway. I am going to step up another level now and be like Floyd Mayweather would be.
"It's a calculated gamble. Everything in your life is a gamble and you can't say you're going to win anything with whatever equipment you play with because age is catching up with me and what-not.
"Target are an up-and-coming company that people love. It's great for me to be involved with them."
Taylor plays Van Gerwen in Thursday night's headline match in Liverpool, live on Sky Sports, and is aware that all eyes will be on how he performs.
And while he admits he has had little time to prepare with his new tools he is convinced his approach will soon pay dividends.
"I've not had the darts long. About three or four days," he said.
"It doesn't bother me. I might be straight up and running or it might take me three or four attempts. I'm not worried about it to be honest with you. I've changed my darts loads of times. I don't really worry about it.
"People are apprehensive now to see what happens. It's like Manchester United - what are they going to do next season? You've got to get yourself back up again. You've got to dust yourself off and do something about it.
"You can't feel sorry for yourself because no-one will feel sorry for you."