Jenson Button: Fernando Alonso 'bigger challenge' than Lewis Hamilton as McLaren team-mate
Button rates current McLaren team-mate Alonso as a "more consistent challenge" than former partner Hamilton in races; Jenson plays down prospect of finishing as lead McLaren in 2015 standings
By James Galloway in Abu Dhabi
Last Updated: 27/11/15 8:42am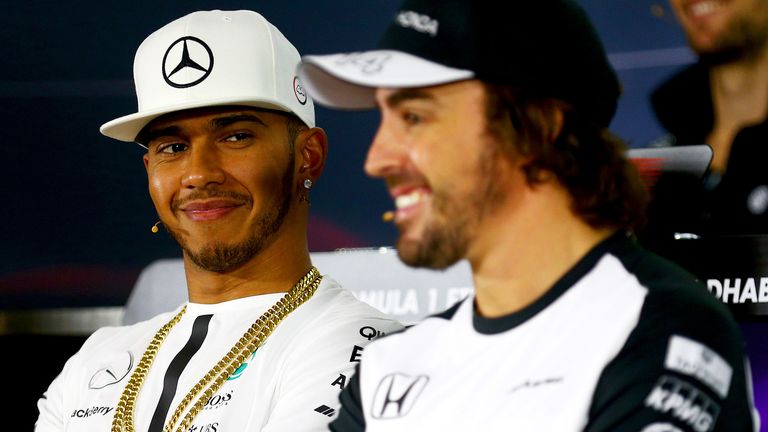 Jenson Button reckons Fernando Alonso has proved an even more formidable team-mate in race conditions than Lewis Hamilton.
Button delivered the glowing assessment of his current McLaren team-mate as the end of their first year together approaches in Abu Dhabi this weekend, a season which has been heavily compromised for the two former champions by the uncompetitiveness of the Honda-powered MP4-30.
Alonso, the 2005-2006 title winner, joined Button at Woking this year, three seasons after current world champion Hamilton departed for Mercedes. 
And asked to compare his experience of racing against Alonso this year to Hamilton in 2010-12, Button replied: "In a race, it's a bigger challenge. A more consistent challenge. He's always there.
"On some race days, Lewis was untouchable and other race days it was like 'where is he?'
"Lewis, I'm guessing, is a different driver now and more experienced but Fernando is always there and always competitive. If he's in front of you, you're holding on, and if he's behind you, he's pushing you along."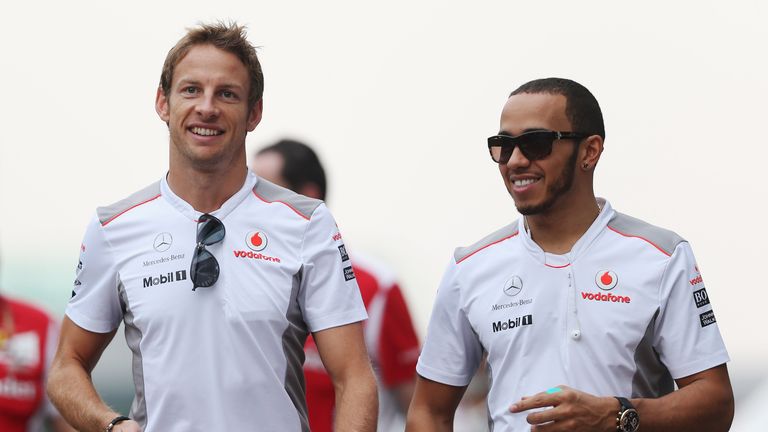 During Button and Hamilton's three seasons as McLaren team-mates, the younger Briton dominated their qualifying head-to-head. On race day, however, the scoreline was closer with Button scoring 15 more points over the period - although Hamilton won more races and finished ahead more often when both cars finished.
While Hamilton has since won back-to-back world championships at Mercedes, his old team's woes mean the similarly highly-rated Alonso sits a lowly 17th in the standings with one race to go this season.
"Before this year, he [Alonso] was regarded as the best driver in Formula 1. It's amazing how quickly people forget," Button added.
"He's very talented, he's a very rounded driver, a very complete driver. There aren't many. A lot of drivers have their strengths but they also have big weaknesses, and I don't really think he does have a big weakness."
Although hamstrung by the McLaren-Honda package this year, Alonso nonetheless admitted recently that he had not personally been at his best on track in 2015 - the Spaniard suggesting he was "on economy mode" in preparation for 2016, when he hopes the team return to the front.
Button, however, has taken issue with his team-mate's underwhelming assessment of his season.
"I don't agree with him. What driver gets in a car and drives round slow? No. I mean really, come on," the 35-year-old argued. "It was a good comment. Funny that - clever drivers say clever things."
Barring an unexpected result for McLaren in this weekend's Abu Dhabi finale, Button is on course to finish ahead of Alonso in the Drivers' Championship - the first time the Spaniard would have suffered an outright points defeat to a team-mate since joining the F1 grid in 2001.
McLaren-Honda's maelstrom of technical woes, however, arguably make comparisons inconsequential. The two drivers have failed to finish a combined total of 14 races - eight for Alonso and six for Button - while both former champions have also had qualifying sessions truncated by unreliability.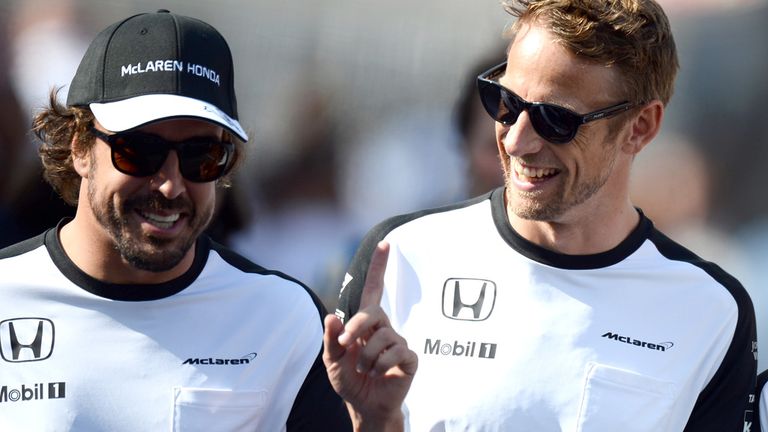 "We both had quite a lot of problems and failures this year and not even started races. I didn't even need to turn up Sunday morning in Bahrain - or all weekend to be fair!" said Button, who has scored 16 points to Alonso's 11.
"We've had our fair share of issues this year, but sometimes you can luck into finishing a race where you're in a good position."
Watch the Abu Dhabi GP live on Sky Sports F1. Race-show coverage begins at 11:30am on Sunday with lights out at 1pm. Watch all three days of the Abu Dhabi GP for £10.99 on NOW TV. No contract.