Red Bull braced for slow start to 2016 Formula 1 season
Horner anticipating steady engine improvements from Renault
By James Galloway
Last Updated: 17/02/16 10:20pm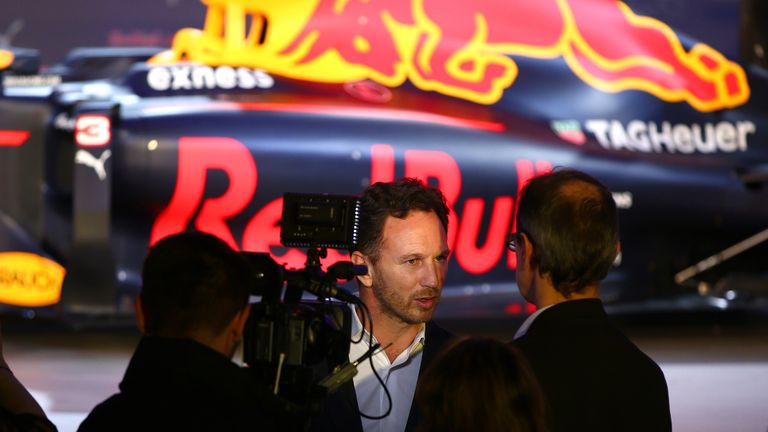 Red Bull boss Christian Horner has conceded his team may have to endure a slow start to the new F1 season.
The former world champions unveiled a revised car livery for the new season at a launch event in London's Brick Lane on Wednesday, although their new RB12 car is being kept under wraps until the opening day of testing on Monday.
Red Bull, after months of uncertainty and political wrangling, have ended up continuing with Renault engines for 2016, but Horner has previously warned they face a "transitional" season while the French manufacturers work on finding a breakthrough for their struggles.
And asked at the launch if he still expected a transitional year, Horner replied: "I believe it will be. We are going to start the year hopefully with some progress from the end of last year, but with our engine partner's commitment to buying a team now, we're hoping to see staged progress during the course of the year.
"We are hopefully going to see a steady rate of improvement, so probably the second half of the year is going to be more competitive than the first half."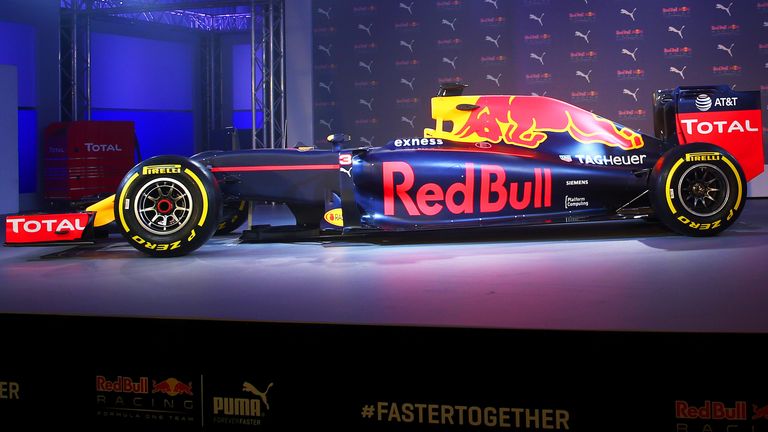 After salvaging second place to Mercedes in the Constructors' Championship in the first year of F1's turbo regulations in 2014, Red Bull were also overhauled by Ferrari and Williams last year and Horner is again expecting 2015's leading teams to be strong.
However, echoing Red Bull technical chief Adrian Newey, Horner also hinted that sister team Toro Rosso could pose an early threat too following their switch to Ferrari power.
"We know that Mercedes and Ferrari are going to be strong because even if they did nothing, they're still going to be in good shape," Horner said.
"It's difficult to know. How much have Williams found? What have Force India done? We've just got to focus on ourselves.
"We know Toro Rosso, for example, will make a big step. We've just got to focus on ourselves and do the best job we can."
Despite the Red Bull-Renault relationship lurching to the brink of divorce in 2015, its continuation on revised terms for at least one more season means the short-term success of the Milton Keynes team is still largely wedded to the competitiveness of the French carmaker's engine.
But despite Renault's winter takeover of Lotus re-establishing themselves as an F1 constructor, Horner insists he is not worried his team will now receive inferior treatment.
"We know we'll get the same product from Renault that the works team will get," he said.
"Let's not forget, we won a World Championship when they had a works team in 2010 so I'm not worried about there being a differentiation in treatment. The most critical thing is that they've made progress with performance and that hopefully will happen throughout the year."
With Renault having played down their own chances in 2016, Red Bull's aerodynamic package will again prove particularly key in their attempts to mix it at the front of the grid.
Horner revealed the team had pushed the mandatory crash testing for the RB12 right up to the limit ahead of next week's opening test.
"We're probably the latest team to do any of the crash tests, which have all been done this week," he said. "They started on Monday and finished about an hour ago and we're ready to go testing in Barcelona. Hats off to everybody in the team for having done a fantastic job."
The first Barcelona test starts on Monday February 22 and the Sky Sports F1 Digital team will be providing live commentary from dawn until dusk on all four days of both Barcelona tests while Sky Sports News HQ will also deliver live updates from trackside.