Lewis Hamilton hails 'amazing' start to F1 testing with Mercedes W07
World champ delighted with "encouraging" start with new Mercedes
By James Galloway in Barcelona
Last Updated: 22/02/16 7:07pm
Lewis Hamilton described the full debut of Mercedes' 2016 car as "amazing" after he completed the equivalent of two race distances at Barcelona.
In a carbon-copy of the world champions' ominous start to testing last year, when the W06 topped 150 laps on its debut, Hamilton clocked 156 around the Circuit de Catalunya as he finished second to Ferrari rival Sebastian Vettel on the timesheet. No other car managed more than 87 laps.
With Mercedes not starting to focus on performance until Tuesday at the earliest, Hamilton said he could never remember such a successful start in his nine-year F1 career.
"It's been an amazing day," a beaming Hamilton told reporters afterwards.
"I've never had a Day One practice like today. To get in a new car and have no problems is just a remarkable job by the team. So, for me, it was encouraging.
"But I tell you - 150 laps is quite long here!"
Monday's running represented the first time Hamilton had taken to the track in an official session since finishing second to team-mate Nico Rosberg in the season-ending Abu Dhabi GP last November.
After clinching 2015's world championship with three rounds to spare, Hamilton was beaten in the final three races of the season and voiced concerns that a change on the W06 had adversely affected its handling.
Day One report: Vettel outpaces Hamilton
"There was something Lewis Hamilton didn't like on the car at the end of last year," reported Sky F1's Ted Kravitz before testing at the Circuit de Catalunya commenced. "He needs to understand this car and he will know within the first two or three laps whether it has same suspension characteristics he didn't get on with last year or if it is a completely new start."
Speaking at the end of the day, Hamilton said Mercedes had not started to focus on set-up work yet, but the baseline was inevitably the same as the end of 2015.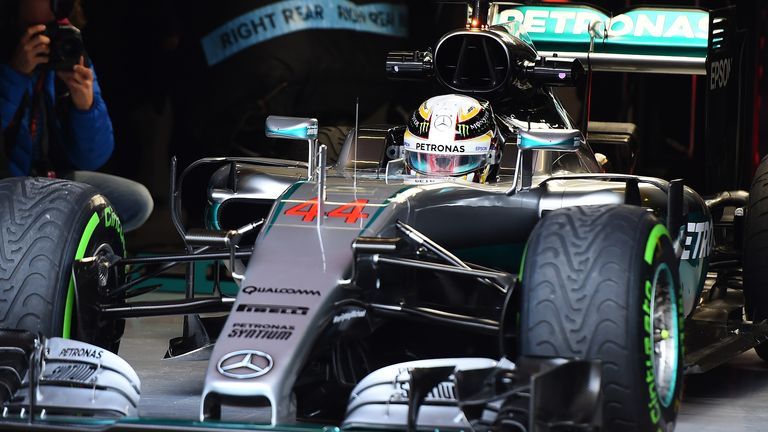 "We're not been working on that, we've just been working on mileage," he said.
"What we would have finished last season with is what we'll be starting with this year. So I'm not able just yet to be able to just yet to be able to try to find the optimum set-up or get used to what we had before. But the time will come."
Rosberg, who was present at the track throughout Monday after the W07's unveiling, takes over testing duties for Mercedes on Tuesday, with Hamilton back in the car on Wednesday.
Sky Sports F1 Digital team will be providing live commentary from dawn until dusk on all four days of both Barcelona tests while Sky Sports News HQ will also deliver live updates from trackside.