Mercedes reassure 'pained' Lewis Hamilton he's the victim of bad luck
"It feels right now that the man above or any higher power is intervening a little bit," says Hamilton after Sepang engine blow-out
By Pete Gill and James Galloway in Sepang
Last Updated: 03/10/16 11:45am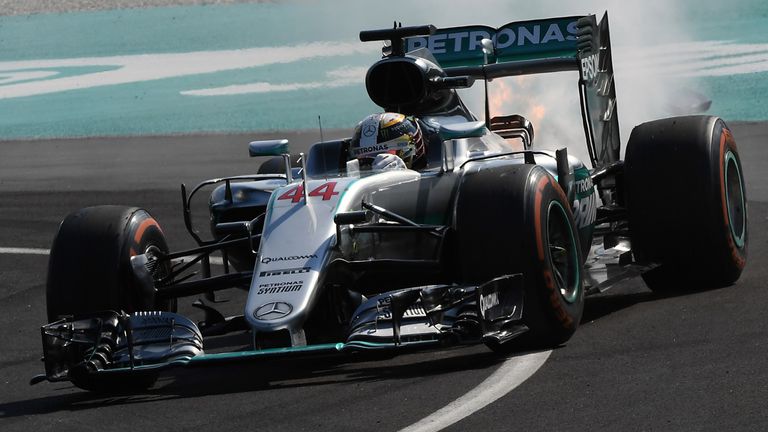 Lewis Hamilton says the pain of his Malaysia GP blow-out is 'indescribable' with his Mercedes team adamant their driver has been the victim of nothing worse than bad luck.
Hamilton was leading Sunday's Malaysia GP by over 20 seconds when his power-unit was engulfed by flames following an internal combustion engine failure.
The aggrieved world champion, now 23 points behind Nico Rosberg in their title battle, told Sky Sports F1: "Something just doesn't feel right. There's been 43 engines from Mercedes and only mine have gone - it's odd."
As the world champions strived to defuse Hamilton's incendiary remarks, a hurried meeting was held between Hamilton and the Mercedes hierarchy in which the Englishman was assured he was simply the victim of bad luck rather than deliberate sleight of hand.
"We had a meeting and it's clear he is seeking an explanation," Silver Arrows chief Toto Wolff told Sky F1. "But there are no words and there is no explanation. We had those failures on the car and it is a mechanical sport. It was different failures all the time. As much as he's gutted, so are we, and there's no such thing as anybody having his fingers on any bits."
Asked what he meant by saying immediately after the race that "something or someone" was working against him, Hamilton later clarified: "A higher power. It feels right now that the man above or any higher power is intervening a little bit."
Apparently pacified by the debrief within the Mercedes motorhome, Hamilton told his press briefing late on Sunday night: "I feel, as I said in the interviews, Mercedes have built 43 engines or whatever it is, and the extra three that I've had, and I've happened to have most, if not all, the failures.
"So that is definitely a tough thing, but I have 100 per cent confidence in these guys. It's my fourth year with these guys, the guys in the garage and the guys back at the factory, and I have 100 per cent faith in them.
"I love it here and without them I would not have won these extra two championships. Whilst the struggle is real right now, it has been this year, I honestly feel it's constantly a test of will, a test of my spirit and who I am as a person to keep fighting it head on."
Wolff added that Hamilton "said great things about the team" in a second post-race meeting between mechanics and management in order to lift spirits ahead of next week's Japanese GP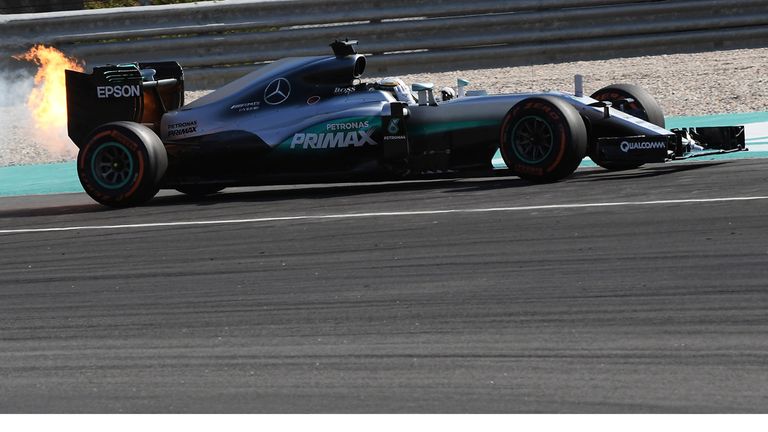 Hamilton has previously suffered mechanical problems in China, Russia, Baku and Singapore this year with his string of early-season problems triggering relegation to the back of the grid in Belgium when fresh power units were added to his pool.
"For some reason, which is completely unrelated to intention or any individual performance, a number of things have fallen on Lewis' car, far more than any of the others," accepted Mercedes technical chief Paddy Lowe.
"We have eight Mercedes power units in the field and there is no pattern for why it should fall on Lewis' car."
One crumb of comfort for Hamilton is the expectation his Sepang blow-out is unlikely to trigger a grid penalty at next week's Japanese GP.
"We have two engines for him - one brand new and one that did three races," said Wolff.
There is, however, no guarantee the engines Mercedes introduced in Belgium, which included the unit that broke in Malaysia, are not plagued by a fault which could spark a repeat of his Sepang heartache during the remaining five races.
"We will not leave any single stone unturned to find out what it was," vowed Wolff. "We don't know yet, it looks like a hardware failure on the ICE which is very rare and very freak. It could be a supplies problem, it could be a material problem, but it wasn't anything that we saw coming."
The next race, the Japanese GP, takes place on Sunday.
Don't miss the F1 Report for all the reaction and analysis from the Malaysia GP. Former F1 world champion Damon Hill and The Sun's Ben Hunt join Natalie Pinkham in the studio at 8:30pm on Wednesday on Sky Sports F1.
You can watch the final day of the Ryder Cup, plus Premier League football and the Japan Grand Prix on Sky Sports. Upgrade now and enjoy three months at half price!