Nico Rosberg crowned 2016 Formula 1 drivers' champion
Lewis Hamilton's tactic of backing up title rival doesn't pay off; Mercedes team-mates belatedly shake hands on the podium
By Pete Gill
Last Updated: 28/11/16 1:16pm
Nico Rosberg has been crowned F1 world champion after a tense and controversial season finale at Abu Dhabi.
Requiring a podium finish to secure his first F1 drivers' title, Rosberg finished Sunday's race in second place to clinch the crown ahead of Mercedes team-mate Lewis Hamilton, the race victor, by five points.
But the 'Duel in the Desert' was shrouded in controversy after Hamilton ignored a series of messages from his Mercedes team, urging him to increase his pace, after deliberately backing up Rosberg into the Red Bull of Max Verstappen and Ferrari's Sebastian Vettel in a desperate bid to engineer a result which would have seen him retain his crown.
Hamilton defends 'unsporting' tactics
"I am losing the world championship, I don't care if l lose the race," said Hamilton. "I suggest you guys let us race."
It was a message the Englishman repeated after the race, telling reporters: "It is a shame they wouldn't let us race, but it is clear their thought process."
Hamilton immediately congratulated Rosberg with an embrace when the pair returned to Parc Ferme following the race. But, adding to the unease, the two Mercedes drivers then failed to acknowledge each other in the warm-down room before a belated handshake occurred on the podium.
"That was definitely not the most enjoyable race I've ever had," said a relieved Rosberg. "Those laps were really not very enjoyable. I'm glad it's over, and I am ecstatic.
"Lewis is an unbelievable competitor, it was one of the best of all time, longest season ever and to beat him in unbelievably tough conditions, it was horrendous out there."
It's possible, although unlikely, Hamilton may face disciplinary repercussions for his disobedience although any anger at the Englishman's actions will be mitigated by his race victory and ultimate failure to stop Rosberg's coronation. 
"This is something I will keep internal," Mercedes chief Toto Wolff. "I just need to form an opinion, which I haven't yet."
Mercedes undecided on Hamilton's race tactics 
"It was nail-biting stuff for us on the pitwall, those final two laps," technical chief Paddy Lowe added to Sky F1. "This is what makes F1 exciting in the way that we are constructed to have a conflict between what a team wants and what two individual drivers want. They each want to win and we come in to every race to win the race."
Nico's father Keke won the drivers' championship in 1982 with the Rosbergs only the second father and son to be crowned champions in F1 history following the triumphs of Graham and Damon Hill. Like the Rosbergs, the Hills' F1 drivers' championships were also achieved 34 years apart.
Rosberg is also the only driver to win the championship apart from Sebastian Vettel and Hamilton since 2009.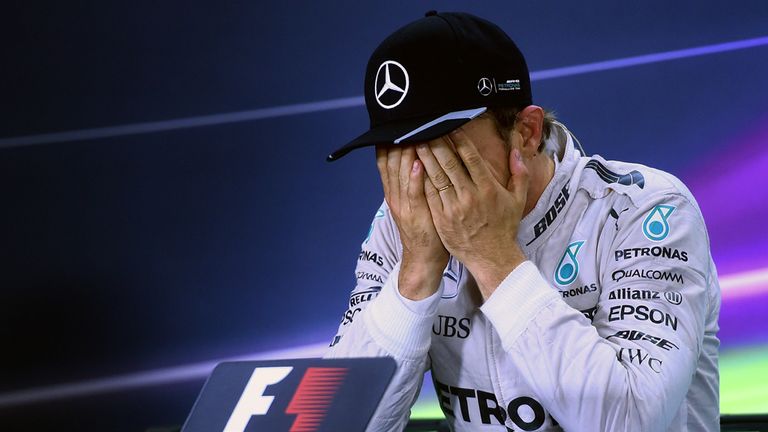 Don't miss the F1 Report's review of the Abu Dhabi GP and analysis of how the world title was won. David Croft and Marc Priestley join Natalie Pinkham at 8.30pm on Wednesday on Sky Sports F1.