Lewis Hamilton defends his tough 'Duel in the Desert' tactics
Lewis ignored instructions from Mercedes pitwall to speed up as he tried to engineer a title-losing result for Nico Rosberg
By Pete Gill
Last Updated: 28/11/16 7:25am
Lewis Hamilton has defended his "unsporting" tactics in the season-concluding Duel in the Desert when he sought to back Nico Rosberg into a title-losing result.
After securing the lead of the race, Hamilton ignored and rejected a series of radio calls from his Mercedes team to increase his pace as the Englishman sought to drive his team-mate - who only required a podium finish to win the title - into the clutches of Sebastian Vettel and Max Verstappen while the Silver Arrows hierarchy fretted about losing the race to Ferrari or Red Bull. 
But after crossing the line in first place ahead of the title-winning Rosberg, a defiant and unapologetic Hamilton insisted he did nothing wrong.
"There was no point sitting up front, winning the GP and having him come second. I had to try. With all the issues I had through the year, it left me in the position I am in now," Hamilton told Sky Sports F1.
Listen: Hamilton ignores Mercedes instructions to speed up
Hamilton's pointed reference to the three engine failures he suffered during the season, in which Rosberg largely enjoyed near-perfect reliability, was repeated in a later interview with Sky Sports News HQ.
"I hope the team provides me with reliability the way they do with the other car," he said.
Hamilton is likely to face a tough interrogation from his Mercedes employers over his failure to heed their instructions during Sunday's season-ending grand prix but added: "I'm looking forward to it."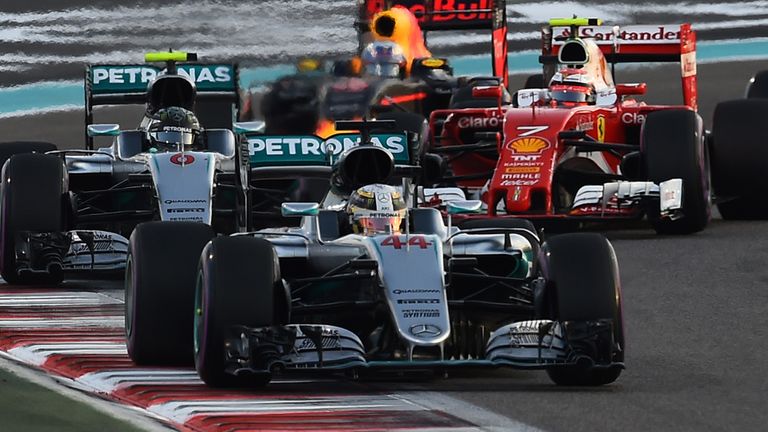 At one stage during the race an exasperated Rosberg was heard asking, with what he himself called a "stupid question", if Hamilton would let him past. But with the title secured, the German said he had no complaints about his team-mate's driving. 
"I can understand the team asking him to speed up, and me also asking, but I can understand his point too. It is the world championship and I understand he wanted to try something," Rosberg said.
Rosberg crowned Formula 1 world champion
The German was even moved to admit he was impressed with the cunning of Hamilton's tactics. 
"He did it really, really well because there was no chance to overtake him at the same time. In the first sector he was fast and flat-out so I could never got close for a pass and then he slowed down in the rest of the track and the others could come back.
"Lewis is an unbelievable competitor, one of the best of all time, [in the] longest season ever I beat him in unbelievably tough conditions."
After making a disastrous start to the Japanese GP to fall over thirty points behind Rosberg, Hamilton finished the season in perfect fashion, with four consecutive pole positions and four successive wins, but it wasn't enough to prevent the German being crowned champion. 
"I won today so I don't feel like a loser. I did everything with the opportunities I had. We had lots of ups and downs throughout the season, starts where I fell back and I fought back and I never gave up," Hamilton said.
"Nico is going to enjoy this, it is an amazing feeling when you win a world championship. I don't want to take anything away from that, he did everything he had to do this season and I hope we both have cars as his was this season so we can fight again next year."
Mercedes in two minds over Hamilton's tactics
Mercedes warned Hamilton prior to the race that they would 'undercut' him on strategy if he 'played dirty' during the race and tried to back up his team-mate during the grand prix. But Hamilton only employed the tactic after the second and final round of pit-stops, leaving Mercedes powerless once the Englishman then refused to obey their instructions, escalating in gravity, when told to speed up. 
Team boss Toto Wolff has confirmed he will consider disciplinary measures against Hamilton but vowed to keep any punishment a private matter.
"I'm in a bit of a schizophrenic situation. There is the control freak team leader that has a rule book that everyone has to obey because this made us what we are today, but then there is the racing me," said Wolff. 
Mercedes undecided on Hamilton tactics
"I was questioning myself: 'What would I have done?' He had two choices, play one, disappear into the distance and show them you're the best racing driver and it would have been his season, or play the other one, back up, and that's what he decided to do, so I'm a little bit in two minds.
"It would have come to my mind and it came to others' mind. Christian [Horner, the Red Bull boss] had the same idea before the weekend so he followed Christian's instruction. Maybe he ought to drive for him! I'm going from one side to another side.
"Equally, Nico had more pace. He kept it very cool under pressure. Maybe you would have launched yourself for an overtake. It's difficult to have a solution for every situation."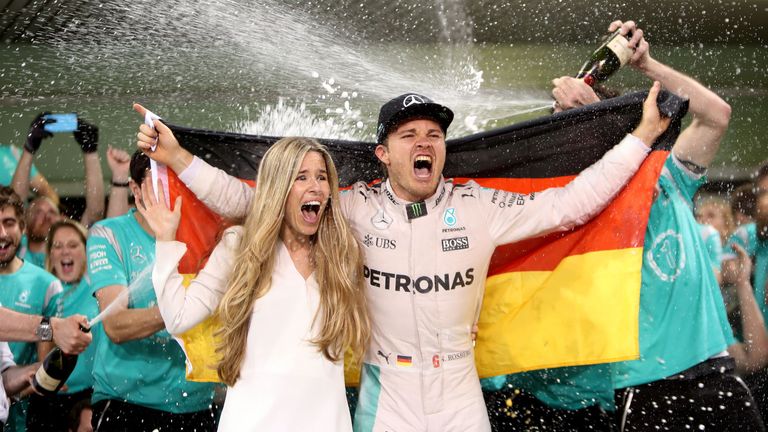 Technical chief Paddy Lowe added: "It was nail-biting stuff for us on the pitwall, those final two laps. Our main objecting is to win the race and we didn't like the look of a red car coming through at a far higher pace than our car."
"This is what makes F1 exciting in the way that we are constructed to have a conflict between what a team wants and what two individual drivers want. They each want to win and we come in to every race to win the race."
Hamilton, meanwhile, has refused to deny reports he threatened to sit out the rest of the season following his crash with Rosberg at May's Spanish GP.
"That is all private stuff that is in the past," Hamilton told Sky F1 when asked about the claims.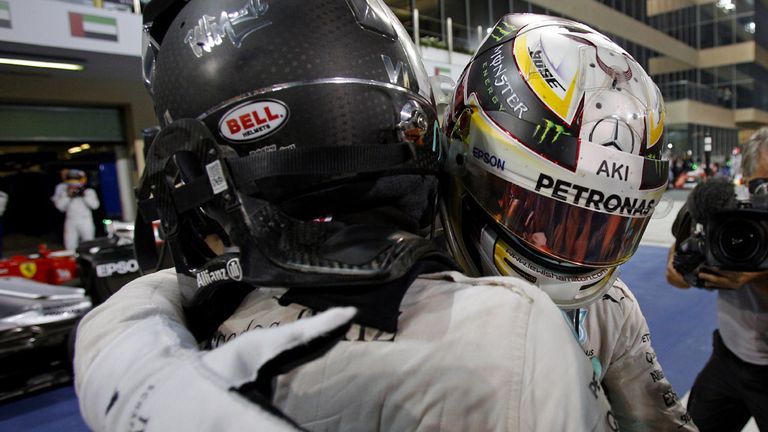 Don't miss the F1 Report's review of the Abu Dhabi GP and analysis of how the world title was won. David Croft and Marc Priestley join Natalie Pinkham at 8.30pm on Wednesday on Sky Sports F1.