Abu Dhabi GP: Lewis Hamilton wins the battle but loses the war
Hamilton claims fourth consecutive win in season finale but cannot prevent team-mate Rosberg taking the title
Last Updated: 27/11/16 4:52pm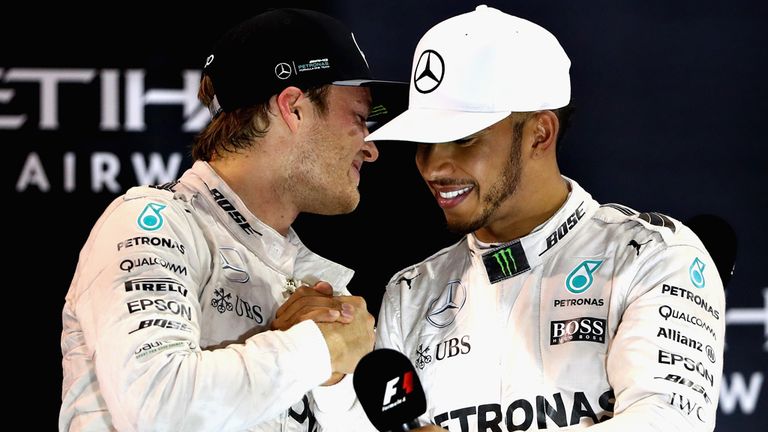 Lewis Hamilton may have won the Duel in the Desert but Nico Rosberg has won their world championship war to be crowned drivers' champion.
In a tense and nail-biting season finale at Abu Dhabi, Hamilton did all he could to derail his Mercedes' team-mate path to the drivers' crown before Rosberg finished second, just ahead of a hard-charging Sebastian Vettel, to secure the championship.  
After cruising into the lead and building up a comfortable lead, Hamilton ignored a series of instructions to speed up from the Mercedes pitwall after deliberately slowing up to put Rosberg into title-harming way.
But it was to no avail: even when driving slowly, Mercedes were still too fast for their rivals. Even if Vettel had passed Rosberg on the final laps, the German would have still been crowned champion.
Nico Rosberg crowned 2016 world champion
For Mercedes it was an uncomfortable and uneasy conclusion to a season when they have reigned supreme. Hamilton has finished the season driving like a champion to claim four successive victories, bouncing back in style from his Malaysia misfortune and Suzuka meltdown, but it is Rosberg who ends the year with his first drivers' title.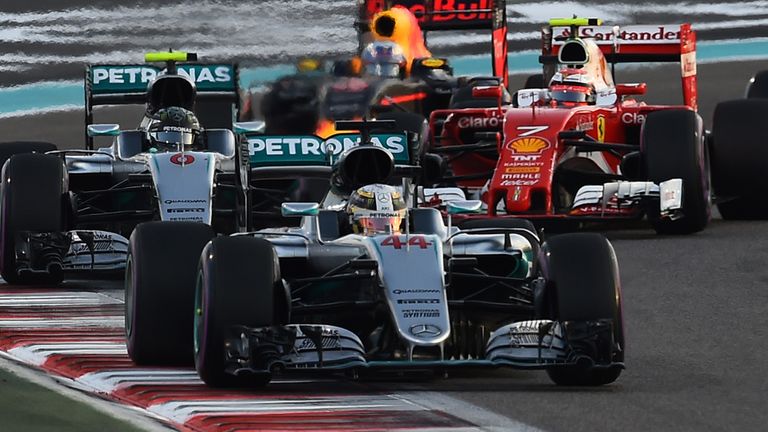 There was drama from the start as Max Verstappen hit the rear of Nico Hulkenberg's Force India and spun to the back of the field. But as Hamilton, followed by Rosberg, cruised into the lead, Verstappen's mistake set in motion a chain of events and pit-stops that threatened to to derail Rosberg's coronation. 
After Red Bull reversed into a one-stop strategy, Rosberg found himself bunched up behind the Dutch teenager after the first round of pit-stops. The nut was only cracked after a dozen slow laps, which brought both Ferraris and the Red Bull of Daniel Ricciardo into play for a podium result, when Rosberg bravely overtook the ailing Verstappen.
But that only propelled the German into the clutches of his team-mate as Hamilton - understandably if controversially - suddenly eased off and slowed up to stop Rosberg escaping danger. 
The result was a tension-filled final ten laps as an increasingly-frustrated Rosberg was warned that Vettel, after a late stop for fresh boots, was charging towards the frontrunners and Hamilton stubbornly refused to budge or speed up.
There was, however, no sting in the tale as Rosberg kept his cool, and second place, to wrap up the championship.
Daniel Ricciardo was fifth ahead of Kimi Raikkonen while Force India rounded off their best-ever season in the sport in style as the Renault-bound Nico Hulkenberg and team-mate Sergio Perez finished seventh and eighth respectively. 
Meanwhile, Jenson Button suffered a lame end to what is likely to be his final race in F1 after being forced to retire from the race after clouting the kerbs and breaking the front suspension of his McLaren. Williams' Felipe Massa fared rather better in his farewell, claiming a couple of points in ninth.
The story, though, was elsewhere as F1's 2016 final chapter ended in controversy, tension, Mercedes dominance and Nico Rosberg as the sport's new number one. 
Abu Dhabi Grand Prix race result
1. Lewis Hamilton, Mercedes, 1:38:04.013
2. Nico Rosberg, Mercedes, + 0.439
3. Sebastian Vettel, Ferrari, + 0.843
4. Max Verstappen, Red Bull, +1.685
5. Daniel Ricciardo, Red Bull, + 5.315
6. Kimi Raikkonen, Ferrari, + 18.816
7. Nico Hulkenberg, Force India, + 50.114
8. Sergio Perez, Force India, + 58.776
9. Felipe Massa, Williams, + 59.436
10. Fernando Alonso, McLaren, + 59.896
11. Romain Grosjean, Haas, + 76.777
12. Esteban Gutierrez, Haas, + 95.113
13. Esteban Ocon, Manor, +1 LAP
14. Pascal Wehrlein, Manor, +1 LAP
15. Marcus Ericsson, Sauber, +1 LAP
16. Felipe Nasr, Sauber, +1 LAP
17. Jolyon Palmer, Renault, +1 LAP
Did not finish: Carlos Sainz, Daniil Kvyat, Jenson Button, Valtteri Bottas, Kevin Magnussen
Don't miss the F1 Report's review of the Abu Dhabi GP and analysis of how the world title was won. David Croft and Marc Priestley join Natalie Pinkham at 8.30pm on Wednesday on Sky Sports F1.