Lewis Hamilton not surprised Nico Rosberg has quit Formula 1
Hamilton says end of Rosberg's title drought doesn't make sudden F1 departure surprising; Lewis has no preference for 2017 partner
By James Galloway
Last Updated: 03/12/16 7:01am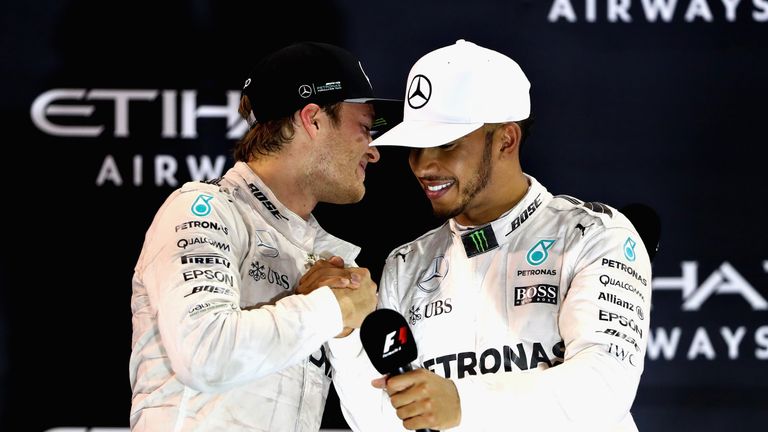 Lewis Hamilton has claimed he is not surprised by Nico Rosberg's bombshell decision to quit F1 - but says he will miss their fierce rivalry at Mercedes.
Rosberg's announcement he is retiring from the sport with immediate effect within a week of winning his maiden world title has caught the F1 world by complete surprise.
Formula 1 in shock as Rosberg quits
But Hamilton, who has known Rosberg since they were teenagers, says he is not stunned by the news.
Attending the same FIA prizegiving gala at which Rosberg announced he is retiring, Hamilton was quoted by Reuters as saying: "This is the first time he's won in 18 years, hence why it was not a surprise that he decided to stop.
"He's also got a family to focus on, and wants more children, and Formula 1 takes so much of your time. Will I miss the rivalry? Of course."
Hamilton and Rosberg had been team-mates at Mercedes since 2013 but the friendly relationship they developed when teenage drivers in karting collapsed under the weight of their subsequent exclusive duels for the world title.
Despite their rivalry, Hamilton says both he and the sport as a whole will miss the German driver, although expressed disappointment he will not now be able to win back the title by defeating Rosberg on track in 2017.
The full story: Rosberg retires from F1
"It's going to be very, very strange and it will be sad not to have him in the team next year," added Hamilton. "The sport will miss him and I wish him all the best.
"Of course it is a shame that he won't allow me to take it [the title] back or fight to take it back but that is his choice and I respect his decision: go out on top while you can."
Until Rosberg's shock announcement, it had been Hamilton's long-term future at Mercedes under the spotlight in recent days following the controversial Abu Dhabi GP when he ignored team instructions and deliberately slowed his up team-mate in an attempt to make the German lose positions.
Mercedes are now unexpectedly thrust into the driver market for 2017 with all of the other leading drivers with a record at least equal to Rosberg's under contract.
Multiple world champions Fernando Alonso, Hamilton's first F1 team-mate, and Sebastian Vettel have deals at McLaren and Ferrari respectively which each run for one more season.
Asked who he would like to see alongside him at Mercedes in 2017, an unfazed Hamilton replied: "It doesn't matter who...I'll race them, I'm here to race."