Carlos Sainz for Mercedes? The F1 Report debates 2017 driver options
F1 Report guests debate whether Red Bull youngster should be Mercedes' go-to driver to replace Nico Rosberg
By James Galloway
Last Updated: 15/12/16 3:03pm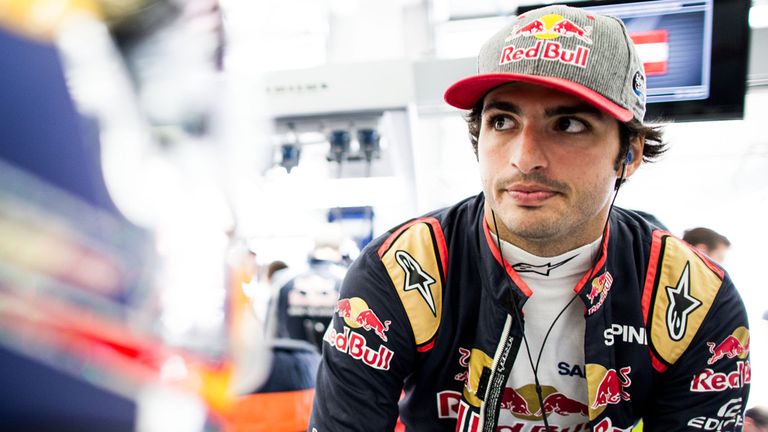 Carlos Sainz deserves the chance to land the vacant Mercedes seat, according to the guests on this week's F1 Report.
Mercedes' search for a replacement for the retired Nico Rosberg continues with Valtteri Bottas identified as their top target but under contract at Williams.
Pascal Wehrlein also remains a leading contender but the guests on the F1 Report: Journalists Special believe Red Bull junior Sainz, who is set for another season at Toro Rosso, would fit the bill perfectly.
"I'd love to see Carlos Sainz in there," said Sky F1 analyst Mark Hughes on the hour-long show which airs at 8pm.
"It's so frustrating because of the direct comparison we've seen with Verstappen at Toro Rosso [in 2015] and to want to see that translated into a good car.
"It looks like Red Bull potentially have a driver line-up in the senior team that's going to be there for years, so does that mean Carlos is forever in the junior team? How long can you keep somebody in the junior team?"
Although Mercedes are not thought to have approached Red Bull about Sainz's availability, the Spaniard's parent team have already moved to downplay speculation, telling Sky Sports they have no plans to release the 22-year-old.
Sainz told Sky F1 at October's Mexican GP his Toro Rosso deal was for one season and expressed confidence that if he was not promoted to their senior Red Bull team for 2018, they would find "a solution for me" to progress his career.
The Spaniard's chances of earning a promotion are unlikely owing to the long-term contracts held by Daniel Ricciardo and Max Verstappen.
Asked if there were stronger options on the grid for Mercedes than current favourite Bottas, Ben Hunt, The Sun's F1 correspondent, replied: "Yes, from an overall package, they're just not available
"The only one is Carlos Sainz. Would Red Bull be willing to roll over and let him go? Probably not because there's a lot of bad blood between Mercedes and Red Bull throughout the years, they're not going to give them one of their star drivers not knowing where Max Verstappen and Daniel Ricciardo are going to be in the future."
Will Buxton, F1 reporter for American TV network NBC, agreed Sainz would be an exciting choice for the seat alongside Lewis Hamilton but pointed out that Bottas had burnished his own credentials for a top drive this year.
"Valtteri had a phenomenal season both in qualifying and race performances that often went under the radar because of the performance of the car," said Buxton.
"He probably had his best season in Formula 1. Okay, Felipe Massa [Bottas's Williams team-mate] was not the driver that he was in 2008, but it still takes something to get in the car and beat a driver of that calibre every weekend."
Whoever Mercedes ultimately sign to replace the retired world champion, the Brackley team are certain to have their first new driver since Hamilton joined from McLaren in 2013.
And Hughes is looking forward to seeing a new narrative emerge after three successive Hamilton v Rosberg world title duels.
"We've seen the pattern now, we know what the pattern is between those two guys in the same car so I quite welcome the reset," he said.
"I wish Nico well in whatever he is going to do next, but I'm looking forward to a different competition and a different dynamic."