Sebastian Vettel hails 'massive achievement' after win in Australia
Vettel beat Hamilton to victory at Albert Park on Sunday
By Simeon Gholam
Last Updated: 30/03/17 11:40am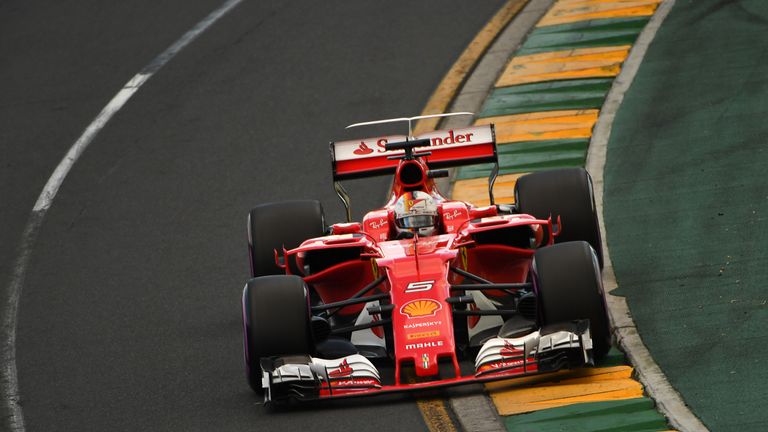 Sebastian Vettel described his victory in Australia as a "massive achievement" after he beat Lewis Hamilton to the top of the podium in the season-opening race on Sunday.
The German came from behind the pole-sitting Mercedes driver at Albert Park to claim his, and Ferrari's, first race win since Singapore in 2015.
"It's unbelievable. It's what we needed," said Vettel. "The guys have been working really hard and not getting much sleep. It's a really fun car to drive.
Hamilton: It's best v the best
"There is a long way to go, but we are just over the moon at the moment. It is March, you know. All that matters now is we had a great race and it's a great relief for everyone. We did our job, we focused on ourselves and we had a good feeling driving it.
"It is massive for the team. A massive achievement but it does not stop there. It is just the beginning. The spirit is good inside the team."
Despite the success, Vettel highlighted areas of improvement to his performance after getting off to an underwhelming getaway at the lights in Melbourne.
"I was not entirely happy with my start, there was a bit of wheel slip, but I was trying to keep the pressure on to give the message that we are here to fight," he added.
"There was a bit of luck that Lewis came out in traffic. You can push these cars until the end. The tyres still degrade but you can still attack all the way.
"It's a long, long way ahead. For now, we're just over the moon. It's been a hard winter, and an incredible race today. We're here, we're here to fight."
Watch the 2017 F1 season on Sky Sports F1 - and in Ultra HD for the first time! Get Sky F1 for the new season!