Lewis Hamilton's Australian GP strategy explained by Mercedes
Mercedes' chief strategist on the "very difficult" call to pit then-race leader Hamilton first in Melbourne after defeat to Ferrari
By James Galloway
Last Updated: 30/03/17 7:06am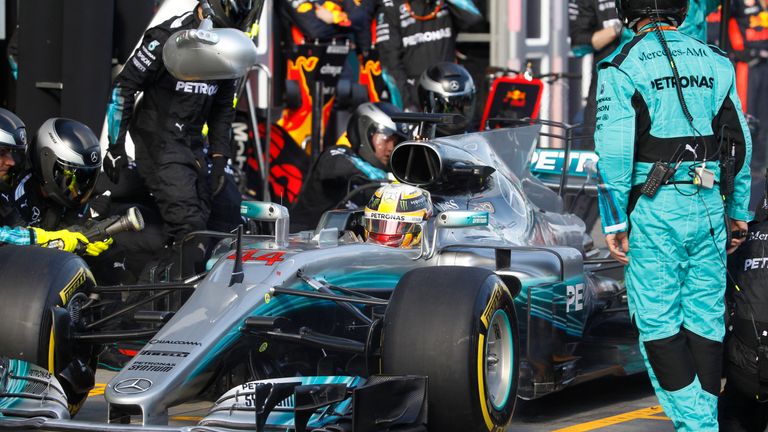 Mercedes have explained their "very difficult" strategy dilemma in the Australian GP after Lewis Hamilton was beaten to victory by Ferrari's Sebastian Vettel.
Hamilton had led last weekend's season-opener from pole but was overhauled by his Ferrari rival through the sole round of pit stops, with Vettel eventually winning by a comfortable 10-second margin.
Ferrari jumped Mercedes by keeping Vettel out for six laps longer than Hamilton, with the Mercedes delayed after his stop by the Red Bull of Max Verstappen.
In a Mercedes video analysing the key strategy decisions the team had to make in Melbourne, chief strategist James Vowles said they thought Red Bull would pit Verstappen sooner than they did in order to undercut the Ferrari of Kimi Raikkonen ahead.
"If we stop, we knew we were going to drop behind Kimi and Verstappen, but if we're suffering degradation, they should start to see a little bit as well at that point in time," said Vowles.
"We're not going to be likely to overtake in all likelihood against these cars, but there's an interesting circumstance that appears - if we stop, Verstappen has an opportunity to beat Kimi into P4.
"The reason why? Ferrari have to keep Kimi out which means if Verstappen stops, and there's a little gap behind him around about lap 20 appearing, that gives us free air to push up to the back of Kimi and maybe that will create the circumstance we need in order to win this race.
Hamilton: Mercedes have a 2017 fight on
"So a very difficult decision and in the end I decided to go for it. I believe Verstappen would stop and he didn't in the end and you saw what happened: 0.6 seconds, that was all that separated us and Vettel coming out of the pits.
"If Verstappen had stopped just one lap before we would have won that race."
Hamilton held a 1.9-second lead over Vettel at the end of lap 13 but the Ferrari had closed that down to within one-second DRS range by the lap the Mercedes pitted.
"A slow track to start, that's normal for Melbourne, and then we started to push - Vettel responded. We started to push [again], Vettel responded," explained Vowles.
"Then around about lap eight we told Lewis 'right, let's really get the hammer down now and see whether we can build this gap' and Vettel responded straight away.
WATCH: Ted Kravitz's Australian GP Notebook
"In fact, what ended up happening is we started to see a little bit of degradation on the tyres and Vettel came back into our [pit] window. So this became a critical point in the race."
Losing touch with the Ferrari over the remainder of the race as the Mercedes pit wall briefly considered switching to a two-stop strategy, Hamilton's advantage over new team-mate Valtteri Bottas shrunk to under two seconds in the race's closing stages.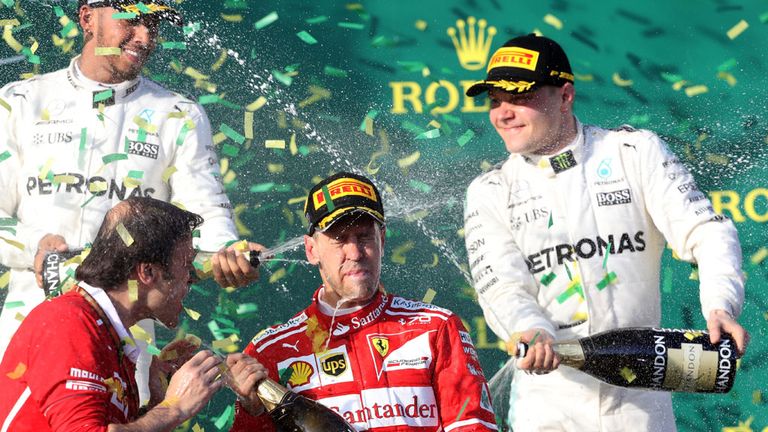 Asked to assess Bottas's debut after the Finn finished third, Vowles said: "Brilliant. For his first race out with the team we were very, very impressed with him.
"In qualifying you saw he was couple of tenths shy of where Lewis was, but he did a very solid job in the race."
Don't miss the final word on the season-opening Australian GP in the latest edition of F1 Report. The first airing is on Wednesday at 8.30pm on Sky Sports F1, with the show repeated on the channel and available On Demand and online throughout the week.
Sky customers can now upgrade to Sky Sports and get 12 months for just £18 per month. Upgrade now!