Lewis Hamilton wants Jenson Button to replace Fernando Alonso at the Monaco GP
McLaren confirmed last year that former world champion Button was 'contracted to race if needed' in 2017
Last Updated: 14/04/17 10:19am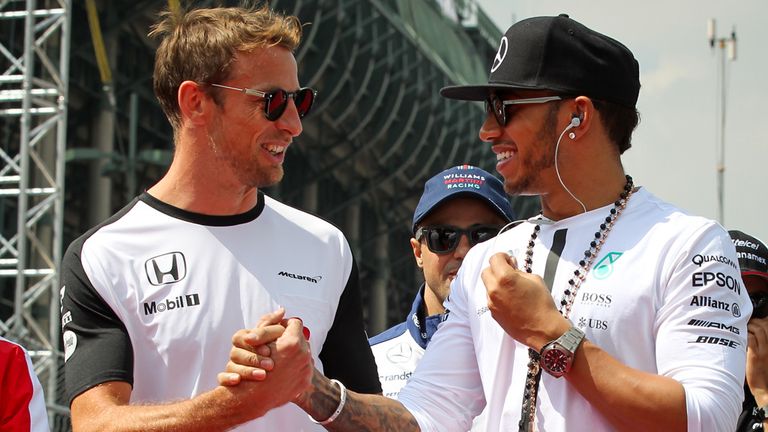 Lewis Hamilton wants McLaren to appoint Jenson Button as Fernando Alonso's replacement for the Monaco GP.
Alonso will miss the race to take part in the Indianapolis 500 and McLaren are yet to confirm who will take the Spaniard's place.
Alonso to miss Monaco for the Indy 500
But Button, who stood down from a race seat with the team at the end of last season, is the obvious choice and remains under contract with McLaren.
"I hope Jenson comes back. I think it would be great for the sport to have Jenson back in," said Hamilton, a former team-mate of Button for three seasons between 2010 and 2012.
"I still think he is one of the best drivers. His calibre is higher than any other driver who could take that spot - his calibre and experience."
Button hasn't driven competitively since his swansong race in the 2016-season finale at Abu Dhabi in November. But a two-day test will be staged in Bahrain immediately after this week's grand prix in the desert, offering an immediate opportunity for McLaren to bed-in Alonso's stand-in.
Asked whether Button's level of fitness was likely to be an issue if he did return, Stoffel Vandoorne told Sky F1: "He'll have only missed four races if he does jump in so l don't see it as an issue."
An announcement from McLaren on the identity of Alonso's replacement is expected imminently.
But when the team confirmed at September's Italian GP that Button wouldn't be racing in 2017, then-team boss Ron Dennis said: "Jenson will be in the simulator, he will attend some races and he is contracted to race if needed."
Watch the Bahrain GP live on Sky Sports F1 and in incredible Ultra HD! The race begins at 4pm on Sunday. Check out all the ways to watch F1 on Sky Sports for subscribers and non-subscribers - including a NOW TV day pass for £6.99!
Sky customers can now upgrade to Sky Sports and get 12 months for just £18 per month. Upgrade now!