F1 Report: Big decisions coming for McLaren, Honda and Renault
An intriguing McLaren-Honda debate on this week's F1 Report
By Matt Morlidge
Last Updated: 07/09/17 9:45am
McLaren are on the verge of ditching Honda, with a switch to Renault power possibly on the cards, and their engine dilemma was the major talking point on this week's F1 Report.
The Italian GP review show welcomed two former McLaren employees in Pat Fry and Marc Priestley, with the guests debating the rationale behind a divorce - which Sky Sports understands could be imminent - and whether Renault would be a sensible Honda replacement.
And if that engine is on offer, Fry, the Woking team's former chief engineer, says current staff will hope McLaren "dump Honda and run" after three years of little progress and a significant power shortage.
"It's a corporate decision," Fry told the F1 Report. "All of the engineers will be saying, 'dump it and run - we'll have more MGU-H recovery, more horsepower and lap time is going to be half a second quicker if we go with Renault.'
"They'll know all that from simulation. They're engineers, it's what we do."
But Fry, who enjoyed a 16-year career with McLaren before joining Ferrari in 2010, also admitted it was a complicated affair with several other parties involved.
"The first step was always going to be a struggle for Honda, but it is surprising how little progress there has been over three years," he added.
"But you'll have one group of people screaming that it's a no-brainer and then you've got all the commercial aspects and everything else - and that's why it's such an awkward problem."
A busy Italian GP paddock played host to talks between McLaren and Renault as well as Toro Rosso and Honda over a 2018 power supply, while F1 bosses also remain key to negotiations.
McLaren boss Zak Brown told Sky Sports it is "one of the biggest decisions we have ever had to make" - but Sky F1's Priestley believes it ultimately should be an easy call.
"For me, the relationship has broken down too far with McLaren and Honda behind the scenes, beyond the point of no return," the former McLaren mechanic said. "It has got so bad - just get a divorce.
"How many years can Honda keep promising McLaren results and fail to deliver?"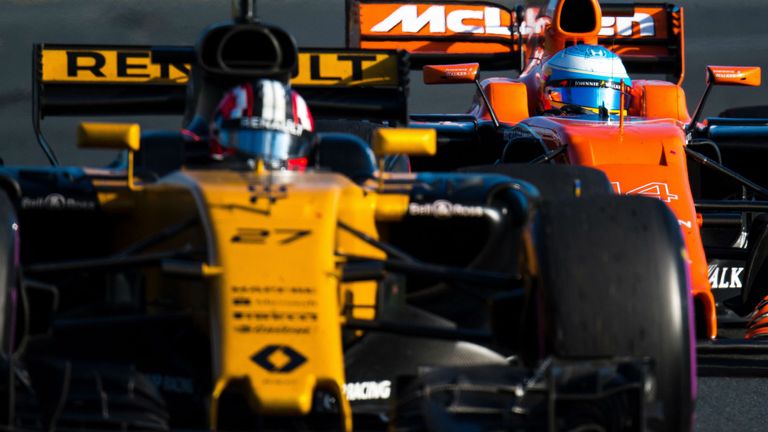 Red Bull and Sainz interested parties?
A tie-up between Honda and Toro Rosso, who Renault currently supply, would clear a space for McLaren at the French manufacturers' stable as well as guarantee Honda remain in F1 beyond this season.
And Priestley believes a deal could also have big ramifications for Red Bull, whose current engine contract expires in 2018, and Toro Rosso's Carlos Sainz, who has been consistently linked with a Renault move.
"If you're Red Bull you want that Honda engine, because you can keep an eye on it in your junior team for a year and see it develop," he said. "You think at some point they're going to turn a corner, and then do Red Bull have a manufacturer to fall back on and McLaren don't?
"Carlos Sainz is also going to be a part of this negotiation. I think it all comes down to Toro Rosso's decision, perhaps Sainz is a pawn in this game because if Toro Rosso need to get out of their Renault contract, could they offer Sainz as a bit of a teaser?"