Ferrari's failing F1 title challenge: Where has it all gone wrong?
Despite possessing 2017's fastest car, Ferrari's season has spectacularly unravelled since the summer break. How and why has it all gone wrong at Maranello?
By James Galloway
Last Updated: 19/10/17 4:12pm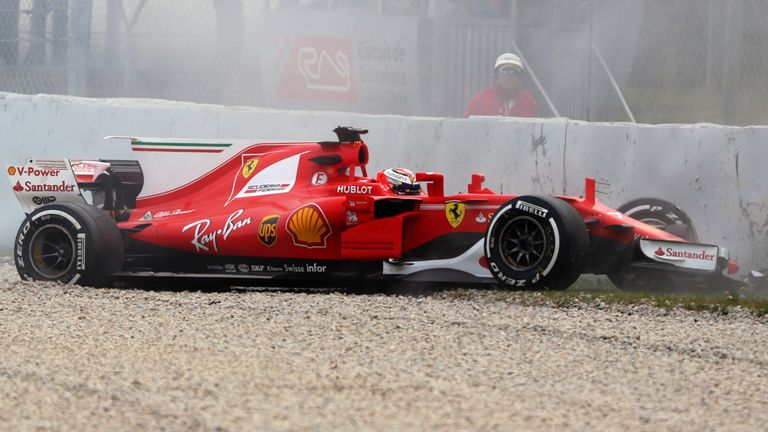 It's not over yet, but Ferrari's hopes of ending Mercedes' run of F1 world titles look increasingly forlorn after a season-crippling run of results since the summer break.
Mercedes are already on the brink of clinching another Constructors' Championship, while Lewis Hamilton has his first chance of sealing his fourth drivers' title at this weekend's US GP, just six weeks after Ferrari went to Monza with Sebastian Vettel top of the standings.
So how has it come to this for Ferrari - and so quickly?
Here are four areas where the battle may have been lost...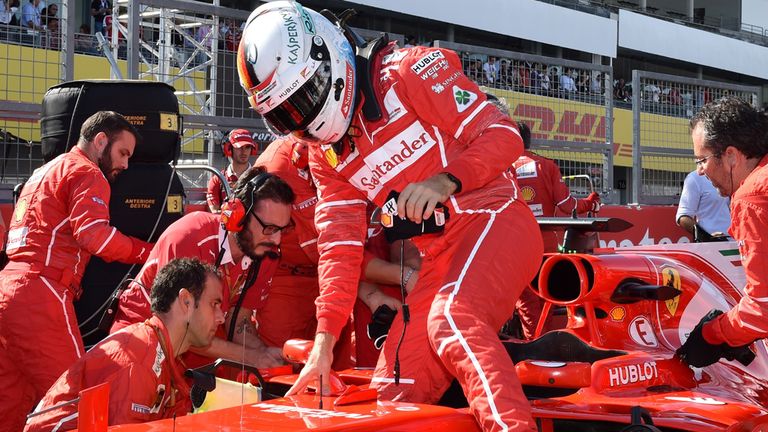 A fast car but too many missed chances
From no victories in 2016 to four in 2017, Ferrari have already won more races this season than the previous three combined. As Vettel argued in Japan: "We got a lot further than people thought."
That's certainly true when pitched against the muted expectations surrounding the Scuderia last winter.
But for a car that has ultimately proved to be consistently strong and speedy as the SF70-H, four race wins from 16 is a meagre return - particularly when Mercedes have won 10 times with a W08 that has often displayed uncooperative 'diva' tendencies and Red Bull, despite starting the season over a second off the pace, just two fewer than Ferrari.
How the world championships can be decided at the US GP
Lewis v Seb: The title race so far
'Ferrari under huge pressure'
Even putting aside the recent hat-trick of self-defeating setbacks in Singapore, Malaysia and Japan, when the SF70-H was probably the fastest race car, Ferrari could and should have added crucial wins earlier in the season.
Valtteri Bottas won in Russia despite Ferrari locking out the front row, while the team had the race pace to win in Austria and Belgium but lost out to Mercedes.
In the end, the statistics are telling. A run of just one win in the 10 races since they dominated Monaco has stymied Ferrari's challenge - probably fatally so.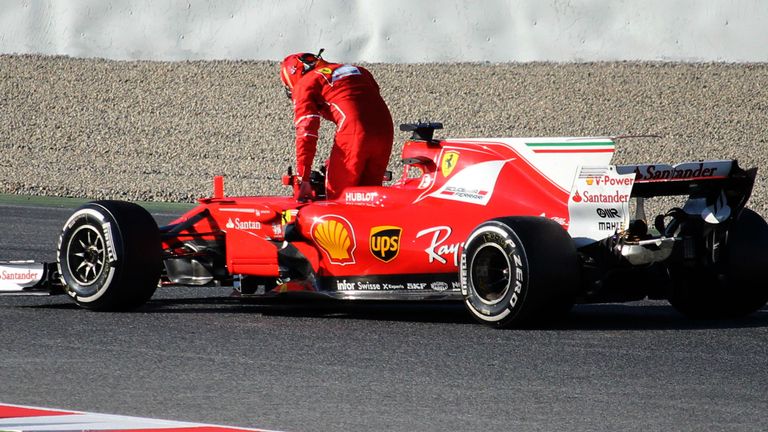 Untimely - and costly - unreliability
Ferrari set the standards for modern F1 reliability at the start of the century when they won eight constructors' and six drivers' championships in 10 years. Their procedures and attention to detail were a cornerstone of that success.
Recent failures on the SF70-H have proved hugely costly, but it would be wrong to suggest the whole season has been derailed by an unreliable car.
The team's 2017 finishing record remains among the field's best - Vettel and Raikkonen have only registered one mechanical-related retirement apiece this season. By any yardstick, that's a decent record.
But it's been the timing of the recent failures in both qualifying and races which have proved so damaging, particularly when Mercedes have been so bullet-proof.
A title race only ever becomes more unforgiving the longer it runs and Ferrari have played a heavy price for recent glitches.
A spate of turbo problems in Malaysia, which left Vettel starting at the back of the grid and Raikkonen unable to take the start, were followed by a faulty spark-plug on the German's car which ruined his race before it had begun.
The fact the offending part cost €59 hardly improves matters, with Sergio Marchionne admitting they needed to improve their quality-control procedures.
When's the United States GP on Sky?
"It's a problem we've probably ignored over time because it was never of much importance," the Ferrari president said. "But now we've had at least three occasions where we've really seen the devastating impact on performance. We'll fix it."
By contrast, Mercedes have only suffered one-such race-stopping fault in the last 12 months.
As the pressure and development has ramped up as the season has progressed in what was the tightest of championship duels, Ferrari have just fallen short.
Points-losing driver mistakes
Over the course of a 20-race season, it's inevitable a driver is going to make mistakes and have 'off' weekends. Hamilton had several in the first half of the season in which he was outperformed by Bottas.
By contrast, there certainly haven't been many, if any, weekends this year when Vettel has been outpaced by Kimi Raikkonen. Yet, just like his car, Vettel hasn't been infallible.
The stop-and-go penalty Vettel received for his 'red mist' moment in Baku, when he bumped into Hamilton's leading Mercedes behind the Safety Car, ultimately cost him a victory after the Englishman later ran into problems with his car's headrest. Most then counted Vettel fortunate to avoid further censure from the FIA.
Then there was Singapore.
Drivers on pole position moving across at the start to defend their advantage is nothing new but Vettel's attempt to squeeze Max Verstappen backfired spectacularly. It was a race Ferrari were expected to win, should have won, and yet they left Marina Bay without even a point. Their championship bid has never recovered.
Without heat of the moment impetuosity, or a split-second miscalculation, Vettel could conceivably have an extra 38 points.
In a battle with Hamilton and Mercedes, such slips have proved very costly.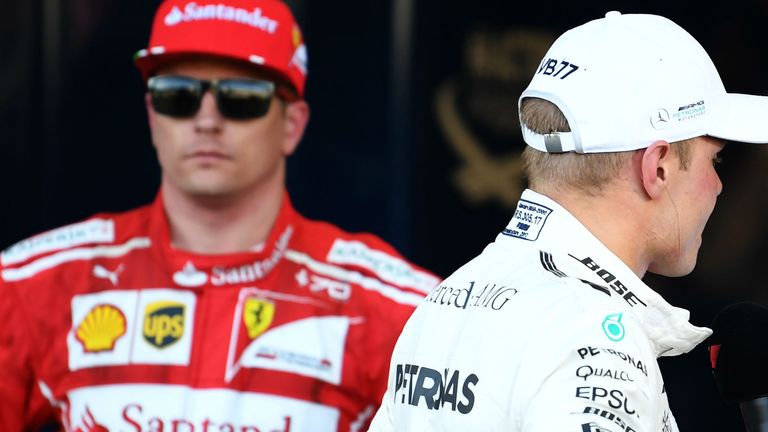 Losing the battle of the 'number twos'
While the battle between Hamilton and Vettel has taken centre stage in 2017, the contribution of the so-called 'second drivers' at Mercedes and Ferrari has been an understated yet important factor.
Raikkonen's status has been clear from early on in the season, with Ferrari's tactics in Monaco - when Vettel jumped his team-mate by running a longer first stint - appearing to confirm perceptions the team's last world champion is now the supporting act to the driver they want to be their next one. Raikkonen then played the compliant - and, crucially, uncomplaining - rear-gunner role to perfection in Hungary when Vettel's steering went awry.
Bottas was more of a front-running threat in his first half-season at Mercedes and as F1 broke for summer was just 19 points adrift of Hamilton in the standings. However, the Finn's struggle for pace since Spa means he is almost out of mathematical contention and any title aspirations are academic.
But Bottas' results over the course of the season have still proved invaluable for Mercedes - and, to some extent, Hamilton. He's finished in front of Vettel more times (five) than Raikkonen has Hamilton (three) and leads his countryman 10-4 for podium finishes. And, crucially, his two race wins in Russia and Austria came just ahead of Vettel, denying the German an extra 14 points.
The Finn's results have played a large part in Mercedes' 145-point lead over Ferrari and why they stand on the brink of a fourth consecutive Constructors' Championship in Austin.
For Ferrari, facing a ninth season in a row without any championship silverware, there's much to ponder.
Will Lewis Hamilton clinch his fourth world championship in Austin? Watch the US GP weekend live on Sky Sports F1, the race begins at 8pm on Sunday. Want to watch but not got Sky F1? Buy a NOW TV pass from £6.99!
If you are using skysports.com you can comment below to get involved in the debate, but please adhere to our House Rules. If you wish to report any comment, simply click on the down arrow next to the offending comment and click 'Report'.