F1 2017: The best of team radio
Raikkonen, Alonso and Steiner all star in the season's best soundbites as drivers and teams repeatedly lit up the airwaves
By Jonathan Green
Last Updated: 21/12/17 3:47pm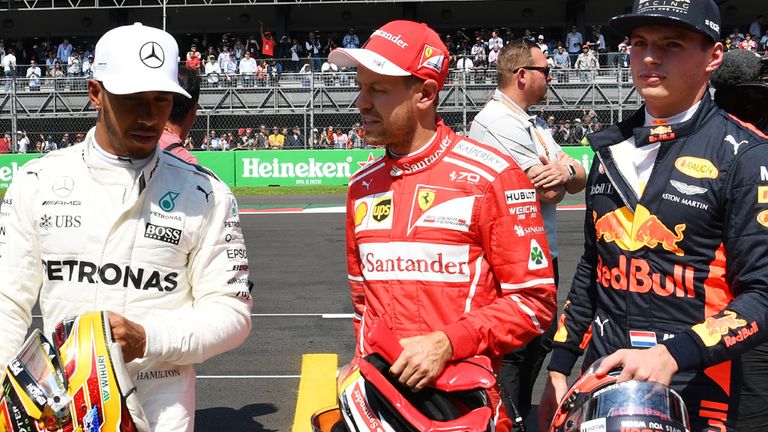 Good, bad, or ugly, Formula 1 again didn't disappoint in 2017 when it came to memorable soundbites and flash-points over team radio. Here are some of the best…
KIMI'S MERCEDES CONFUSION - RUSSIAN GP
Ferrari to Raikkonen: "We are 9.5 behind Bottas and eight tenths a lap quicker."
Raikkonen: "How did we end up behind him when we didn't stop earlier?"
Ferrari: "He was leading the race Kimi."
Raikkonen: "Ah OK I thought they were the other way around."
BUTTON'S MESSAGE TO ALONSO - MONACO GP
"I'm going to pee in your seat!"
VETTEL V HAMILTON - AZERBAIJAN GP
Sebastian Vettel: "He brake tested me! What the **** is going on?"
Lewis Hamilton: "Vettel literally just came alongside me and turned in and hit me!"
Ferrari to Vettel: "You have a 10-second stop-and-go penalty for dangerous driving."
Vettel: "When did I do dangerous driving? Can you give me an explanation when I did dangerous driving?"
Hamilton: "10-second penalty is not enough for driving behaviour like that. You know that Charlie!"
THE ICEMAN'S PIT LANE MELTDOWN - AZERBAIJAN GP
Kimi Raikkonen: "Steering wheel. Gloves and steering wheel. Yeah. Steering wheel. Hey…HEY! Steering wheel, somebody tell him to give it to me! Come on! MOVE!"
RICCIARDO'S YOU KNOW WHO - HUNGARIAN GP
Daniel Ricciardo after lap one retirement: "Someone hit me. Was that who I think it was? ******* sore loser."
OCON V PEREZ - BELGIAN GP
Esteban Ocon: "Guys, what the ****! Honestly! What the **** is this guy doing? Front wing broken now. ******* idiot."
FIRST-LAP CARNAGE - SINGAPORE GP
Kimi Raikkonen: "What the **** did they do? I'm OK but it's just…ridiculous."
Sebastian Vettel: "I confirm I stop the car, correct? OK, sorry guys, P-0. Sorry. I'm really sorry."
HAAS UNDER THE COLLAR - UNITED STATES GP
Romain Grosjean: "I think we should retire the car, I think we should retire the car, there's no point going to the end. I can see the whole ******* left tyre. What are we doing guys? Seriously…"
Guenther Steiner: "Shhh. Shut up!"
Grosjean: "You're not paying your life here. The tyre's completely gone."
LOVELY JUBBLY - MEXICAN GP
Max Verstappen after passing Vettel on lap one: "Simply, simply lovely."
Verstappen asked to match Bottas' lap times: "Alright son, I'll take it easy."
Red Bull: "OK so that was the same lap time as the previous lap Max..."
Verstappen (laughing): "Yeah, I'm really sorry."
And, finally...
THE VERY BEST OF FERNANDO ALONSO - VARIOUS
Bahrain GP: "How the hell can they overtake me? Three hundred metres behind me at the beginning of the straight. I never raced with less power - in my life."
Italian GP: "What is Palmer doing? He needs to give me back the position, he cut the chicane."
On being told of Palmer's five-second penalty: "Five seconds is a joke! A joke! What a joke!"
Alonso: "Where is Palmer?" McLaren: "Palmer has retired." Alonso: "Karma."
Mexican GP - After Romain Grosjean cuts corner to retain position: "We need the position immediately because he changed the race, very clear.
"Please, please race director, look at the race please. Please, please, it's very clear, I'm losing the race here."
Sky Sports F1 is the only place to watch every Formula 1 Grand Prix, qualifying and practice session live in 2018. Get Sky Sports F1.