Fernando Alonso says McLaren need to raise game after Bahrain GP
Alonso and Vandoorne finish in points but weekend compromised by poor qualifying; "We need to find more pace," says Spaniard
By Jonathan Green
Last Updated: 08/04/18 9:28pm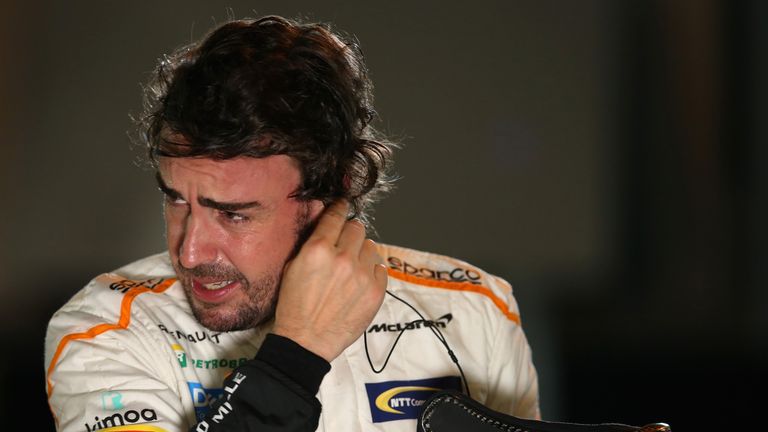 Fernando Alonso says McLaren need to "raise our game" after a difficult Bahrain GP weekend.
The team were left "astonished" by a very poor qualifying session on Saturday which left Alonso and Stoffel Vandoorne starting 13th and 14th respectively, although they recovered in Sunday's race to finish seventh and eighth.
Vettel beats Merc in Bahrain stunner
McLaren stunned by qualy slump
Ferrari mechanic injured in pit-stop
Max blames Hamilton for collision
In the opening two grands prix of the season, the MCL33 has been stronger in race-trim than on single-lap pace and Alonso says they need more performance.
"We need to raise our game because it's not enough at the moment," Alonso told Sky F1.
"Definitely we need to improve and make a step forward. So far on Sundays we are delivering the result but we need to be a step ahead."
He added: "The qualifying was too poor and the starting positions were compromised because of that. We need to find more pace.
"We know that we have the potential. We know the car has some good things, some bad things. We need to make sure we improve the bad things as soon as possible. New parts are coming and hopefully they improve the car."
By matching the double-points finish of the season-opening Australian GP, Sunday marked the first time McLaren have had both cars in the top 10 in consecutive races since 2014.
With the retirements of Kimi Raikkonen and both Red Bull drivers in Bahrain, Alonso will head to the Chinese GP fourth in the Drivers' Championship, while McLaren are third behind Ferrari and Mercedes in the Constructors'.
"So far I'm happy. Fifth in Australia, seventh here. It's not bad," Alonso said.
"Both cars again in the points. Good job by the team with the pit stop, with the strategy and reliability.
"Points are given on Sunday so I think we scored good points looking at how the weekend started and what the performance was like this weekend.
"Whatever we have in our car on Sunday here on the track, we will deliver and push to the limits."
'McLaren will learn from Bahrain'
Speaking to Sky Sports F1 ahead of the Bahrain GP, McLaren executive director Zak Brown conceded the team had "got it wrong" in Saturday's qualifying session but would learn from the experience.
"We just got it wrong. We have done a lot of digging overnight and we think we understand what happened," Brown said.
"We weren't fast enough but we should learn from it and hopefully not have a repeat of that performance.
"Unfortunately, historically we have never really been good at the Bahrain GP. We develop at such a pace and you cannot get down from having a bad weekend.
"We can definitely make our way forward."
Sky Sports F1 is the only place to watch every Formula 1 Grand Prix, qualifying and practice session live in 2018. Get Sky Sports F1.