Daniel Ricciardo swerves rumours of big money McLaren offer
McLaren expected to join bidding for Ricciardo's services
By James Galloway at Paul Ricard
Last Updated: 10/12/18 1:42pm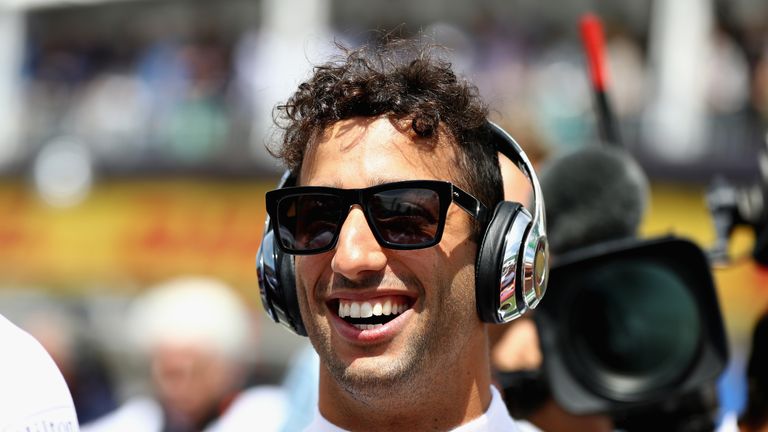 Daniel Ricciardo says he has not received a 'big money' offer to join McLaren for 2019, but is aware there could be interest from them - although he expects talks to potentially stay at Red Bull to ramp up over the next week.
A report in Germany's Sport Bild, which contained quotes from Red Bull advisor Helmut Marko, claimed Ricciardo had been offered a $20m-a-year contract to jump ship to McLaren when his contract expires at the end of the season.
When asked about the story and the reputed figure on his arrival at Paul Ricard for the French GP, Ricciardo joked "that's not enough!" before continuing: "I did see it [the story] about an hour ago now.
"I haven't been presented anything which says that.
"But, I'll be honest, everyone is talking about Mercedes and Ferrari for potential places for me to go, but I'm aware there's probably going to be interest from other teams and I guess McLaren is probably one of them.
"It probably depends as well on what Fernando [Alonso] does, if he stays or if he goes. If he does go, they'll probably want a more experienced driver to come in, but we'll see. There are a lot of things to weigh up right now, but nothing really further to comment on that."
Ricciardo is still considered most likely to stay at Red Bull for 2019 and admitted the team's management are likely to push on with contract renewal talks now they have settled on Honda engines for next season.
"For sure they want to start to move soon now," confirmed Ricciardo.
"I haven't been pushed yet but I would say there will be a bit of movement, probably in the next week.
"Whether that's something gets put down on paper, but the discussions will start to ramp up now in the next seven days. Obviously Austria next week and then it's Silverstone, two home grands prix, so we'll see what happens."
Although Red Bull already have Max Verstappen under contract for two more seasons, they have stressed the importance of also keeping Ricciardo alongside him with the Australian having won two races already this year to put himself in outside world title contention.
And Ricciardo admits that he himself would rather he knew where he was driving next season before F1's summer break begins at the end of July.
"Now that the team has got the engine deal sorted, ideally they'd want something sooner rather than later. Probably in the next two weeks would be ideal for them," he added.
"For me personally, it would be nice to at least go on the summer break knowing what I'm doing so I can enjoy the summer break.
"If I'm on the phone for two weeks of the August break trying to figure out my future that probably won't be that good. Just for me to kind of switch of as well. So, from a personal point of view, by the summer would definitely be nice. It could happen sooner, but by then I'd like to know."
What does Ricciardo make of Honda?
If Ricciardo opts to stay with Red Bull into a sixth season then he now knows the team will run Honda power after the team this week took what Christian Horner described as a "clear-cut" decision to switch engine suppliers from Renault.
"It's something I was aware of that could happen, so it's not like a complete shock or surprise to me," he said.
"I was aware there was a possibility so it's something in a way I was trying to prepare for or calculate in my mind. Now it's official I'm going to try and understand a little bit more about it now that it's definitely happening and try to keep putting the pieces together if it's a good move.
"There's certainly a lot of pros with it."
However, while both Renault and Honda can point to engine improvements so far this season, Ricciardo believes the eventual 'victor' in the race to catch Mercedes and Ferrari cannot be determined yet.
"Renault has come a pretty long way this year. I know we still don't have the qualifying modes, but our race pace once we're through all the fuel saving, we seem a lot more competitive," he added.
"So they're improving and, as you can see, Honda seem to be improving with Toro Rosso. So it's fair to say they are both on the up, but it's just who is going to get there quicker? That's still the unknown. Obviously Red Bull believe Honda are the right ones."