Fernando Alonso says Indy 500 now 'high priority' after Le Mans victory
So what now for Alonso's career after debut Le Mans success?
By James Galloway
Last Updated: 10/12/18 1:53pm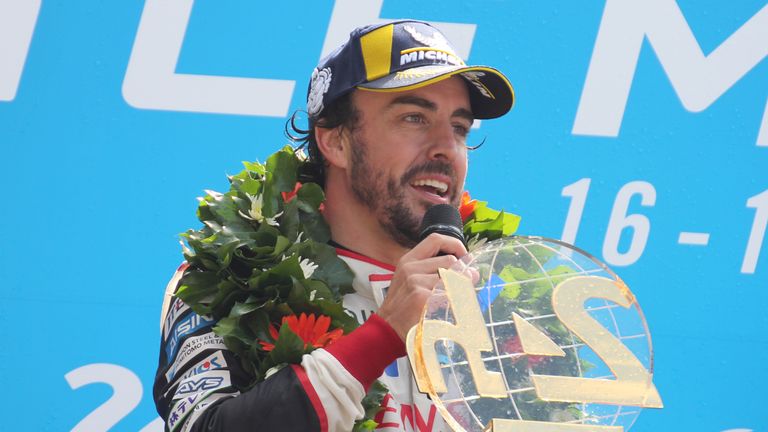 Fernando Alonso admits success in the Le Mans 24 Hours means the Indianapolis 500 will take on a "high priority" for him when he weighs up his career moves for 2019 and beyond after F1's summer break.
The Spaniard's success on Sunday moved him just a victory at Indy away from becoming the second driver in history to complete motorsport's 'triple crown', when he won the prestigious 24-hour race alongside team-mates Kazuki Nakajima and Sebastien Buemi in a dominant Toyota one-two.
"I will make my mind up after the summer what I will do next year but after winning Le Mans, Indy comes into play with a high priority," Alonso was quoted as saying by the Guardian.
"Let's see if it is next year or the following year. Let's see what the future of F1 will be."
So what now for Alonso?
Alonso's sportscar success has immediately served to heighten speculation about his F1 future with two schools of thought emerging as to what the 36-year-old might do in 2019.
The first is that he will stay with McLaren in F1 but repeat his 2017 schedule by skipping the Monaco GP to make a second attempt at winning the Indy 500, with the two events set to clash again next year.
The other theory is that with McLaren currently evaluating their own potential IndyCar project for next year, Alonso could compete a full season in America to increase his experience of racing on ovals.
With an F1 move to one of Mercedes, Ferrari or Red Bull for 2019 highly unlikely, McLaren's continued podium drought is another factor for the two-time world champion to consider - although he indicated at the recent Canadian GP that it was the health of F1 as a whole which he would be analysing as much as anything before committing to a 2019 plan.
"I don't think too much about how competitive you will be next year because it's impossible to predict. It's just about the sport," said Alonso, currently competing in his 17th season of F1.
"When you see again there are two Mercedes', two Ferraris, two Red Bulls, two Force Indias and two Renaults in Q3, it's just a constructors' world championship. It's not a drivers' world championship, so it's something I need to decide."
Drivers to have won Le Mans and Monaco GP
| Driver | Le Mans winner | Monaco GP winner |
| --- | --- | --- |
| Tazio Nuvolari | 1933 | 1932 |
| Maurice Trintignant | 1954 | 1955, 1958 |
| Bruce McLaren | 1966 | 1962 |
| Jochen Rindt | 1965 | 1970 |
| Graham Hill* | 1972 | 1963, 1964, 1965, 1968, 1969 |
| Fernando Alonso | 2018 | 2006, 2007 |
| * Also won Indy 500 | | |
Alonso wants WEC title too
While winning Le Mans has always been considered Alonso's main priority in sportscars, the Spaniard made clear after winning on Sunday that he remains committed to the World Endurance Championship with Toyota and is determined to win the overall title too.
The 2018 and 2019 editions of the Le Mans 24 Hours form part of the WEC's extended eight-round 'superseason' and, with the Alonso-Nakajima-Buemi combination already winning at Spa in May, they lead the standings by 20 points from the #7 Toyota car after two events.
"I am also attempting to win the World Endurance Championship not only Le Mans and am already a world champion in F1 so it could be a super-triple crown," said Alonso.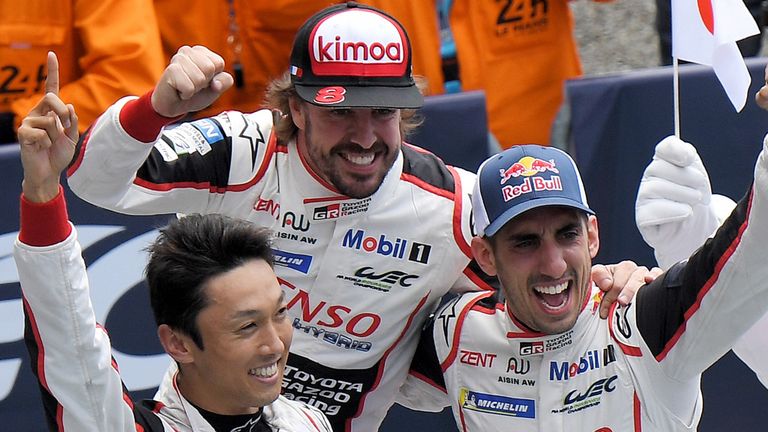 The next WEC event takes place during F1's summer break, at Silverstone in August, with Fuji (October) and Shanghai (November) completing the five 2018 events. The season then resumes at America's Sebring in March ahead of returns to Spa and Le Mans in May and June respectively.