Romain Grosjean fumes at stewards for 'nonsense' French GP penalty
"I think they were drinking rosé wine," says angry Grosjean, who's out to make up for "painful" pointless streak this week in Austria
By Matt Morlidge in Spielberg
Last Updated: 10/12/18 1:18pm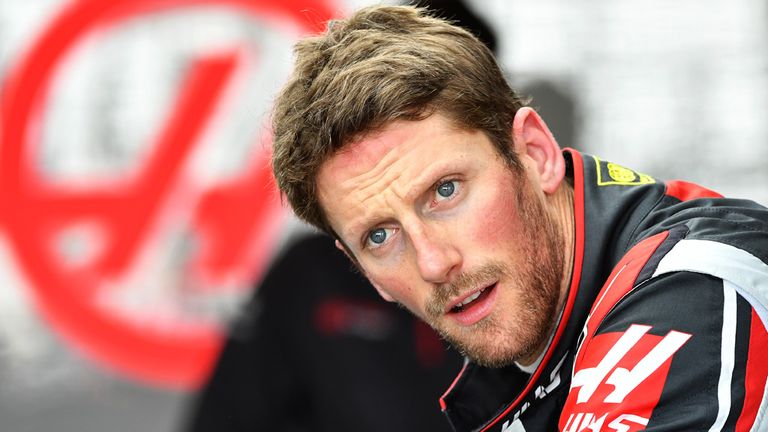 Romain Grosjean has described his French GP penalty for colliding with Esteban Ocon as "absolute nonsense" and says race stewards must have been "drinking rosé wine" when making their decision.
Grosjean's hugely frustrating start to the season continued at his home race last week when he was handed a five-second penalty for making contact with Ocon on the first lap, and once again missed out on securing his first point of the season.
The Formula 1 Gossip Column
Leclerc dreaming of Ferrari
But the under-pressure Frenchman fumed at the call and felt stewards were unfairly picking on him.
"That's what you get a five-second penalty for," an angry Grosjean, presenting his on-board footage to reporters in Austria, said. "Did I move my steering wheel? Did I turn to the left? Did I do anything? It's absolute nonsense.
"I think they were drinking rosé wine."
Grosjean, starting from 10th, had moved up alongside Charles Leclerc but was squeezed to the left, where Ocon was unfortunately making a move after a storming start.
"I couldn't know he was there," Grosjean protested.
The Haas driver says he has apologised to countryman Ocon, but added: "He didn't reply to my message. I flew in this morning here with him, an hour and a half on the plane, and he didn't say anything. It's a French GP and everybody wants to do well but, as I say, I think my penalty is nonsense."
Grosjean's 'painful' 2018
Despite being armed with arguably the strongest midfield car on the grid, Grosjean is one of two drivers on the grid who has yet to score a point this season.
His Haas team-mate Kevin Magnussen has 27 points and is 10th in the championship.
"It's obviously been a long stretch," admitted Grosjean. "Looking at the performance of the car, it's painful. But it will come."
He will hope that time is at this weekend's Austrian GP, but the 32-year-old is also adamant that he has faced tougher periods in his career - such as a season in which he was handed a one-race ban.
"It was harder in 2012," Grosjean added. "I was being criticised by other drivers badly, drivers that I respect, and I was creating big safety problems.
"It's not easy right now and obviously we want more for the team but if you look at all the races, some I could have done much better but some it's just circumstances."
But will he change his style?
"I will drive as I have always been driving," he insisted.