Max Verstappen's style should never be questioned again after Austria victory, says father Jos
"Because of his driving style, he took the win," says Max's father
By Matt Morlidge
Last Updated: 03/07/18 12:18pm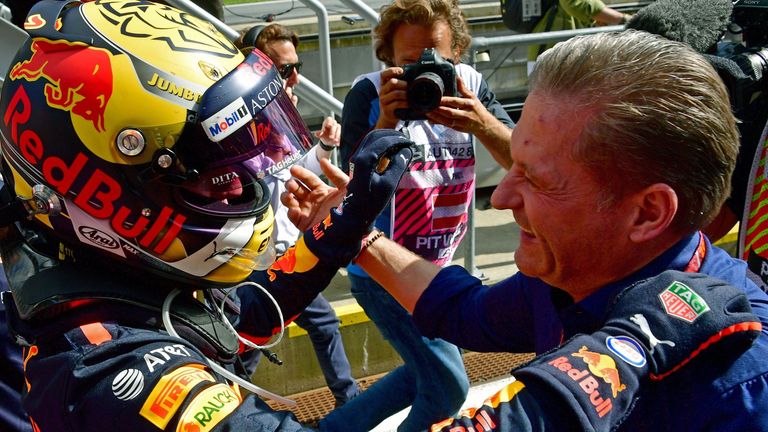 Jos Verstappen insists his son's driving style and ability should never be questioned again after his stunning victory at the Austrian GP.
Max Verstappen faced heavy criticism over his approach after a tough start to the season which was ravaged by errors and collisions, but the 20-year-old has bounced back with fine drives in recent weeks - his Spielberg performance the pick of the bunch.
And his father Jos, a former F1 driver of 106 grands prix, said the win proved that Max does not need to change a thing.
Brundle: Max attack for title fight
The Formula 1 Gossip Column
When's the British GP on Sky F1?
"It was said that he had to change his driving style, but because of his driving style, he took the win," Jos said after Max cruised to victory from fourth on the grid, after taking the lead on Lap 26.
"If Max had not made that pass on [Kimi] Raikkonen in the first lap, he would not have won. So, let's not talk about that anymore.
"It is something that makes Max so good and this result proves it."
Despite advice from other drivers including Sebastian Vettel, Max was always adamant that he never needed to alter his style and hit back at media critics in France following months of attention.
And Jos added: "We always talk to each other, but I think that is not even necessary. Max himself knows what's happening.
"On Sunday he showed that he understands it very well. I just talked to some people and suggested that we would never question his abilities again, because he really knows what he is doing."
British GP schedule on Sky F1
Friday, July 6
9.45am: Practice One build-up LIVE!
10am: British GP Practice One LIVE!
1.45pm: Practice Two build-up LIVE!
2pm: British GP Practice Two LIVE!
Saturday, July 7
10.45am: Practice Three build-up LIVE!
11am: British GP Practice Three LIVE!
1pm: British GP Qualifying build-up LIVE!
2pm: BRITISH GP QUALIFYING LIVE!
Sunday, July 8
12.30pm: British GP Pit Lane LIVE!
1.30pm: British GP On The Grid LIVE!
2.10pm: THE BRITISH GRAND PRIX LIVE!
4.30pm: British GP Paddock LIVE!
It's summer, it's Silverstone and it's the 2018 British Grand Prix! Don't miss a minute of Sky F1's extensive coverage - featuring 2009 world champion Jenson Button - from Thursday's F1 Show to Sunday's race, which begins at 2.10pm with build-up from 12.30pm. Get Sky Sports F1