Martin Brundle: Max Verstappen and Red Bull re-energise title fight
Martin Brundle reviews Austria, Max Verstappen's class act, and what we learnt about Mercedes...
Last Updated: 10/12/18 12:13pm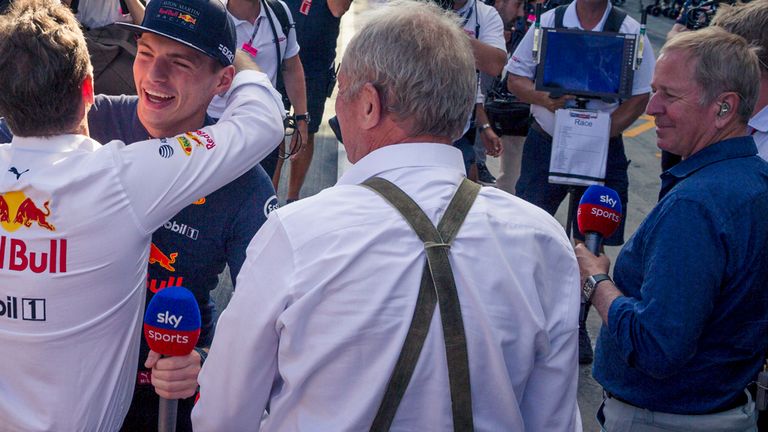 The Austrian Grand Prix energised the season nicely.
It served up a completely unexpected podium, the shock of the two Mercedes cars breaking down, the intrigue of whether Ferrari would swap Kimi Raikkonen and Sebastian Vettel around, battles galore through the field with some really aggressive driving, and an outstanding performance from Max Verstappen. Among others.
Talking to Christian Horner of the Red Bull team on the morning of the race they were pretty down and thought they would be half a second off the race pace. Mercedes, on the other hand, had been pretty chipper since Friday after introducing their aero upgrade package and preceding to dominate all the practice sessions before securing a front-row lockout in qualifying.
With Sebastian Vettel then demoted down the grid, we all went to work on Sunday morning fearing that Mercedes would check out and disappear.
Max wins in Austria, Lewis retires
Mercedes suffer day of disaster
The Formula 1 Gossip Column
Which of course they didn't. Even before the strategy mistake which lost Lewis Hamilton the lead, it had become apparent Mercedes were not going to have it all their own way when they didn't drop Verstappen through the early stages. The race behind was pretty exciting too, with plenty of organic overtaking as the DRS largely did its job here to put drivers into play for an overtake, with drivers fighting for say 14th as if it was like the last lap of the world championship.
Even in the final stages l was still unsure of what the outcome would be because Max's tyres were blistered and the Ferraris were closing in so quickly. There was so little tyre wear that the mass of tread rubber overheated on the 47 degree track surface temperature and caused the tyre compound to erupt and blister, giving up grip with the potential to fail completely in extreme cases.
Max's calmness was impressive while managing the tyres and the threat from the Ferraris. Such maturity in these past few races, and but for those early-season skirmishes he could be challenging for the world championship. As could Valtteri Bottas or Daniel Ricciardo for that matter if they can just find some luck.
Let's just remind ourselves why with Max. The spin in Australia, colliding with Hamilton in Bahrain, colliding with Vettel in China, scrapping ruthlessly with team-mate Ricciardo in Azerbaijan, collecting Stroll under the Virtual Safety Car in Spain, and collecting the wall in practice 3 in Monaco. Whenever you throw away points you also hand them to others, it's a double whammy, and he just needed to turn the toaster down one notch which is exactly what he's done.
He's still the same old Max, full of precocious talent and raw speed, just picking his battles more carefully. After all those season dramas most drivers would not have moved alongside Raikkonen on the opening lap into the fast left hander of turn 7, after the Finn had struggled out of turn 6. Verstappen did, there was mild tyrewall contact, and he was through. It was a race-winning moment, just as he shrugged off others in Mexico on the first lap last season to do the same.
These are the champions' calls. Having sensibly stayed out of the earlier Raikkonen/Hamilton battle into turn 3, he could then have lost his front wing prompting another backlash, as will happen at some point, but he knows he must keep that shiny self-confidence intact and weather the storms. And that's why at 20 years old he can already fill grandstands and smash the merchandise sales.
Kimi drove very well for his deserved second place, had the pace and was very determined into the first corner after a great start. I don't subscribe to the theory that Kimi ignored an order to let Seb through because Ferrari knew how badly that would have gone down. For Raikkonen psychologically and Ferrari and Vettel reputationally, it would have been a disaster. Post-race, it would have been the story.
There was a good proportion of the race l thought Kimi was going to win it, but will Ferrari keep him? He's an icon for F1 globally but for 2019 Ferrari need to energise the team and Vettel with a young hard charger like Charles Leclerc, and to prepare for the Verstappen years.
Even if there isn't anything that says they have to have a champion on the books contractually to appease their sponsors, McLaren themselves believe they should have a superstar driver, and if they don't have Alonso or Ricciardo, I could see them having a run at Kimi assuming he's on the market.
Before the race, the big talking point was Vettel's demotion. After speaking to the stewards, it was clear they had done the only thing they could do, having looked at every way not to disturb the race and the championship battle. We demand consistency from the stewards and we shouldn't castigate them when it is then applied.
The bottom line is that Seb blocked another driver who damaged his front wing taking avoiding action. It's essential in qualifying that drivers are able to run freely. In the old days, whenever a driver would set a good lap he would then go back out laden with fuel purely with the intention of being a nuisance and getting in the way. That was the game, everybody did it, and it was awful. We need to see clean, clear laps in qualifying, and Ferrari and Seb would have been the first to jump up and down complaining if they had been blocked.
In the current hybrid era Mercedes have been almost bulletproof. So was the double failure an indication they are feeling the heat from Ferrari and Red Bull? Just as there's a reason why their car has run faultlessly for the last 18 months or so, there's a reason why their cars suffered two different issues on Sunday. Have they pushed the limits too hard, or is it just a coincidence?
The strategy mistake was hard to fathom, and all the other teams were bemused by it on Sunday night because it was considered a no-brainer to pit behind the Virtual Safety Car, even if that meant double stacking the cars, although in the end it didn't matter when Lewis' car broke down. We have seen Mercedes stumble in the past under pressure too, and I do sense they are stretched to the limit by the close attention from Ferrari and Red Bull, but they remain the benchmark of excellence and pace. The team to beat for either championship.
I was so pleased to see the Haas team having such a strong result in fourth and fifth, they owed that to themselves as much as anything after their pitstop issues in Melbourne. And Force India too scored sensible and much-needed points. Fernando Alonso drove a typical 'never say die' race to 8th from the pitlane, and both Saubers in the points too.
Both Ferrari supplied teams in Haas and Sauber are improving rapidly, something we will see more of when cost cap racing starts in 2021, when I fully expect to see Mercedes and Ferrari simply spread their vast budgets and love across more 'aligned' teams.
Silverstone tends to bring out the best of Lewis, but will normal service be resumed or has the game changed? See you or talk to you from there.